(Clearwisdom.net) Falun Dafa practitioner Mr. Tan Xueli, 51, was from Qunli Town, Pengxi County, Suining City, Sichuan Province. He was transferred to the Yongchuan Prison in Chongqing City on June 13, 2006, where he was tortured to death six days later on June 19 and his body was cremated without authorization. During summer vacation, his son came home and heard of his death and cremation. With deep sorrow, he went to the Yongchuan Prison to inquire about the cause of his father's death.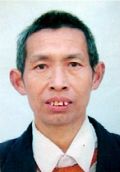 Dafa practitioner Mr. Tan Xueli was tortured to death in the Yongchuan Prison
A Yongchuan Prison official stated that Mr. Tan died suddenly and showed the son the forensic statement. Mr. Tan's son noticed there were only a few lines on the paper and there was no official seal. He asked the police, "Is this the postmortem examination report? My father's body was covered with bruises and wounds. My mother does not know about legal procedures and was forced to sign on the cremation notice that my father be cremated immediately. This shows that my father was beaten to death and did not die of illness."
Mr. Tan's son also asked to know where was his father was held, in which district of the prison he was held, and who was there and who was on duty the day his father died. He stated, "As a son, I will investigate this murder and inquire into the legal responsibility of all related persons, to redress an injustice for my father." He asked for a copy of the forensic statement.
The police replied, "You have no right to investigate nor can you have a copy of the forensic statement. I showed you the paper because you are his son. I can chase you out right now. We along with the "Procurator" in Yongchuan deal with this case together."
On July 25, 2005, around 9 p.m., the director of the Qunli Town Police Station in Pengxi County Wang Kaisheng along with five police officers from the Hechuan Public Security Bureau broke into Mr. Tan's home and arrested him. His wife said, "When they came, I was home alone. They threatened that I was not to move or they would beat me to death. I was scared to death, I have never seen anything like this before." Three days later, on July 28, they came again, raided the house and confiscated many goods.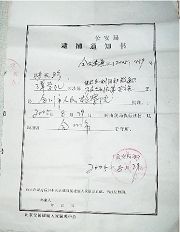 After one month of imprisonment, on August 29, 2005, this was a so-called "Arrest Warrant."
Mr. Tan's wife only received a notice on June 5, 2006 that he was held in the Hechuan Detention Center and that he had been sentenced to four years in prison and could no longer talk. Later his wife received a one-line note from Mr. Tan: "I have not been able to talk since August 2, 2005."
On June 13, 2006, Mr. Tan was transferred to the Yongchuan Prison. On June 19, 2006, at around 2 a.m. in the morning, Mr. Tan's family received a phone call from the prison stating that Mr. Tan was dead, and asked the family to go to the prison within twenty-four hours, otherwise the prison officials would cremate Mr. Tan's body. When they saw him, he only wore a red vest, his chest was covered with bruises, both his legs and his entire back were covered with wounds and bruises, and when the family turned him over, blood came out of his mouth and nose.
(Attention: The Yongchuan Prison told Mr. Tan's wife that he died in the No. 6 Prison District. After Mr. Tan was cremated, his wife received a letter from him, stating that he was held in the No. 7 Prison District, which is located across from the Yongchuan 127 Information Engineering Institution. This was later verified by warden Wang of the No. 7 Prison District, who spoke face to face with Mr. Tan's son.)
Perpetrators:
Li Huiming, head of Political Department of Yongchuan Prison: 86-23-49890529
On-call room of the No. 7 Prison District: 86-23-49839938
Yongchuan Prison: 86-23-49890513
Yongchuan Procuratorate: 86-23-49862000