Ms. Ji Xiulan, 53, of Anqiu City Died in 2003 Due to the Persecution (Photo)
November 12, 2006
|
By Falun Dafa practitioners in Shandong Province
(Clearwisdom.net) Ms. Ji Xiulan, a practitioner from Zhoutiange Village, Anqiu City, Weifang Area, Shandong Province, was harassed, monitored, and threatened over a long period of time. She passed away in May 2003 at the age of 53.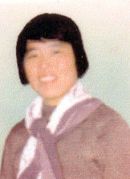 Ms. Ji Xiulan from Weifang
Before Ms. Ji Xiulan started to practice Falun Gong in 1997, she had suffered coronary heart disease, nervous headaches, and sciatica. After practicing Falun Gong for three to four months, all those problems disappeared. She benefited greatly and deeply felt the wonder of Falun Dafa, so she firmly believed in Dafa and Teacher.
On July 20, 1999, the Chinese Communist Party and Jiang Zemin started to persecute Falun Gong. In order to stand up for her belief in "Truthfulness, Compassion, Tolerance," to be a good person, and to safeguard human rights, Ms. Ji went to Beijing in October 1999 and January 2000 to appeal for justice for Falun Gong. She was illegally arrested by the police, then detained in the Anqiu Detention Center. Officers at the Jiage Police Station extorted 10,000 yuan in cash from her.
At the end of June 2000, Ms. Ji again went to Beijing to appeal, this time on foot, but she was detained again. In July 2000 her husband was sent to a forced labor camp because he refused to give up his belief in "Truthfulness, Compassion, Tolerance."
After her husband was sent to the labor camp, Ms. Ji was left to take care of their three children. At the same time, policemen Cheng Xiwen and Li Zicheng from the Jiage Police Station of the Anqiu Police Department continued to harass and threaten her and attempted to brainwash her. Ms. Ji suffered a great deal both mentally and physically, and sadly, she passed away in May 2003.
October 23, 2006