(Clearwisdom.net) Falun Dafa practitioner Ms. Zhang Hong lived in Heitai Town, in the city of Mishan in Heilongjiang Province. She died as a direct result of the persecution on February 2, 2004, at the age of 23. As of today, Zhang Hong is reportedly the youngest disciple who has been killed in the Jixi area.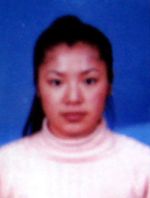 Ms. Zhang Hong
At the beginning of 1997, 16-year-old Zhang Hong started to practice Falun Dafa while she was a student in a hairdressing school. In July 1999, the persecution of Falun Gong began. Zhang Hong went to Beijing to appeal for justice for Falun Gong. While passing through Jidong County, she was illegally arrested by a policeman named Shi from the Heitai Police Station.
Because Ms. Zhang persisted in practicing Falun Dafa, on June 28, 2000, she was arrested by Wang Zhongjie (secretary of Heitai Town Politics and Law Committee), policeman Shi, and Du Yongshan of the Political Security Section. She was sent to the First Detention Center in Mishan to be detained for 72 days. During her incarceration, Zhang Hong was beaten on her head with a baton by a female doctor named Qin many times. She was frequently harassed and followed by Secretary Wang Zhongjie and local policemen after being released. They always pounded on her door and forced entry into her home at night, to check if Zhang Hong was at home.
To avoid the persecution and give her family some peace, Zhang Hong went to Dalian to work. However, policeman Shi and Wang Zhongjie did not want to let her go. They used many methods to force Zhong Hong's family to ask Zhang Hong to return.
In December of 2003, police officer Shi arrested Zhang Hong again, and sent her to a brainwashing session at the Mishan "Transformation" Center. Because Zhang Hong was brutally tortured and beaten, she suffered serious physical injuries. The responsible people in Heitai Town were afraid of the implications her death might bring, so they forced Zhang Hong's family to give them 200 yuan, then they released Zhang Hong after four days.
Because the police and party authorities in Heitai brutally execute the evil policy of persecuting Falun Dafa practitioners, they brought serious harm to Ms. Zhang's health and mind.
On February 2, 2004, after she was home for only one month, Zhang Hong died from the injuries sustained at the labor camp. Her parents have three children; Zhang Hong was the youngest and the only girl.
More information:
http://www.clearwisdom.net/emh/articles/2006/7/23/75812.html
Responsible units and personnel involved in the persecution of Ms. Zhang Hong (those indicated with a "*" will be sued):
Agencies:
Heitai Town Politics and Law Committee in Mishan City, Jixi area, Heilongjiang Province
Heitai Town Police Station, Mishan City
Heitai Town government, Mishan City
The First Detention Center of Mishan City
Personnel:
* Wang Zhongjie: Secretary of Heitai Town Politics and Law Committee in Mishan City
* Shi (surname): policeman from Heitai Town Police Station in Mishan City, has been transferred to Suifenhe City, Heilongjiang province
* Du Yongshan: Heitai Town Political Security Section, Mishan City
* Yang Chuanbo: formerly of Heitai Town Police Station, has been moved to a different work unit
* Qin (surname): doctor of the First Detention Center, Mishan City
* Zhang Jingbo: Heitai Town Police Station Chief; male, 45 year old; moved to Mudanjiang Police Department in August 2005Secretary's office of Heitai Town government: 86-453-5151298
Head of Heitai Town government: 86-453-5151155
Head of Heitai Town Police Station: 86-453-5153377
Heitai Town Police Station: 86-453-5152466
First Detention Center, Mishan City: 86-453-5260477