(Clearwisdom.net) During 2005, the Clearwisdom website posted 1,641 reports of Falun Gong practitioners in China being persecuted to death. The reports came from 29 provinces, cities and several "autonomous regions." Jiang Zemin, his regime, and the CCP began persecuting Falun Gong practitioners on July 20, 1999. From then through December 31, 2005, at least 2,805 practitioners have died due to the persecution. Of these deaths, 392 occurred in 2005. These are only the known deaths. Because the persecutors try to hide their crimes, the true death toll is certain to be higher.
Among the 1,641 deaths cases uncovered in 2005, female practitioners numbered 953 (58 percent) and 928 people were over age 55 (56 percent). Among the 1,641 victims, the youngest were three 14-year-old girls: Zhang Zheng, a student from Quantang High School in Chaohu City, Anhui Province; Wang Wenlan, a first year student from the Shuangcheng City No. 8 High School, Heilongjiang Province; and Tang Shiyu, a student from the Fucun Primary School in Dandong City, Liaoning Province.
Because the CCP tries to block information about the persecution, among the 1,641 death cases, we have not been able to verify the former residences of 25 victims. In 2005, Hebei Province had the highest known death toll in the country, 252 people. In descending order, the rest of the death counts are: Liaoning Province with 202; Heilongjiang Province, 181; Jilin Province, 180; Shandong Province, 169; Sichuan Province, 89; Hubei Province, 75; Henan Province, 71; Hunan Province, 57; Beijing, 52; Inner Mongolia, 40; Guangdong Province, 35; Jiangxi Province, 24; Chongqing City, 23; Tianjin City, 22, Anhui Province, 21; Guizhou Province, 20; Jiangsu Province, 18; Gansu Province, 16; Shaanxi Province, 13; Shanxi Province, 12; Guangxi Chuang, 9; Xinjiang Uygur, 9; Yunnan Province, 8; Zhejiang Province, 6; Fujian Province, 5; Shanghai City, 4; Hainan Province, 1; Tibet, 1; and one Taiwanese person who returned to China.
Luo Gan and Zeng Qinghong, diehard followers of Jiang Zemin who are entrenched in the top levels of the CCP hierarchy, led a new round of persecution of Falun Gong practitioners in 2005. Throughout China, practitioners were arrested en masse, and hundreds were tortured to death. The CCP has not stopped the persecution of Falun Gong for one moment. The death cases posted on the Clearwisdom website have exposed numerous cases of persecution cases that might not have been otherwise revealed. The bloody torture methods are shocking, revealing the CCP's true nature.
Fifteen More Deaths Verified in December 2005
In December 2005 alone, through informal channels we verified 15 more deaths of Falun Gong practitioners. Twelve were killed during the year, and four died in December. The age range was from 34 to 73 years old. Eight of them were women. These 15 deaths occurred in 10 provinces and autonomous regions. The victims were from all walks of life. They had endeavored to be good people according to Falun Dafa's foundational principle of Truthfulness, Compassion, Forbearance. They all benefited physically and mentally, and they told people the truth about the persecution of Falun Gong. Because they tried to live good lives and tried to expose the persecution, the authorities, lead by the CCP, arrested them. The authorities tortured some practitioners to death right at the scene. Some died from torture later on. In some cases, practitioners were injected with unknown drugs. Others died from slave labor or from being in toxic environments. In some cases, the authorities sent some of them home just before they were about to die so that their deaths would not occur while they were in custody.
Middle School Teacher Mr. Fei Chongrun Beaten to Death; Family Prohibited from Investigating the Crime
Mr. Fei Chongrun, formerly known as Fei Weidong, 41, was a teacher at the Jiujiang County No. 1 Middle School in Jiangxi Province. He was nearly six feet tall and very healthy. At noon on October 18, 2005, he clarified the truth as he was buying a motorcycle at the Yongfeng Vehicle Shop at 335 West Lushan Road in Jiujiang County. The shop owner reported him to the police. The police arrived quickly and closed the shutters to the store. They then beat Mr. Fei to death. The police and shop owner Hong Ying colluded, trying to cover up the murder. The police threatened Mr. Fei Chongrun's family members, prohibiting them from investigating the cause of death.
Mr. Fei's family saw the gruesome injuries that covered his corpse. His mouth was swollen and bloodstained. Two of his front teeth were missing and one tooth was broken. There was a semi-circular-shaped wound on his right temple caked with dry blood. An inch above that wound was a circular wound more than a half inch in diameter. The flesh in that area was caved in and covered with blood. There were bruises, abrasions, and scratches on every part of his body, including his groin, which was black and blue.
Mr. Fei Chongrun's family asked shop owner Hong Ying about this incident, but Hong Ying and the police insisted that Mr. Fei "fell to his death." Considering Mr. Fei's extensive injuries, especially the severe wounds on his mouth and temple, they knew Hong Ying and the police were lying. How could Mr. Fei have knocked out two of his front teeth, injured his right side and incurred so many bleeding wounds just from a fall?
On October 21, members of the Jiujiang County Police Department, the political and judicial system and the local court, all of whom have long been persecuting Falun Gong, formed a group and played the role of "mediator." The Jiujiang County Police Department and the Politics and Law Committee each gave Mr. Fei Chongrun's family 10,000 yuan and claimed the money was from shop owner Hong Ying.
On October 22, four coroners from Jiujiang City and Jiujiang County and two doctors from a hospital performed Fei Chongrun's autopsy. They said that the results would not be available for a month. During that time, Mr. Fei Chongrun's family inquired about the results several times but was told, "If you keep inquiring like this, you will probably have to return the 20,000 yuan!" His family became silent. No further investigation was conducted into the cause of Fei Chongrun's death, and the case was buried. Mr. Fei left behind his 80-year-old father, his three-month-old daughter, and his unemployed wife.
(See http://www.clearwisdom.net/emh/articles/2005/12/26/68325.html)
Gansu Province Musician Ms. Liu Zhifang Tortured to Death: Hung Backwards by Handcuffs
Ms. Liu Zhifang, 48, was a pipa (Chinese lute) musician employed by the Gansu Province Yu-Opera Institute. On July 31, 2000, she went to Beijing to validate that Falun Dafa is a good practice. The police arrested her and imprisoned her at detentions centers in Tianjin City and Lanzhou City. She was forced to perform heavy labor. In 2001, she was arrested and taken to the "Lanzhou City Legal Education School," a brainwashing center in Gongjiawan, but she walked out using strong righteous thoughts. Ms. Liu Zhifang then walked from Tianshui City in Gansu Province to her hometown in Anhui Province. The trek took her three and a half months, and when she arrived, she clarified the truth to her friends and family.
When Ms. Liu Zhifang went back to Lanzhou City in 2002, she never stopped clarifying the truth to people. In July 2005, the police arrested her and once again took her to the brainwashing center in Gongjiawan. They placed her in solitary confinement and hung her backwards by handcuffs for a long time. She died from the torture at the end of July 2005.
In a document released on July 29, 2005, the administrators of the brainwashing center stated that Ms. Liu Zhifang had committed suicide. They threatened witnesses and strictly forbid true information from being released.
(See http://www.clearwisdom.net/emh/articles/2005/12/21/68165.html)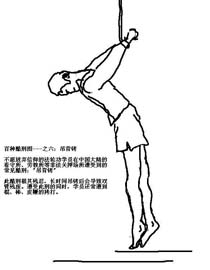 Torture: hanging backwards by handcuffs
Mr. Su Guohua, 73, Dies From Long-Term Torture
Mr. Su Guohua lived in Liujiayuan Village, Yihezhuang Township, Zhuozhou City, Hebei Province. Before practicing Falun Gong, Mr. Su had had many illnesses, such as high blood pressure, coronary disease, diabetes, asthma, gastritis, and arthritis. None of his illnesses could be cured, and he had to use crutches to walk. In the autumn of 1995, Mr. Su began practicing Falun Dafa. After practicing for six months, he experienced major improvements in both mind and body. All of his illnesses miraculously disappeared. He no longer needed crutches and could even ride a bicycle. He rode to neighboring villages to promote Dafa. Mr. Su became so energetic that he could even help his son by doing some farm work.
Many local people suddenly started practicing, and the supply of Dafa books and videos never met the demand, so Mr. Su rode often his bicycle to Beijing to purchase more Dafa materials. Even in bad weather, he always went and returned on the same day despite his advanced age. When Mr. Su returned in the evening, he delivered the Dafa books and videos to new practitioners' homes. When others asked if he ever felt tired, he always answered, "Dafa saved my life. Teacher gave me the chance to devote myself to Dafa. A little tiredness is nothing. To die for it is worthy." Mr. Su quietly promoted Dafa every day for years.
After the Chinese Communist regime launched its persecution of Falun Gong, to validate the Fa, Mr. Su went to appeal and clarify the truth in Beijing. Agents from the 610 Office arrested Mr. Su many times. During these arrests, they beat and cursed him, handcuffed him to a large tree, used electric batons on him, and extorted money from him. Mr. Su always refused to sign a repentance statement, so the authorities constantly harassed him. The vicious torture and persecution took Mr. Su's life in December 2003.
(See http://www.clearwisdom.net/emh/articles/2006/1/3/68624.html)
Police Torture Practitioners to the Verge of Death and Then Return Them to Their Families to Die
During the genocidal persecution of Falun Gong practitioners, staff of local police stations, forced labor camps, prisons and 610 Office brainwashing centers all over China have wantonly slaughtered innocent practitioners. They also persecute practitioners to their last gasp and then return them to their families.
Mr. Ma Wensheng, 56, worked at the Tiefeng District Commercial Service Committee People's Barbershop. He made Falun Dafa truth clarification materials for a long time. At 5:00 p.m. on March 5, 2005, officers from the Zhengyang Police Station in Qiqihar City arrested him, his wife, Wang Guizhi, and their child. At the local Zhengyang police station, they beat Mr. Ma until his legs were broken and his body was deformed. Later, they sent him to the No. 1 Detention Center in Qiqihar City. On the morning of October 20, the police told his brother that Mr. Ma was hospitalized in the Qiqihar City Railroad Hospital. His brother saw him unconscious at the hospital. He passed away before his brother could get him food, soap, and a towel.
(See http://www.clearwisdom.net/emh/articles/2005/12/31/68506.html)
Ms. Zhao Fenglian, 51, used to live in apartment 22, building 32, in the No. 6 area of Longjinli, Jinchuan District, Jinchang, Gansu Province. She was arrested many times and sentenced because she practiced Falun Gong. In December 2004, Ms. Zhao was taken to the Team No. 2 at the Gansu Province Women's Prison, where she suffered brutal torture. She became emaciated. Wang Ling, head of the section, and Gu, head of the team, were responsible for Ms. Zhao Fenglian's persecution.
Ms. Zhao endured more than four months of inhuman torture. Her stomach was injured because of brutal force-feeding with salt water. She could no longer eat. Towards the end of her life, she went into a coma. The staff was afraid that she might die and sent her to the hospital. The doctors told the prison staff that she had cancer. They gave her injections daily. Once they realized that she was dying, they notified her family. As soon as her family arrived at the hospital, Ms. Zhao's health improved, so the guards would not release her. They said to her family, "Come back in a few days! We will give you her ashes!" However, when they realized that she was indeed dying, they hurriedly notified her family to take her home. Ms. Zhao Fenglian passed away at home on December 22, 2005.
(See http://www.clearwisdom.net/emh/articles/2005/12/29/68453.html)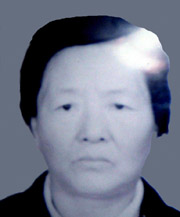 Ms. Zhao Fenglian
Ms. Bao Liqun, 56, was a policewoman and assistant supervisor at the Zhongnan Police Station in Nanming District, Guiyang City. After she started to practice Falun Dafa, the chronic colitis that had tortured her for 14 years was cured. She previously had to take many sick days, but after practicing Falun Dafa, she did not have to take any. She won awards for her outstanding performance. After July 20, 1999, because she firmly refused to renounce Falun Dafa, she was forced into early retirement.
On May 1, 2005, Ms. Bao was arrested when she was clarifying the truth with other practitioners. She was held in the Wudang District Detention Center for 17 days. On May 17, she was taken to the so-called "Legal System Education Class" in the Lannigou District of Guiyang City and subjected to brainwashing. Because she did not cooperate and went on a four-day hunger strike, she was force-fed. She developed bloody stools and diarrhea, which worsened day by day. Those in charge of the brainwashing center were afraid of being held responsible for her death and on June 13 notified her family to take her home. Ms. Bao Liqun died on August 20, 2005.


Ms. Bao Liqun, a practitioner and assistant police supervisor from Guiyang City, Guizhou Province, was tortured to death
Falun Dafa practitioner Ms. Zhang Yuzhi, 48, lived in the Yanbian Korean Ethnic Autonomous Region in Jilin Province. She was imprisoned in the Heizuizi Forced Labor Camp in Changchun City and forced to work in a toxic environment 16 hours per day. The surrounding air was thick and contained many cancer-causing chemicals, which made people feel dizzy, have headaches, and even vomit. She was tortured psychologically during brainwashing sessions. Under the physical and mental pressure, she developed leukemia. The camp officials did not allow her family to take her home until she could no longer take care of herself. Ms. Zhang went home on August 31, 2002, and passed away two weeks later.
(See http://www.clearwisdom.net/emh/articles/2005/12/25/68308.html)
Ms. Sun Guifeng, 34, lived in the residential area of the Yanzhou Mining Bureau in Shandong Province. In December 2004, she went out to clarify the truth to people. Mining Bureau security section personnel and police from the Jidong Police Department searched her home and confiscated her property. They took her and her husband to a detention center. Two weeks later, the authorities sent her to the "Judicial Training Center" in Shandong Province where she was brutally tortured. Luo Guangrong and others were in charge of her "transformation." She was in critical condition when her family took her home. She passed away in mid-April 2005.
(See http://www.clearwisdom.net/emh/articles/2005/12/21/68166.html)