(Clearwisdom.net) Sixty-five-year-old Dafa practitioner Ms. Zhang Jinrong from Pulandian City, Dalian was persecuted for a long time for her belief in Falun Dafa. She was traumatized by the torture death of her son Cao Yuqiang in 2004. She passed away on August 23, 2005 and left behind her husband and nine-year-old grandson.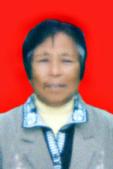 Zhang Jinrong
Ms. Zhang Jinrong, 65 years old, was born on August 17, 1941. She started practicing Falun Gong in February 1997 and benefited greatly.
After the persecution of Falun Gong began on July 20, 1999, officers from the Xudatun Town Police Station in Pulandian City harassed Zhang Jinrong and ransacked her home numerous times.
Zhang Jinrong's son Cao Yuqiang was illegally incarcerated in a detention center and a labor camp and he was brutally tortured. He was not released until he was disabled from torture. He passed away on April 8, 2004, less than one year after his release. Before his incarceration, he was 1.8 m [5.9 ft] tall and weighed about 80 kg [176 lbs]. His weight dropped to 40 kg [88 lbs] after the torture he experienced in detention. His thighs were thinner than a healthy person's arms. He had numerous scars on his body and deep cuts on his wrists from handcuffs.
Cao Yuxiang, whose wife remarried, left behind his nine-year-old son Cao Xiaodong.
Ms. Zhang Jinrong was traumatized by her son's death. In addition, the perpetrators never stopped persecuting her. She passed away on August 23, 2005.
| | |
| --- | --- |
| Cao Yuqiang, a Dafa practitioner tortured to death | Cao Xiaodong, the young son of Cao Yuqiang |
Cao Xiaodong has been living with his grandparents. After Zhang Jinrong passed away, Cao Xiaodong and his 66-year-old grandfather had to depend on each other for their survival.