(Clearwisdom.net) On August 6th, Falun Gong practitioners participated in the Sweet Pea parade held in Bozeman, Montana, U.S. A.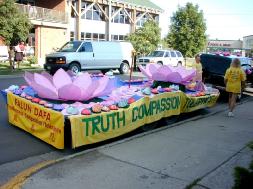 The theme of the parade was "Flowers," and their float won first place in "Best Use of Flowers" category. Practitioners from Montana, Washington and Utah worked together to create a beautiful float. We taped a Falun Dafa banner in front, with "Truth Compassion Tolerance" banners on each side. There were two large lotus flowers on the float where practitioners demonstrated the 5th exercise, while another practitioner demonstrated the standing exercise.
Many people tried to mimic the exercise movements and repeated the words truth, compassion and tolerance as we went by. Lotus flowers were handed out along the way, which delighted the spectators.
This was our third year participating in this well attended parade. Spectators were very happy when our float went by and there was lots of clapping. They had expressions of awe on their faces, and seemed to appreciate the beauty and sacredness of the float, along with its beautiful music. A young lady stopped by our float after the parade and told us, "Your entry is my favorite every year."