(Clearwisdom.net) Minghui correspondent special report: Wang Boru's father Wang Hongbin and his mother Feng Xiaomei were classmates who in 1987 had both graduated from the Department of Telecommunications Changchun Post and Telecommunications Institute. They were later assigned to work in the Telephone Equipment Factory of Hebei Province and lived happily before the persecution. The day after Wang Boru's tenth birthday, the early morning of July 20, 1999, Wang Boru was thrown into a world of turmoil.
Abstract
In the past six years, Wang Hongbin's house was ransacked five times and he and his family were arrested six times. His family was broken apart, he was forced into exile and he eventually died from persecution.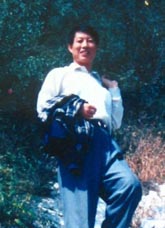 Wang Boru's father Wang Hongbin (deceased)
Wang Boru's father Wang Hongbin was arrested, beaten, tortured, sentenced to forced labor terms and finally died from the results of persecution on October 9, 2003.
| | |
| --- | --- |
| Baby Wang Tianxing | Wang Boru's aunt Feng Xiaomin (deceased) |
Wang Boru's aunt Feng Xiaomin was forced to live in exile after twice being arrested. She lived a homeless and very difficult life. She didn't ask her family to help take care of her newborn baby Wang Tianxing, fearing persecution. On June 1, 2004 she passed away after being diagnosed with encephalitis. Feng Xiaomin's husband Wang Xiaofeng lives in exile and still cannot unite with his infant son. Wang Tianxing is currently living with Feng Xiaomei, Wang Boru's mother.
Wang Boru's uncle Wang Xiaofeng, forced into homelessness
Wang Boru is currently attending middle school. His mother Feng Xiaomei is working to raise Wang Boru and Wang Tianxing. To help her take care of the two children, Wang Boru's grandparents moved from their hometown in northeast China to Feng Xiaomei's home.
The police and Party Committee members went to Feng Xiaomei's home on politically sensitive days to harass them. Wang Boru's grandfather grew sick from the long-term pressure. He fell ill and passed away on March 1, 2005.
Since October 2003, within 18 months, three of Wang Boru's family members passed away from the results of the persecution.
Happy family before July 20, 1999
Wang Boru's mother Feng Xiaomei, the oldest daughter, was born in a village in northeast China. She respected her parents and helped her siblings. She was an outstanding student through grade school, middle school and college. After graduation she was sent to work at the Hebei Province Telephone Equipment Factory. She worked hard and was on good terms with her colleagues. Her superiors trusted her, and she was promoted to deputy chief engineer. Her parents and friends were very proud of her.
Wang Boru's father Wang Hongbin was a modest and unpretentious man. He never had any conflicts with people at his place of employment during the more than ten years he spent there. He worked hard and his workplace and the Provincial Post and Telecommunication Bureau selected him many times as "outstanding employee." His successes were recorded in "The Annals of the Hebei Telephone Equipment Factory."
Wang Hongbin used to be ill due to grief from his mother's passing and from a heavy workload, and was a chronic drug user. He could not eat normally after a period of time. This was during the peak of qigong's popularity; the workers' union at his place of employment organized qigong sessions for the employees. Wang Hongbin went to those sessions.
In March 1994, Wang Hongbin obtained an introductory Falun Gong pamphlet that listed a class organized by the Hebei Province Qigong Association. Wang Hongbin started to practice because the principles of Truthfulness, Compassion, Forbearance attracted him and the exercises had wonderful healing effects. He quickly recovered his full health. He never asked his work unit for reimbursement of any medical expenses before he was illegally sent to forced labor; the factory doctor can prove this fact. His mental health also improved, and he became a more productive person.
The changes in Wang Hongbin helped Feng Xiaomei to start practicing Falun Gong. They were very healthy. Their son Wang Boru was smart and cute, and they lived a happy life. In the morning Wang Hongbin would do the exercises at a park, and he would have a clear mind for the whole day. In the evening, after the house chores were done, Wang Hongbin and his wife would read Falun Gong books. They would compare their conduct with Dafa's requirements, and their life was meaningful and vibrant. During holidays, Wang Hongbin and his wife would take young Wang Boru and go on outings, along with Wang Boru's aunt and uncle. They visited places in Hebei Province and near Beijing. In the summer of 1999 they had planned to take Wang Boru to go to the beach, but it was never realized. Wang Boru has never seen the ocean.
Black 1999
Wang Boru's birthday is on July 19. On July 19, 1999, Wang Boru's father bought a birthday cake and his mother cooked several dishes; his aunt and uncle brought peaches and a watermelon. They lit candles and sang songs, and they also took pictures. They spent a happy night together. However, when he woke up the next morning, Wang Boru saw that everything had changed. His home was a mess, his parents were taken away by more than 20 strangers, and ten-year-old Wang Boru sat on his bed staring at the leftover birthday cake and watermelon.
Wang Boru was left uncared for and he was forced to walk the streets. He didn't know how to take care of himself. He developed scabies and pus seeped out of his legs. He was often covered in dirt and mud. People who saw him shed tears.
At the same time, his father Wang Hongbin was secretly held at a detention room at Shigang Street Police Department for over 50 days. He was locked in the same room as inmates and had to relieve himself in a bucket in a hot, filthy and dilapidated room. Drunken inmates often screamed in the middle of the night and the guards "took care" of inmates at 2:00 a.m. Wang Hongbin could not sleep until 3:00 a.m., and during the day a special cases group constantly interrogated him. They eventually released him after extorting 200 Yuan from him and falsely accusing him of "disrupting the social order." Chinese people are used to illegal arrest and detention, and they usually feel lucky to be released after a short detention. They rarely appeal such detention, but Wang Hongbin didn't know further persecution was to come.
Wang Boru's mother Feng Xiaomei was held at a solitary confinement cell at the Zhaolinpu Police Department for four days and three nights. She wasn't given any personal toilet articles such as shampoo, soap or toothpaste, and was not allowed to contact the outside. The cell, walled off on all four sides, was very hot and sticky. On the fourth day, the head of her work unit went to many people in power before bailing her out, but she was transferred to a hotel and was monitored and interrogated by a special case group who tried collect "criminal evidence" from her.
Suffering parents
In late September, over 50 days of illegal detention ended and Wang Boru's parents returned home. They became very careful when dealing with friends, relatives and colleagues. They didn't open the door when someone knocked on it, as they didn't want other people to be affected by the persecution. Yet, perpetrators from the police department, the Party Office and Street Party Committee often phoned them to "express concern" for them. Once, police went to their home, trying to arrest them. They were not allowed to leave Shijiazhuang City during holidays, and as a result they could not go to their hometown or take their son on outings. They often heard about the arrest of other Falun Gong practitioners, and an atmosphere of terror engulfed the city.
In late June 2000, during the politically sensitive days, Wang Hongbin and Feng Xiaomei's work units received great pressure from the government and police, and they ordered Wang Hongbin and his wife to report to the factory Security Division on a daily basis and talk to their superiors. Faced with endless harassment and persecution, Wang Hongbin and his wife decided to go to Beijing to appeal. When they saw plainclothes police arresting and beating Falun Gong practitioners and other people in front of the Appeals Office and in Tiananmen Square, they knew that their voices would not reach the government, so they went back. Their work units were afraid of taking blame for their appeals trip to Beijing, so they suspended the couple from their offices and forced them to write repentance statements to promise that they would no longer practice Falun Gong. They were given a meager 300 Yuan a month. Because they could not live off 300 Yuan, Wang Boru's parents were forced to quit their jobs.
Around 11:00 p.m. on July 19, 2000, the political head from the Dongdajie Police Department ransacked Wang Boru's home and arrested Feng Xiaomei, accusing her of "disrupting the social order." She asked, "How can I disrupt anything by staying home?" The police answered, "This is the standard charge for anyone who practices Falun Gong." Wang Boru followed his father to bring food to his mother at the police department every day. Once, Feng Xiaomei was released after nine days of protest and was sentenced to "living under monitoring" administered by the Street Party Committee. She had to report to the Street Party Committee even when she goes out to buy vegetables. She was not allowed to leave the city, or the police would put her on the wanted list and arrest her. The government made a rule that more than three Falun Gong practitioners getting together is considered an "illegal gathering" and the practitioners would be arrested. Since Wang Hongbin and his wife are both Falun Gong practitioners, visiting Feng Xiaomei's sister Feng Xiaomin or a friend who also practices Falun Gong would be considered an illegal gathering and they would face arrest.
In September 2000, Wang Boru's father Wang Hongbin went on an errand by train and was arrested on the train when reading Falun Gong books. He was transferred to several different police departments and was held for four or five days. Feng Xiaomei was anxious because she didn't know her husband's whereabouts. Later, a group of police officers went to ransack their home. Wang Boru was 11 years old at the time.
During the five-day holiday on October 1, 2000, perpetrators from the Dongdajie Police Department, the Criminal Police Division and from the Street Party Committee went to Wang Boru's home to ransack it and arrest Wang Boru's parents. Wang Hongbin and Feng Xiaomei firmly resisted the persecution and the police could not take them away. They could no longer stay at home; they took young Wang Boru and lived in exile until the holiday ended.
On December 5, 2000 a dozen plainclothes police officers arrested Wang Hongbin from home and ransacked it. Wang Boru's grandmother was frightened and fell ill. She became bedridden and her heart raced whenever someone knocked on the door. Feng Xiaomei escaped.
Fear of losing mother
Feng Xiaomei went to Beijing to appeal for justice for Falun Gong and was savagely beaten by the police in Beijing, such that half of her body turned black; she vomited blood and had blood in her stools for over 20 days; her whole body was swollen and her face became deformed; her eyes were reduced to slits, she couldn't fit her feet into her shoes and she could not walk. During the time she was held at a police department in Beijing, police officers didn't allow her to use the restroom for 48 hours. Later they transferred her to the Chongwen District Detention Center in Beijing, where the guards force-fed her with nerve-damaging drugs. She was sent back to Shijiazhuang City and was held at the Luancheng Detention Center for one day. With her friends' efforts in appealing for her, the guards released Feng Xiaomei when she was at the brink of death.
After she recovered, Feng Xiaomei appealed for her husband. With a guilty conscience, the perpetrators tried everything to stop her. They fabricated charges against her and tried to frame her, made threatening phone calls and also tried to arrest her son Wang Boru. She took her son and lived in exile; they could not return home. She also had to work to provide for her son. Wang Boru memorized the phone number of his relatives in the countryside, so he could go to them if his mother was arrested. At night, a slight noise would wake Wang Boru, who couldn't fall asleep unless he held to his mother's arm. He is afraid of losing his mother after losing his father. He is determined to follow her if the police took her away.