(Clearwisdom.net) On May 10, 2005, two Western practitioners were married in Charlottetown, Prince Edward Island, Canada. Practitioners from Halifax, Nova Scotia were in attendance, along with approximately 100 family and friends. The ceremony included readings from both Falun Gong and Zhuan Falun, and experience sharing from the couple.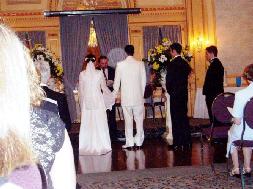 Wedding
During the experience sharing, both bride and groom discussed the powerful changes the practice had brought to them, and how Dafa strengthened their relationship. The importance of marriage was also brought up. Many of the guests were moved to tears. After the ceremony, a number of guests said the same thing: the ceremony was the most special and genuine one they had ever been to.
| | |
| --- | --- |
| Practitioners in Charlottetown on the morning of the wedding | Demonstrating the exercises at the mall in Truro, Nova Scotia |
The wedding incorporated other elements related to Falun Dafa. Large posters of Master's Hongyin were hung along the entrance. A brief introduction to Falun Dafa was printed on the back of the wedding programs. A picture of Master Li, a copy of Zhuan Falun, and a picture of the couple were placed on the table on which the marriage certificate was signed. The couple also included Zhen-Shan-Ren in their vows.
Atlantic Canada Trip to Introduce Falun Dafa
| | |
| --- | --- |
| Practicing in the rain in Gander, Newfoundland | "Falun Dafa" shines during the night |
There are four Atlantic Provinces: New Brunswick, Nova Scotia, Prince Edward Island, and Newfoundland. It was agreed that the presence of Falun Dafa needed to be reinforced, particularly in Newfoundland, where there are currently no practitioners. A Cross-Canada tour happened in 2003, but it ended in Montreal and had not reached the Atlantic Provinces. Practitioners here felt that the opportunity to continue the tour should be taken.
| | |
| --- | --- |
| Teaching the exercises in St. John's, Newfoundland | Reporter talks with practitioners in Grand Falls, Newfoundland |
The newly-weds used the traditional honeymoon period to travel with three Chinese Halifax practitioners to introduce Falun Dafa. Seven cities were covered in seven days.