(Clearwisdom.net) On July 20, 2005, the Chinese Communist Party's (CCP) persecution against Falun Gong practitioners entered its seventh year. Austrian practitioners gathered in Vienna's Stephansplatz (Stephan's Square) to commemorate the victims of the brutal persecution and to let the Austrian people know about the human rights abuses that have been happening to Falun Gong practitioners in China every day since July 20, 1999.
Ever since the persecution started 6 years, the Jiang regime and CCP have been arresting, detaining and torturing innocent practitioners, resulting more than 2,700 deaths. Besides physical torture, the regime has also been brutally torturing practitioners mentally and used the state-run media to turn the public against Falun Gong. This persecution can be best summarized by Jiang's notorious genocide policies: "defame their [practitioners'] reputations, bankrupt them financially and destroy them physically." To let people know the brutality of the persecution, an anti-torture exhibition was held. The practitioners reenacted two of the torture methods employed by Chinese Communist officials in their attempts to force Falun Gong practitioners to renounce their beliefs.
| | |
| --- | --- |
| | |
| Passersby asked about the persecution of Falun Gong in China | ...and signed the petition calling for an end to the persecution |
| | |
| Many people came to learn about the persecution | Many people came to learn about the persecution |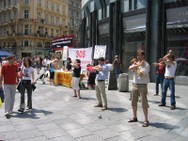 Practitioners demonstrated Falun Gong's peaceful exercises
Despite the human rights atrocities inflicted upon them, in the past six years, practitioners have followed Falun Gong's principles of Truthfulness, Compassion and Forbearance and have continued in their tireless campaigns of peaceful resistance.
Here in the west, we have the rights of religious freedom, freedom of expression and the right to bring injustice before the courts. Such freedom does not exist for the citizens of China. Therefore, many have filed lawsuits against Jiang Zemin and his followers in many European countries as well as the U.S., Canada and Australia.
The situation has turned for the better because of practitioners' persistent efforts worldwide, and the support by all kind-hearted people. As long as this persecution has not come to an end, however, we will continue our efforts to make a difference to the victims in China and give a voice to the practitioners held in prisons, slave labor camps or re-education camps.
Source http://clearharmony.net/articles/200507/27921.html
Original in German: http://www.clearharmony.de/articles/200507/25391.html