Clearwisdom.net/minghui.ca Correspondent
Sydney, Australia
(Clearwisdom.net) Former Chinese diplomat Chen Yonglin, who defected recently from the Chinese Consulate-general in Sydney, successively exposed inside stories about the Chinese Communist regime's extensive spy network that has infiltrated democratic western countries including Australia and persecuted and harassed Falun Gong practitioners inside and outside of China. Inspired by Chen's defection, former Chinese officials including Hao Fengjun (currently in Australia) and Han Guangsheng (currently in Canada) also denounced their membership in the Chinese Communist Party (CCP) and further exposed the CCP's suppression and harassments of Falun Gong. These aroused the media and governments' attention of the Falun Gong issue. Thus this reporter interviewed several Falun Gong practitioners who shared their thoughts and feelings about Chen and Hao's expositions of the inside stories about the harassments encountered by practitioners.
Chen Yonglin Details Evidence of the Chinese Consulate's Intelligence Gathering
At the press conference on July 10, 2005, Mr. Chen Yonglin exposed to the media a sample of the information that spies and informants provide to the Chinese Consulate. Mr. Chen Yonglin revealed, "The Chinese Consulates and Embassy in Australia have two systems, one is diplomatic and another is intelligence system. Personnel in the intelligence system are funded independently. Many people don't consider it a wise way to use the Embassy or Consulate to gather intelligence information. But in reality, the CCP's important intelligence information is usually collected through Embassies and Consulates. Therefore, many Embassies and Consulates have intelligence systems. I was formerly the political consul in the Chinese Consulate-general in Sydney. I was in charge of the bilateral relationship between the Chinese and Australian governments and political issues. I was an official in the diplomatic system. I mostly collected information through public ways including reading newspapers, surfing the Internet and openly watching dissidents' group events. Sometimes, I also received information from informants. Therefore, although I didn't belong to the intelligence system, I knew some informants' names.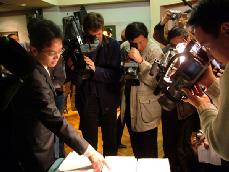 Chinese Consulate's intelligence information disclosed by Chen Yonglin draws attention from media
Mr. Chen said, "When I worked in the Chinese Consulate, it was as easy as turning my hand over to investigate some people. In fact, the Consulate obtained the information from some informants. Only a phone call to them, and they would inform the Consulate. Over the phone, some informants directly uncover the secrets of people who are close to them. Some hand in a written report. Some who are smarter usually request a face-to-face talk. However, it is not safe even if they come to have a face-to-face talk, because the conversation over phone or through interviews are all recorded through written reports, which will be turned in to leaders. After further compiling and analyzing, the information will be reported to the intelligence institute in China. People in the Consulate's intelligence system directly report to Headquarters of the General Staff of the Chinese People's Liberation Army or Department of Security."
Chen Yonglin disclosed that the Chinese Consulate-general has a blacklist of more than 800 Falun Gong practitioners. He has already removed most of the names from the list. He said that this part of the name list was already removed from the computer database. Chen said that the reason why he has sympathy towards Falun Gong practitioners is because he indeed feels that Falun Gong practitioners are exercising their beliefs in Truthfulness, Compassion, Tolerance.
Veteran Falun Gong Practitioner in Sydney: The Blacklist and the Harassments Have Been Long-standing
The first of the three information documents disclosed by Chen Yonglin was the name list of the Australian Falun Dafa Association provided by an informant to Consul Du Wei. The list contained names of Falun Gong contact persons in Sydney, Melbourne, and South Australia.
The name list provided by the informant to Consul Du Wei stated, "This document was sent by the organization written on the back of the envelope. After being verified step by step, it can be included in the list for internal control (Editor's note: namely, blacklist)."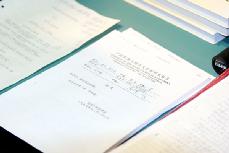 Fax sent by the Chinese Embassy in Canberra to Consulates in Sydney and Melbourne
The second document is the fax (see the photo above) sent by the Chinese Embassy in Canberra to Consulates in Sydney and Melbourne. The fax contains six pages which list more than 300 Falun Gong practitioners' names. The fax was signed by former Chinese Ambassador Zhou Wenzhong.
Ms. Meng Li, whose name was listed on the document told this reporter, "This blacklist indicates that spies are around us. Quite some time ago, the CCP had already sent spies to infiltrate practitioners and collect contact persons' names and other practitioners' names. In May 2001, when we, the 22 practitioners, had just arrived at Hong Kong airport's customs, we saw many police officers waiting there nervously as if they were confronting some formidable enemies. It seemed that they had received the information in advance and were aware of our names and whereabouts. When we passed through customs, the officers spent quite a long time comparing our passports and records on their computers. In the end, an officer who carried a walkie-talkie directed a group of officers to illegally detain all of us. They locked us in small cells individually and interrogated us one by one. Later, we were forcibly deported back to Australia. Several male practitioners were tied up and sacked, then carried onto the airplanes. During the detention, they gave each of us a cup of beverage. After drinking it, a practitioner whose last name was Zhang immediately fainted. After he went back, he felt that his memory lapsed, and that he had no strength at all. He felt dizzy and could not take care of his business. In the end, he had to sell his business. I have also felt the same way since drinking the beverage. My memory lapsed and I don't have enough energy."
Kong Huiling: Hoping People Who Follow the CCP Will Choose Their Conscience and a Bright Future
The third document that Chen Yonglin disclosed was about Sydney Falun Gong practitioner Ms. Kong Huiling's detailed personal information, including her birthday, when she came to Australia, and the Falun Gong activities around the world she has participated in from 1999 to 2004, as well as her parents' personal information such as their address, passport numbers, period of validity, and their plan to apply to visit Australia. The document even showed that Ms. Kong Huiling went to Taiwan in 2001 to attend the Asian and Pacific Area Falun Dafa Experience Sharing Conference, during which time she was assigned in the No. 11 group and what name she used. At the end of 2000, Ms. Kong Huiling went to Macao and was barred from entering Macao according to a blacklist. The document detailed how she was beaten there. Ms. Kong said that she could not remember some of the details but they were recorded on the document provided by the informants.
Ms. Kong told this reporter that in December 2000, she went to Macao through Hong Kong. When she was in the queue at customs to do corresponding paper work, she was called out by customs officials. Two policewomen took her to the elevator. One policeman rushed over and hit her on the nose. She almost felt down. After she was forcibly dragged into the elevator, four or five police officers beat her forehead with their walkie-talkies and kicked her in the lower abdomen. Afterwards, she was carried onto the dock and taken to a ship destined for Hong Kong. Mr. Lin, who accompanied her, received phone calls from CCP's department of security before he left Australia. He was told that his plan to go to Hong Kong and Macao was known. Therefore, when Ms. Kong and other practitioners arrived at Macao customs, they saw crowds of police officers waiting there. Ms. Kong told this reporter that she realized that she and other practitioners were included in a blacklist, and that informants had already reported their itineraries to the CCP's Department of Security before their trip.
Ms. Kong said, "Although I became an Australian citizen a long time ago, the CCP still knew our detailed trip plans. This left me a big shadow." Nonetheless, Ms. Kong wishes that those who still sell information to the CCP will awaken as soon as possible, see through the situation, and choose their conscience and a bright future. She warned them not to leave themselves or their children too many regrets, since when they hurt others they hurt themselves as well."
Zhang Cuiying: It's shocking to Learn that the Australian Ministry of Foreign Affairs Assists the CCP in Dealing with Falun Gong Practitioners in their Lawsuits Against Chinese Officials
Mr. Chen Yonglin also revealed that some Australian government officials had many secret deals. For instance, the Australian Ministry of Foreign Affairs supplied ideas for the CCP to solve its political problems and even provided several plans to assist the CCP in dismissing the lawsuit filed by Ms. Zhang Cuiying in the New South Wales Supreme Court against former Chinese President Jiang Zemin and the 610 Office.
Ms. Zhang Cuiying told this reporter that over the past six years of persecution, her family and herself have suffered various kinds of persecution and harassments from the CCP. In 2000 when she went back to China, she was arrested as soon as entered the Shenzhen customs. Police officers who received intelligence information from spies in advance waited for her there and said to her, "You have finally arrived. We've waited for you here for one entire day already." Afterwards, Ms. Zhang was illegally detained for eight months in a forced labor camp where she was violently tortured both physically and mentally. Even after she returned Australia, her phone calls were monitored and her letters were stolen. The CCP's spies even threw a bloody dead cat at her front door and threatened that she should stop all her activities of exposing the persecution facts.
Zhang Cuiying expressed that as an Australian citizen, she felt shocked upon hearing that the Australian Foreign Ministry assisted the CCP to intervene with her lawsuit against Jiang Zemin and the 610 Office for the sake of economic interests. She hoped that the Australian government and major media outlets will conduct investigations and expose the CCP's manipulators behind the curtain so as to protect Australian citizens and allow all Australian people to enjoy a safe, free and peaceful living environment.
John Deller: Inside Stories Disclosed by Chen and Hao Help Australian Government Realize the Seriousness of the Persecution
Apart from information disclosed by Chen Yonglin, another defected Chinese official, Mr. Hao Fengjun, also exposed overseas Falun Gong practitioners' activity information provided by China's 610 Office and the Chinese Ministry of Security through different channels. For instance, Falun Gong practitioners from New South Wales planned to hold an experience sharing conference after the Christmas. The document listed the conference organizers' names. Mr. John Deller was described as the coordinator who "organized" several activities that attempted to damage the CCP authorities.
John Deller said it was really shocking to learn that Falun Gong practitioners' activities in Australia are so closely monitored by CCP officials who were even aware of detailed Australian citizens' personal information to such a degree. He said that Mr. Chen and Mr. Hao are really courageous to defect. The evidence they provided verified that the persecution and harassments encountered by Falun Gong practitioners are all real. In the meantime, they also helped the Australian public and government to realize that the CCP's persecution of Falun Gong is truly severe.