(Clearwisdom.net) On July 20 six years ago, the former head of the Chinese Communist Party (CCP) Jiang Zemin initiated a brutal campaign of persecution against Falun Gong, outlawing the practice's principles of Truthfulness, Compassion and Forbearance. This persecution campaign has proved to be the most evil in human history, as the CCP has used all the means of persecution that it has perfected in its last 50+ years of tyrannical power. From 1999 onwards, Falun Gong practitioners around the world have carried out a just, peaceful, rational and uncompromising mission to stop the persecution and tell all people, governments and organizations the facts about Falun Gong and the persecution in China.

On the afternoon of July 16, 2005, Falun Gong practitioners from Denmark and Sweden went to the largest square in Copenhagen, Kongens Nytorv, to expose the on-going campaign of genocide against Falun Gong in China and to show to the world Falun Gong practitioners' peaceful character and determined courage that is cultivated through following the universal principles of "Truthfulness, Compassion and Forbearance."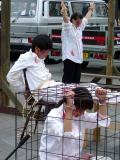 The persecution is happening in China
In this anti-torture exhibition, practitioners used live simulations of torture as well as many poster displays showing what Falun Gong is, and giving more details about the persecution in China and the extension of this persecution to the rest of the world. By July 20, 2005, the number of documented deaths of Falun Gong practitioners at the hands of the CCP had reached 2,684, although the number of unreported deaths is believed to be far higher. Six years of non-stop appeals and other efforts by Falun Gong practitioners have helped the world's people to see the nature of this persecution.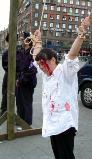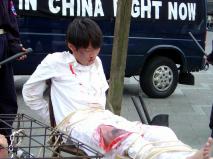 The persecution is happening in China
The summer in northern Europe is the peak tourist season. Streams of tourists from around the world come to visit northern Europe's largest city, Copenhagen. People came to ask practitioners for information in their own languages.
The brutal scene depicting the vivid torture shocked every passer-by. During the whole torture re-enactment, there were always many people watching. They stayed for a long while, carefully reading through all the posters and the leaflet designed by practitioners to mark the sixth anniversary of "7.20." A lot of people talked to practitioners to learn more. Many others also listened to the explanation of the anti-torture exhibition from the loudspeaker. Countless people expressed their condemnation of the ongoing persecution in China. They also criticized and condemned western political circles and media who have stayed quiet about the persecution for economic reasons. Many people recorded this shocking scene with their cameras and camcorders.
Pointing to the torture re-enactment scene, an elderly Danish gentleman asked practitioners, "Is this happening in China every day?" When he got an affirmative answer, he sighed sadly. He learned that Falun Gong practitioner Liu Xiaotian's parents both died as a result of persecution when he was only fifteen; overnight he lost his family and everything he had in life. The Danish gentleman cried when he heard this. He held Xiaotian's hands very tightly and tried to comfort him. He talked to many practitioners and stayed for a long time.
| | | |
| --- | --- | --- |
| Capturing the unforgettable scene | People who have learned the truth | Children who have learned about the persecution facts |
After seeing the anti-torture exhibition, many tourists from different countries came to talk to practitioners, using many different languages. Some came with their whole family. It was often the young children who talked to practitioners in English and then translated for their parents. Many people asked, "How can we help?" or "We support you." People were very critical of the mainstream media for not reporting the true situation in China. Many people realized the evil nature of the Chinese Communist Party. They thought that Western society's naive image of the CCP is very dangerous and the world must reconsider its economic policy towards China.
A six to seven year-old boy from Sweden looked at the torture reenactment scene for a long time. He then found a practitioner and asked the practitioner in his limited English, "What's this?" When he understood after the practitioner's patient explanation, he said, "This, in Sweden, no!"
A Chinese person from Mainland China had a long talk with a Western Falun Gong practitioner. Like many of his compatriots, he was deeply afraid under the Chinese Communist's brutal repression. When he was talking to the practitioners, he kept looking around, fearing that he may be recorded by camcorders. When he got a Video-CD revealing the truth about Falun Gong, he said sincerely, "I am going back to China tomorrow. I will watch the VCD tonight in the hotel. But I dare not take it into China." We truly hope that after learning the truth, this gentleman will stop being frightened, and that he will become strong and justice will grow in his kind heart.
Liu Xiaotian, an orphan of Falun Gong practitioner parents, has himself started to practice after escaping from China. Today he again acted as a practitioner being tortured. He said, "My father and mother lost their lives in this persecution. As a result, I became an orphan. I want to show people the suffering of Falun Gong practitioners in China and I hope that this persecution can be ended soon so that the children of Falun Gong practitioners can have their own happy families and that the tragedy I encountered will not be repeated."
Another practitioner joining the torture re-enactment was a Ms Lin. She obtained her PhD degree in Denmark and is now an engineer engaged in scientific research. She said, "Sitting in the iron cage or having both arms outstretched for a long time really make my body ache, although the suffering is not of the same magnitude as that encountered by practitioners in China. I am willing to use my own suffering to awaken people's conscience and sense of justice so that the persecution can be ended as soon as possible."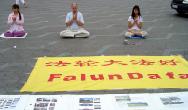 Falun Dafa is Great!
Beside a banner reading "Falun Dafa is Great", practitioners demonstrated the Falun Gong exercises. This peaceful and gentle scene displayed to the people the beauty of Falun Gong. Many were attracted by the music and the exercises. They asked about the practice sites, where they can learn the exercises for free.

The activity concluded at 7:00 p.m. Practitioners were pleased to see so many kind-hearted people learning the truth. The practitioners expressed that they would hold such truth clarification activities again in the near future.
Source: http://clearharmony.net/articles/200507/27831.htm