Australia: Practitioners in Melbourne Call on Foreign Minister Downer to Stop Helping the Chinese Communist Party Persecute Falun Gong (Photos)
June 30, 2005
|
By a practitioner in Melbourne
(Clearwisdom.net, June 25, 2005) On June 23, 2005, Falun Dafa practitioners in Melbourne rallied in front of the federal government building to call on Australian Foreign Minister Alexander Downer to withdraw the restrictions on Falun Gong's peaceful appeals. They held banners reading "Mr. Downer, Please Stop Certificates that Limit the Falun Gong Appeal at Chinese Embassy," "Mr. Downer, Do Not Help the Chinese Communist Party Persecute Falun Gong". They also reenacted torture methods used in China in the persecution and distributed truth-clarification literature.
| | |
| --- | --- |
| | Calling on Mr. Downer not to help the Chinese Communist Party persecute Falun Gong |
A practitioner gave a speech at the rally. He said that the rally was held because Mr. Downer still signed certificates forbidding Falun Gong practitioners from displaying any banners or playing recordings in front of the Chinese Embassy. Such a restriction is against Australian law. Based on information provided by former Chinese diplomat Chen Yonglin, there are one thousand Chinese special agents in Australia. The government has done nothing to restrict these agents' harassment of Falun Gong practitioners, yet they hamper practitioners. Australia is the only democratic country in the world that places such restrictions on practitioners. Mr. Chen said during an interview on ABC TV that the Chinese Embassy praised Mr. Downer for signing the certificate. Thus, the practitioner said that Mr. Downer was helping the Chinese Communist regime to persecute Falun Gong. The lawsuit against Mr. Downer is to resolve the issue completely.
| | |
| --- | --- |
| Practitioners calls on Mr. Downer to not help the Chinese Communist Regime persecute Falun Gong | An Asian girl passing by views the banner |
One Australian man passing by said, "I think Mr. Downer's restriction of practitioners' appeal in front of the Chinese Embassy is baseless. Why can people from New Zealand appeal in front of New Zealand's Embassy and Indians appeal in front of the Indian Embassy? Falun Gong practitioners should of course be able to appeal in front of the Chinese Embassy."
| | |
| --- | --- |
| Two students from Iraq listen to the practitioner's speech | An Australian man is being interviewed. He condemned Mr. Downer. |
Two students from Iraq said, "Mr. Downer should stop signing such certificates immediately. He should stop if he is not a communist party member."
A man working at a human rights organization said, "Mr. Downer should not support the Chinese Communist Regime. Falun Gong practitioners should have their basic rights."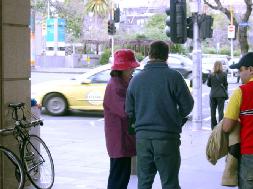 Practitioners clarify the truth to passers-by.
Passers-by listen to a practitioner's speech and look at the posters. A young lady and her boyfriend shed tears in front of posters exposing the Chinese Communist Party's torture methods against Falun Gong practitioners.