(Clearwisdom.net)
(continued from http://www.clearwisdom.net/emh/articles/2005/2/13/57478.html)
2. Losing a Mother at a Young Age, Losing a Husband or Wife at Middle Age, and Losing a Son in Old Age, All Because of Persecution
There is no more severe pain in life than losing parents at a young age, losing a spouse in middle age, or losing children in old age. In the five years of persecution against Falun Gong, human tragedies have taken place in millions of Falun Gong practitioners' homes.
Since July 1999, 1,300 deaths from persecution have been verified through various channels. The average age of those killed is 45. Most of them had left young children or elderly parents behind. With difficulty, the remaining family members carried on with their lives. Some families lost both husband and wife; other families had one member murdered and the spouse of the deceased was detained or had to leave home to avoid the persecution. The situations of young children and older family members who were left behind were difficult and worrisome. For those Falun Gong practitioners' families, the joy of a family union was a thing of the past. Li Shuhua (mother of the two brothers)
Young Brothers: The New Year is Coming, We Wish Mom and Dad Were Back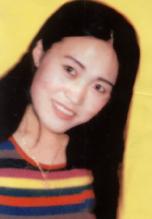 More than a year ago, in Yushu, Jilin Province, Young Kai (age 10) and Young Chang (age 11) lost their loving mother Li Shuhua, because she persisted in practicing Falun Gong. Police beat Li to death on October 9, 2003. Their father, Young Zhanjiu, is still detained at the Shilingzi Prison, Siping City, Jilin Province. The brothers said to the reporter from the Epoch Times, "The Chinese New Year is coming. We wish mom and dad were back very much.
At present, Young Kai and Young Chang are staying with their grandparents. Their living conditions are very difficult. Grandma said that it was cold in the Northeast [Jilin Province is located in the Northeast of China], and if some practitioners hadn't brought them warm clothes, the two brothers wouldn't have been able to go to school. A couple of days earlier, her son-in-law sent words from the prison. He encouraged the brothers to study hard, be good, and not to worry about him.
"The Chinese New Year is coming. We wish mom and dad back very much." Just as all the children in this world, to be with mom and dad is a child's purest wish. Without mercy, the persecution of Falun Gong takes the lives of parents. The persecution's evil nature is obvious.
Rongrong at Age Four Experienced a Number of Deaths in her Family
Rongrong was born in November 1999. Her father was not present during her birth. At the end of October 1999, her father went to the Bureau of Appeals in Beijing to clarify the truth. He was immediately arrested when he came back to Qingdao City and jailed until December.
Rongrong's father, Zou Songtao, was a modest person. He excelled academically and graduated with a bachelor degree from Nanjing University. In mid 1999, he graduated with a Master's degree from the department of Marine Biology at Ocean University, Qingdao (currently Ocean University of China). Since July 20, 1999, Zou Songtao has been unlawfully detained numerous times. He was once handcuffed in a metal chair (The metal chair is made of steel pipes. Victims are restrained on the metal chairs with both arms and legs tied for a long period of time). The perpetrator was Gong Guoquan, director of the Taixi Police Station in Qingdao. Gong beat Mr. Zou so viciously with the sole of a shoe that he bled profusely and his head swelled up grotesquely. He became unrecognizable and was unconscious for over 20 minutes.
In July of 2000, Mr. Zou was tricked into going to the Qingdao City Police Department, and was subsequently sent to the Qingdao City Labor Camp in Shandong Province. At the end of September 2000 he was abruptly transferred to the Wangcun Labor Camp in Zibo City, Shandong Province. After four months, the morning of November 3, two policemen named Zheng Wanxin and Shao Zhenghua shocked Zou with electric batons. On the same day, Zou Songtao either fell or was pushed from a building. He was 28 years old when he passed away. Rongrong was only 11 months old.
| | |
| --- | --- |
| Rongrong | Rongrong's parents: Zou Songtao, Zhang Yunhe |
Rongrong's mother, Zhang Yunhe, was an accounting manager at TFL China Limited. Ltd (a German company in Qingdao). Her work performance was excellent, and the company gave her great reviews. Because she practiced Falun Gong, under pressure from various places, the company had to fire her. In May of 2001, Zhang Yunhe was reported while distributing truth clarification materials. She had no choice but to leave home and move from place to place. No one knew her whereabouts for a long time. Later, it was said that she was detained at the Dashan Detention Center in Qingdao. But to this day, her family has no news of her.
Rongrong is living with her grandparents. Her grandmother couldn't bear the pain of losing her son-in-law and the separation from her daughter. She died in her 60s, in August 2001.
Rongrong lost three family members that she loved most: Dad, mom, and grandma. When Rongrong thought of them, she would step on a chair, crawl onto the table and kiss the urn holding her father's ashes. Huang Ying (Nickname: Happy) kissing the picture of her mother and saying, "I miss mommy."
Huang Ying Lost Her Mother Forever at Age One and a-Half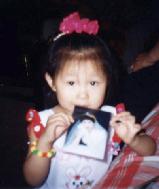 | | |
| --- | --- |
| Huang Ying's mother, Luo Zhixiang, was tortured to death by agents from Tianhe District "610 Office." | Mother: Luo Zhixiang, Father: Huang Guohua |
The little girl in the photo is Huang Ying (Nickname: Happy). She was born on May 15, 2001. Huang Ying lost her mother at age one and-a-half.
Luo Zhixiang was an architectural designer at the Nongken Construction Industry Corporation in Guangdong Province. On November 22, 2002, agents from the Tianhe District 610 Office and from the Xinghuajie Police Station in Guangzhou seized her. She was detained at the Huangpu Drug Rehabilitation Center for forced brainwashing. She started a hunger strike against the persecution and was later sent to the Tianhe Hospital. On December 4, being three month pregnant, she died at age 29.
Happy couldn't be with her father either. Happy's father, Huang Guohua continued to clarify the truth. After being unlawfully monitored and detained, Huang Guohua left home to avoid persecution. He now lives in Thailand.
Right now, Happy lives with her grandparents in a dilapidated house made of sun-dried bricks. Her address is No. 12 Xincun, Rujiazhuang Village, Wujing Town, Linqu, Shandong Province. Happy's grandparents have no source of income.
Happy has never told her maternal grandmother about the death of her mother. She said, "Grandma will cry and cry!" (Her grandmother's family keeps it a secret from her grandmother because she is in poor health and they don't want to shock her.) When her maternal grandmother is not around and if someone asks Happy, "Where is mommy?" Happy says, "The bad people killed mommy!"
When Huang Ying saw her mother's picture in a truth clarification pamphlet called "A Guangzhou City Story" in the living room of a fellow practitioner, she said, "That's Mommy." She acted as if nothing had happened and went out and played. We thought she wasn't feeling hurt because she was too young, but we were wrong! When we left the room, she picked up the pamphlet and looked at her mother's picture and cried.
15-Year-Old Girl's Account: Mother Died as a Result of the Persecution; Father is Imprisoned; Many Relatives Being Persecuted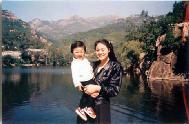 The little girl in this photo is Ji Yawa. She is now 15 years old and is a middle school student in Weifang City, Shandong Province. Her childhood was a happy one. In this photo she is smiling joyfully in her mother's arms, and her mother is smiling cheerfully, too. Her father took the picture.
Ji Yawa's father started to practice Falun Dafa in 1994 when Yawa was a small child. Before practicing Falun Dafa, Yawa's father contracted hepatitis B and suffered so much that he could not go to work. He tried to find a cure everywhere and tried all kinds of medicine. Yawa's mother had to take care of all the household chores, and the family was in a tough situation. But ever since Yawa's father started to practice Falun Gong, he changed and became a different person. Seeing the miraculous effects of Falun Dafa, Yawa's mother started to practice Falun Dafa as well. Yawa told others, "Since my mother started to practice Falun Dafa, she no longer yells at me."
However, when the persecution began on July 20, 1999, Yawa's family's life, like that of so many other families, was turned upside down.
Lou Aiqing
Yawa's mother, Lou Aiqing was tortured to death on December 24, 2000. Yawa was 11 years old at that time.
Yawa's father believed in "Truthfulness-Compassion-Forbearance" and didn't give up practicing Falun Gong. He was unlawfully sent to a labor camp. Yawa's grandmother, Fan Fumei (age 67), went to Beijing for a peaceful appeal for Falun Gong. She was unlawfully detained. Yawa's mother's sister, Lou Hongmei, and her husband, Li Tianmin, are still illegally detained and suffering all kinds of torture.
In the five-year, merciless persecution of Falun Gong practitioners, it is yet unknown how many children have lost one or both parents. Since Minghui Net made the announcement "notice regarding collecting information about orphans" on September 15, 2004, information about more than 100 orphans has been collected. They are babies, toddlers, grade school pupils and teenagers. Children are innocent, yet they lost the joy of childhood only because their parent believed in "Truthfulness-Compassion-Forbearance."
The old mourn the young. Under the brutal persecution, elderly parents of Falun Gong practitioners endured the tragedy of losing their sons and daughters. Bai Xiaojun
Her Eldest Son was Murdered; Her Second Son was Tortured; Elderly Mother Suffers Tragedy
Falun Gong practitioner Bai Xiaojun was a thirty-five-year-old former Northeastern Normal University lecturer with a Master's degree. Since July 1999 he has been detained unlawfully numerous times. In July 2000 he was sent to a labor camp for a year because he went to Beijing for a peaceful appeal. He was held at the Weizigou Forced Labor Camp, Changchun City, Jilin Province, where police tortured him cruelly. He was badly hurt. In January 2002, after seven added months in the labor camp, he didn't give up cultivation and was transferred to the Xinglongshan Brainwashing Center in Changchun. Later he was sent to the Chaoyanggou Forced Labor Camp. Bai refused to be brainwashed. Policemen directed other prisoners to pour salt water on him to irritate the severe scabies all over his body. On July 18, 2003, Bai Xiaojun was tortured to death at the Chaoyanggou Forced Labor Camp.
Bai Xiaojun's younger brother Bai Shaohua had graduated from Renmin University of China. He practiced Falun Gong and was also unlawfully detained numerous times. In March of 2003, Bai Shaohua was again detained and sent to the Tuanhe Forced Labor Camp in Beijing. He endured all kinds of tortures.
Bai's mother is in her 70s. She has lost one son and worries over another son's life. Under pressure from Jiang's regime, she has endured great pain and suffering.
The Pioneer Responsible for Tapping into the Chinese Cable TV System was Tortured to Death; His Parents Suffered Overwhelming Grief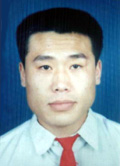 Liu Chengjun
Liu Chengjun, a 32-year-old Falun Gong practitioner from Nongan County, Changchun City who participated in tapping into the local TV system was arrested and savagely beaten with wooden clubs the size of one's thigh. He was tortured on the Tiger Bench for 52 days, then he was immobilized on the Death Bed" target="_blank">Death Bed. His legs were disabled from beating and he could not walk. After being tortured for 21 months, Liu Chengjun passed away on December 26, 2003. In a callous manner, the police arbitrarily cremated the body. Upon hearing the news of his son's death, a large obstruction quickly developed in his father's throat that blocked his airway. His mother fainted repeatedly from overwhelming grief. Huang Zhao
Huang Zhao's Mother Held Huang's Photo, Crying for Justice on the Street

On April 19, 2004, several elderly men and women stood by the street in the Qiaokou District, Wuhan City and held up a photograph of Falun Gong practitioner Ms. Huang Zhao, who had been tortured to death. They cried as they told the public how Huang Zhao was beaten to death because she practiced Falun Gong. Huang Zhao's mother screamed, "I ask Heaven and Earth! How did my daughter die!" After Huang Zhao's death, the Street Committee gave her family 30,000 yuan, telling them to keep silent! Huang Zhao's mother said while choking back tears, "I want to tell everyone that my daughter was innocent and she was beaten to death."
Shao Hui was Murdered Two Years Ago; Police Blocked the Information from His Family To This Date
In December 2000, Shao Hui, a Falun Gong practitioner from Huadian City, Jilin Province, was sent to a labor camp for three years because he practiced Falun Gong. In the Yinmahe Forced Labor Camp, Jiutai City, Shao endured all kinds of tortures. At the end of March 2002 he escaped from the labor camp. Authorities dispatched police forces to search for him. In August 2002, officers from the Jilin Police Department stalked him, and he was murdered that same night in his apartment. To this date, the police have blocked the information of his death from his family. Shao's elderly parents are still waiting for Shao to return.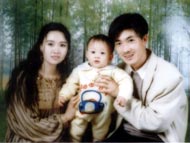 Shao Hui's family of three (In August 2002, Shao Hui was tortured to death by officers from the Jilin Police Department)
Shao Hui's wife, Mu Ping, was also sent to a labor camp for practicing Falun Gong. In October 2003 she was released for medical treatment while she was at the brink of death. To find out her husband's fate, Mu Ping, still in a weak condition, kept searching and appealing. Her living conditions are very difficult.
Mother Passes Away after Losing Her Son Pan Jianjun; Father Becomes Paralyzed
Falun Gong practitioner Mr. Pan Jianjun (33 years old) from Fangzhiya Village, Madiyi Township, Yuanling County, Hunan Province died on January 23, 2004. He was tortured to death at the No.7 Section at the Wangling Agricultural Prison, which is located in You County and is affiliated with Jinshi Prison, Changde City.
Upon hearing of his death, Pan's father became paralyzed. His mother couldn't take the tragic news and passed away. The Pans lost their major source of income. Pan's two younger brothers worked on a farm without much income. His sister couldn't go out and work because she had to take care of their paralyzed father.
Meng Xiao's Father Paralyzed; Her Mother has a Nervous Breakdown
Ms. Meng Xiao, a college graduate, was a 37-year-old division head of the Chengdu Steel Factory. After being brutally tortured, force-fed, tied up and injected with toxic drugs, Meng Xiao died between January 8 and January 12, 2004 in Jintang County, Chengdu City. Without notifying her family, the authorities cremated her body, which was covered with blood. Upon hearing of her death, Meng Xiao's father became paralyzed, and her mother had a nervous breakdown.
Chen Chengyong's Father Passed Away Carrying the Pain of Losing a Son
Dafa practitioner Chen Chengyong was persecuted to death by perpetrators in Guangdong Province. Chen's father was a uremia patient whom the hospitals had declared untreatable. Neither Western medicine nor Chinese traditional medicine could heal him. After Chen's father practiced Falun Gong, his illnesses disappeared. But under this merciless persecution, Chen's father couldn't take the news of his son's death and daughter's detention. He passed away, grief-stricken.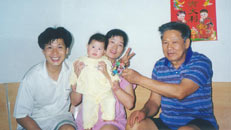 Left: Chen Chengyong, Right: Chen's father
Who doesn't have a husband, wife, son, daughter, mother, father, brothers, or sisters? This persecution against Falun Gong has caused tragedy and grief to countless families. The tragedy is still going on to this day. Should we tolerate it and do nothing?
(To Be Continued)