(Clearwisdom.net) The Falun Dafa Society in National Dong Hwa University had a field trip on November 27, 2005. Four members of the Falun Gong Society in Dong Hwa, one practitioner from the Tzuchi College of Technology and a college student who hadn't started cultivation participated in the field trip. Li Jianhao, president of the Falun Dafa Society, said that this field trip aimed to build friendships and introduce Falun Dafa to more college students.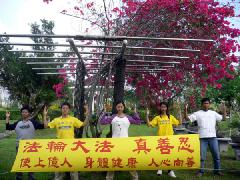 College students from the Falun Dafa Society do group exercises
The Falun Dafa Society at Dong Hwa University was established in 2002. Members do group exercises in the mornings and study the Fa together once a week. They also participate in fairs at the university, garden parties, exhibitions and field trips.
| | |
| --- | --- |
| Group Fa study during a break | Book exhibit at anniversary of Dong Hwa University's founding on November 18, 2005 |
Besides visiting beautiful scenic places, they studied the Fa during the break, did group exercises and gave out Falun Dafa truth-clarification materials. The activity ended at 3:00 p.m. Li said that they planned to distribute flyers on the street and collect signatures for their next activity. It will help more Taiwanese learn the true story of Falun Gong.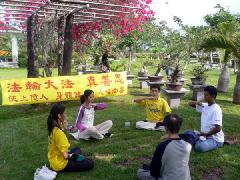 Meditation at a beautiful park
Falun Dafa groups are growing rapidly in Taiwanese universities. Forty to fifty universities have established Falun Dafa groups. Many professors and students are involved. More than 120 college students, both undergraduates and graduates, participated in the Second Falun Dafa University Workshop held in the National Chiao Tung University from July 29 to July 31.

Students learn the Falun Gong exercises at the Second Falun Dafa University Workshop in July 2005
Since Falun Dafa was introduced in Taiwan in April 1995, three hundred thousand people have begun cultivating in Falun Dafa. They include professors, doctors, lawyers, engineers, government officials, policemen, factory workers, farmers, businessmen, students, housewives and members from all parts of society. In National Taiwan University alone, there are dozens of professors, staff members and graduate students practicing Falun Gong. Falun Dafa workshops during summer and winter breaks are welcomed by education bureaus, principals and teachers in different counties. The Minghui Children's School, Minghui classes and summer camps have received great feedback from students and their parents.