(Clearwisdom.net) Mr. Wu Hongwen, born on November 27, 1969, is a Falun Gong practitioner from the Furong District of Changsha City in Hunan Province. His father Mr. Wu Qingzhang is a retired cadre from the Hunan Provincial General Office of the Chinese Communist Party (CCP) and his mother, Ms. Yang Yuhua, is a retired cadre from the Changsha City Radio and Television Bureau. Before he went missing, Mr. Wu lived at 107/11, No. 1 Section of the Dormitory of the Hunan Provincial Party Committee.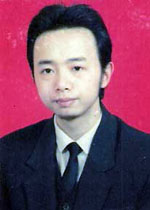 Wu Hongwen
On July 20 1999, the Jiang regime started persecuting Falun Gong. When Mr. Wu went to the Hunan Provincial Government to appeal for the right to practice Falun Gong, the Changsha City Police Department detained him for 48 hours. Around New Year's Day, 2000, he went to Beijing's Tiananmen Square to appeal. There, he was arrested and escorted back to Changsha City. He was detained at the Changsha City No. 3 Detention Center for 15 days. During the detention he persisted in his belief in Falun Dafa, refused to cooperate with the prison guards and went on a hunger strike to protest against his detention. As a result of the persecution, his weight dropped from 70 to 55 kilograms.
On February 3, 2000, his family brought him home. That same day, officers from the Rongyuan Police Station came to talk to him and forced him to write a report. At the same time the police and the Rongyuan Neighborhood Committee forced his parents to watch him closely and not let him go out. Under that great pressure, and to avoid the continued persecution, Mr. Wu was forced to leave his home and his parents the following day. At that time he was already very thin owing to the hunger strike. He left in such a hurry that he did not even have time to take a change of clothes; nor did he have any money.
After he left home, the Rongyuan Police kept trying to arrest him. Around May or June, 2000, Mr. Wu went to his uncle's home and borrowed some money. It was learned that Mr. Wu wrote a letter to the Rongyuan Police Station from Hubei Province to clarify the truth to them hoping that they would not listen to the lies fabricated by the Jiang regime and would not get involved in the persecution of Falun Gong practitioners.
The policemen from Rongyuan did not listen to his kind advice but thought they had found a clue to help them arrest him. They sent officers to Hubei in an attempt to arrest him, but they could not find him during their stay. Since then, Mr. Wu has not contacted anyone and at this time his whereabouts are unknown.
After Mr. Wu left home, officers from the Rongyuan Police Station constantly went to his home to harass his family. They also tapped his parents' telephone. They even went to his parents' workplaces requesting that their salaries be stopped. They went to Beijing to look for Mr. Wu and forced Mr. Wu's parents to pay their airfares and cover all their expenses in Beijing. They even ordered one of Mr. Wu's parents to go with them. Mr. Wu's younger brother suffered from enormous pressure because of the harassment. Both his grandparent-in-laws were very much afraid and passed away one after the other in less than a year. Mr. Wu's grandmother died because of the worries about her grandson and the fear of harassment.
A good person was forced to leave his home simply because he persisted in his belief in "Truthfulness-Compassion-Forbearance" and refused to succumb to the pressure or betray his conscience and normal human feelings. A happy family has been broken up. The sufferings of Mr. Wu and his family is another example of the persecution going on in China.
The Rongyuan Police Station and the Rongyuan Neighborhood Committee are not only responsible for the disappearance of Mr. Wu, but also for the persecution of all Falun Gong practitioners living in the area.
Mr. Wu Hongwen's home: 86-731-2215082
The Rongyuan Police Station: 86-731-2217887
The Security Department of the Hunan Provincial Party Committee: 86-731-2217750, 86-731-2218514
The Rongyuan Neighborhood Committee: 86-731-2217853, 86-731-2219960