Sweden: Reading the "Falun Dafa Association Announcement" at the Chinese Embassy (Photos)
November 30, 2005
|
By a Swedish practitioner
(Clearwisdom.net) On November 4, 2005, at 3:00p.m.. Falun Dafa practitioners read the "Falun Dafa Association Announcement" to officials in front of the Chinese Embassy in Stockholm.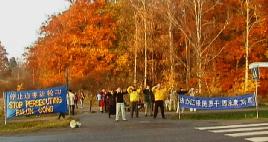 Demonstrating the five sets of Falun Gong exercises
| | |
| --- | --- |
| Reading the "Falun Dafa Association Announcement" to officials of the Embassy | Clarifying the truth |
It was pointed out in the announcement: "Since 1999 when the dictator Jiang Zemin initiated the bloody persecution of Falun Gong in China, the CCP has relied upon state power and an array of CCP terrorist mechanisms under its control to suppress innocent Falun Gong practitioners to the greatest extent possible. Under Jiang and the CCP's menace, many province- and city-level officials have acted as ringleaders or collaborators in the torture and killing of Falun Gong practitioners. Using their official positions, they have participated in this persecution to varying degrees, not only as initiators, co-conspirators and ringleaders, but also as aiders, abettors, and other types of accomplices.
"During the past six years, through peaceful resistance and a courageous degree of endurance, Falun Gong practitioners have clarified the truth to the people the world over. People who were previously deceived have awakened or are in the process of learning the facts. As a result, they have refused to join the persecution...."
"At this critical historical moment, the Falun Dafa Association has made a special announcement: From today on, overseas Falun Gong practitioners will file civil or criminal lawsuits against all important government or CCP officials who participate in or continue to implement the persecution of Falun Gong and as a result, commit new crimes in addition to those they have already perpetrated against Falun Gong. ..."
"The CCP regime is against heaven's will, and is about to collapse. It is now having difficulty sustaining the persecution. Heaven's final judgment of these evil criminals is imminent. However, one of the purposes of the sacred FA of Falun Gong is to save people, including people in all social statuses. Even for those who have committed wrongdoings, there is still an opportunity for them to abandon the evil path and choose to be good. For all those who have committed crimes against Falun Gong but want now to correct their mistakes, they can submit, under safe circumstances, a guarantee statement or regret letter to Minghui (Clearwisdom Net) or to any regional Falun Dafa Association to be archived. We will not investigate the various crimes of those who are determined to correct their mistakes. However we will continue to monitor their actions."
After reading the announcement, practitioners demonstrated the five sets of Falun Gong exercises. Passers-by stopped and watched the demonstration. They asked for leaflets and talked with practitioners to find out more about Falun Gong and the persecution.
To read the full Falun Dafa Association Announcement, please see
http://clearharmony.net/articles/200510/29240.html