(Clearwisdom.net) The 72nd Chicago State Street Thanksgiving Parade was held from 9 to 11a.m. on November 24 with nearly 100 groups participating. Despite the cold weather of 20oF (-6oC), tens of thousands people came out to watch the parade while several million watched at home. The Chicago parade is one of the largest Thanksgiving parades in the US, second only to the New York Macy's Parade. For the third consecutive year, the Mid-US Falun Dafa Association participated in this parade. In fact, Falun Gong was the only Chinese group among all the participating groups this year.


The Falun Gong procession
| | |
| --- | --- |
| Practitioners demonstrate the five sets exercises of Falun Gong on the float | Practitioners perform traditional Chinese dance |
Practitioners presented traditional Chinese Lantern, Falun Gong exercise demonstration and traditional dance. The hexagonal lantern was 9 ft tall and 5 ft wide. The front and back faces read "Falun Dafa" in Chinese and English respectively and the other 4 faces displayed water-color paintings of Buddhas, Taos, Gods, heavenly beauties and lotus flowers. On the float, the lantern was centered within pink lotus flowers. The sides of the float were inscribed with English words which read "Happy Thanksgiving." In addition, six practitioners demonstrated the Falun Gong exercises on the float.
| | |
| --- | --- |
| A practitioner sends warm greetings to spectators | Practitioners' procession passes the rostrum |
According to the float designer, creating the lantern took about 3 months from design, execution and final assembly. While the design was meant to depict the essence of Chinese culture, it was also created to express practitioners' gratitude to Master Li: To all practitioners, Falun Dafa is a guiding lantern in their hearts. At this holiday season, practitioners want to thank Master for his arduous efforts.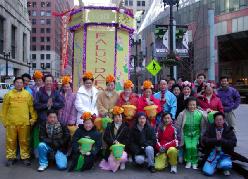 Some practitioners pose in front of the Lantern to send holiday greetings to Master Li