(Clearwisdom.net) German President Koehler met with Hu Jintao in Berlin. Cheers and jeers were heard, and Chinese national flags waved in front of the Schloss Charlottenburg. Many of those present might not realize that the German President and police view appealers completely differently than do Chinese officials.
"The President has to live with the sight of protesters"
On the eve of Hu Jintao's visit to Berlin, one of the most influential daily newspapers in Berlin, the Berliner Zeitung quoted Berlin Police spokesperson Michael Bengsch, "Simply because of the state's interests, we can not restrict on the rights of free expression. The (Chinese) President has to live with the sight of protesters."
When Hu Jintao's motorcade passed in or out of the Schloss Charlottenburg, they could clearly see Falun Gong practitioners' banners displayed on the roadside without any obstacles. Some people from the motorcade stared at the protesting crowds when they passed by. The highest banner that Falun Gong practitioners unfurled also expressed practitioners' message to the Chinese president, "Hu Jintao: The time that Heaven and the people give to you is limited."
Police Prove that Practitioners did not Violate any Regulations
Berlin's police must have made painstaking effort to arrange protesters' positions. Nearly ten people from Amnesty International unfurled a big banner that read, "For Human Rights - Right here right now." They were assigned to stand right opposite to the Schloss Charlottenburg. On their right-hand side were Falun Gong practitioners' four large banners. Some practitioners held in their hand small banners and signs depicting the torture methods used on fellow practitioners in China. Half of the Falun Gong practitioners were Chinese. On the left-hand side of the Amnesty International group was the cheering Chinese crowd waving red flags. The police separated the two groups containing Chinese people with great finesse.
The German police videotaped Falun Gong practitioners' hours-long activity from the beginning to the end. When the activity was about to conclude, a police officer told Falun Gong practitioner Ms. Lilge-Stodieck, "I understand that you may not be comfortable being videotaped for several hours, but do you know how many complaint phone calls we received from the Chinese delegation? They asked us to ban you from doing this and that. Therefore, we videotaped all you have done and when it's necessary, we can use it as an evidence to show that you did not violate any regulations."
Except for the group of "Chinese cheers and jeers," German President Koehler had a short conversation with two groups that were calling for human rights.
President Koehler Went Over to Shake Hands with Falun Gong Practitioners
Right after 3:00 p.m. on November 10, 2005, two or three luxury cars parked on the street that was already under martial law in front of the Schloss Charlottenburg. Four people emerged from the cars and walked across the street towards the protesters from Amnesty International. When they came closer, people clearly saw that the person who took the lead was German President Koehler. He came directly to the Amnesty International protesters and shook hands with them. He said that he would mention human rights issues when he met with Hu Jintao. His three guards stood several meters away behind him.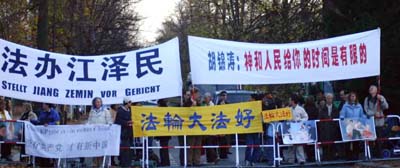 In front of the Schloss Charlottenburg, Falun Gong practitioners call on Hu Jintao to stop the persecution of Falun Gong
When President Koehler turned around and walked a few steps, he suddenly heard a voice, "Mr. President, please come here too!" Tracking down the voice, President Koehler saw several Chinese banners and some westerners and easterners holding signs. He went over and asked while shaking hands with several petitioners, "Are you Falun Gong?" It was not hard to imagine that he could guess they were Falun Gong practitioners. When Chinese high-rank officials visit Germany, Falun Gong practitioners, banners and exercise demonstrations have never been absent from the media's reports. President Koehler told the practitioners that he would definitely raise China's human rights issues with Hu Jintao.
Everything is Normal
One incident shows that it's hard for westerners to understand the Chinese officials' sensitivity towards Falun Gong.
Ms. Chen from Denmark once passed by the backdoor of the Adlon Hotel before she encountered Hu Jintao's motorcade in the evening. She and four young ladies and one gentleman saw more than 10 Chinese officials coming out of a restaurant next to the hotel's backdoor. When the leading official was about to get into a car and a hotel waiter was opening the door of the car, six Falun Gong practitioners shouted together to the Chinese officials, "Falun Dafa is great!" The more than ten Chinese officials were standing there in amazement for several seconds. Later, the official who was about to enter the car turned around and went back into the restaurant. Other officials also followed him and went into the restaurant. The hotel waiter was left there holding the door of the car and was dumbstruck. He could not understand why the voice of several peaceful appealers, most of whom were young girls, could have such a big impact.
A policeman walked there slowly and asked what had happened. Practitioners said that they were telling the officials that Falun Dafa is great. The police officer nodded and told other officers who came over later, "They were greeting them." In other words, everything was normal.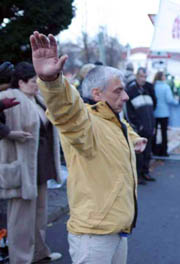 Practicing the Falun Gong exercises at the appeal site
Encountering Falun Gong practitioners Again Along the Route, Hu had No Response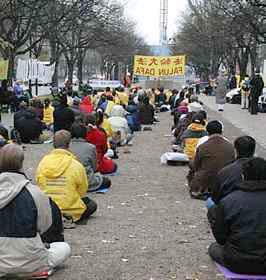 Falun Gong practitioners hold 24-hour appeal outside the Adlon Hotel
On November 11, the second day of Hu's visit to Berlin, Hu met with the current German Premier Schroeder and the next Premier Ms. Merkel, who will take the post on November 22. In the intermittent drizzle, some Falun Gong practitioners from Germany, France, Italy, Austria, Norway, Denmark, Sweden, Switzerland and Holland held a 24-hour appeal outside the Adlon Hotel where Hu stayed.
Although the security was tight and stern, Hu Jintao still had several chances to personally hear Falun Gong practitioners' voices. Ms. Chen from Denmark related the experience of she and other practitioners accidentally encountering Hu Jintao's motorcade twice. At noon, when Ms. Chen and several practitioners went to a restaurant behind the hotel for lunch, they came across Hu Jintao, whose motorcade passed by them and went back to the hotel. The practitioners shouted together, "Falun Dafa is great!" Chinese people inside the cars all turned around and looked at them. Hu Jintao also turned around and glanced at them as the cars entered the hotel's back door.
Outside the Berlin City Hall, Hu Jintao shook hands with students who came to welcome him. A Falun Gong practitioner also went over and shook hands with him and asked him to immediately stop the persecution of Falun Gong. Accidentally, the western practitioner who had previously said "Falun Dafa is great" face to face to the chief perpetrator of the suppression of Falun Gong, then-Chinese President Jiang Zemin at the Adlon Hotel three years and six months earlier, also asked Hu Jintao to stop the persecution in the hotel lobby. Hu did not respond.
Chinese Official Pressure Fails - the German Police Continue to Learn about the Truth
On that evening, when Ms. Chen and her friends were looking for a dining place, suddenly, a good number of German police officers came to block the streets. Ms. Chen and other practitioners were relocated. Shortly after, the Chinese delegation's motorcade passed by. Practitioners shouted together, "Falun Dafa is great!" "Hu Jintao, the time that heaven and the people give to you is limited." After the motorcade went by, pedestrians were allowed to cross the street, but the police officers smiled and did not allow practitioners to leave.
After a while, another motorcade arrived. This was Hu Jintao's motorcade. Practitioners continued to shout together. The police officer who did not allow practitioners to leave stood there and smiled. After this motorcade went by, practitioners left. Another police officer came over and asked what they were shouting and what Falun Gong was about. When practitioners told him about the Chinese communist regime's persecution of Falun Gong, he was shocked.
The Chinese Communist Regime's High Pressure in 2002 Turned into an Opportunity for Falun Gong Practitioners and German Police to Gain Mutual Understanding
In 2002, when the former leader of the Chinese Communist Party Jiang Zemin visited Germany, German police once restricted Falun Gong practitioners' freedoms of assembly, protest and expression under the Chinese officials' pressure. Later, the Berlin Ministry of Interior and police sent a written apology to Falun Gong practitioners. They also held a Falun Gong seminar for senior police officers and promised to communicate with practitioners in a timely manner before large-scale events. They would also send Chinese interpreters and commissioner to cooperate with Falun Gong practitioners. The bad incident due to the Chinese officials' pressure in 2002 turned out to be a good opportunity. Berlin police's trust and understanding about Falun Gong has been improving with constant mutual communications. This has laid a good foundation for the multiple visits from Chinese high-ranking officials.