(Clearwisdom.net) Ms. Li Yangfang lived in Wanchun Town, Wenjiang District, Chengdu City, Sichuan Province. Her illnesses had almost taken her life, but she became healthy after she started practicing Falun Dafa. She had been brutally mistreated since the persecution, and in 2003, she was sent to a forced labor camp in Seventh Ward, Sichuan Province Zizhong Labor Camp, where she had been tortured until the hospital refused to accept her (because there wasn't any hope to cure her). She died on October 18, 2005 after she endured a huge amount of suffering both mentally and physically. More details follow: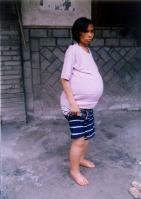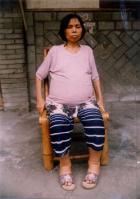 Ms. Li Yangfang had been tortured in Zizhong Labor Camp until she was as thin as a skeleton; her belly and legs swollen as well
Ms. Li Yangfang was 53 years old and lived in the Third Group of Yonghe Village, Wanchun Town, Wenjiang District, Chengdu City, Sichuan Province. She had severe liver disease, gallstones, and her face was dirt grey color. Her neighbors were always avoiding her in fear they would catch the virus. In March 1998, Ms. Li Yangfang started cultivating Falun Dafa. She studied the Fa, did the exercises, and disciplined herself according to her understanding of "Truthfulness, Benevolence, Forbearance" while upgrading her "Xinxing". Her gallstones disappeared, her facial color changed to rosy, and she became a healthy person from the inside out. She saved a lot of medical expenses, and rejoined work on the farm. All of this reduced the heavy burden on her family. Her whole family witnessed the miracles of Falun Dafa, and they lived happily together.
After Falun Gong started being persecuted, Ms. Li Yangfang told people "Falun Dafa is good" with her own story. She said it was Master Li and Falun Dafa that gave her a second life. For this, she had been repeatedly mistreated by the authorities. In March 2000, she was arrested as soon as she arrived at Tiananmen Square. Police stepped on her face on the vehicle and insulted her. On July 6, 2003, several police from Shou'an Station stormed in her house, claimed someone reported that she had Falun Dafa materials, and ransacked her place. She was arrested, and sent to forced labor in the Seventh Ward, Sichuan Province Zizhong Labor Camp. She had passed out many times because she was cruelly tortured in the Camp. Guard Zhang Xiaofang (female) assigned a drug addicted prisoner Zhang Xiaoyan (female) to watch her closely and to beat her at will.
In this living hell, Ms. Li Yangfang nearly collapsed due to huge damage to her mental and physical body. She was later assigned to the Eighth Ward, where the labor was not as heavy as in the Seventh Ward. Guard Li (a female Warden) assigned Ms. Li Yangfang to the Team that had the most labor, and didn't have any time to take breaks. By the winter of 2004, Ms. Li Yangfang was deformed. Her belly and legs were swollen and she passed out several times. She would be forced to do labor after regaining consciousness half a day after passing out.
In February 2005, Ms. Li Yangfang passed out again in the shop. She was carried to the hospital, and the doctor said she was dying. The Camp Administration was afraid that she might die in the Camp and notified the Wanchun Town government to pick her up. The villains in Wanchun Town Government forced Ms. Li Yangfang to fingerprint a guarantee statement saying that she would stop practicing Falun Gong. She was as thin as skin and bones, and her belly and legs were very bloated. It was like she was 8-9 months pregnant. Her legs ejected fluid. She could not stand up, eat, or drink. None of the hospital staff agreed to treat her because she was dying.
Ms. Li Yangfang died on October 18, 2005 after she went through a huge amount of suffering. See a related report earlier on Clearwisdom.net, http://www.clearwisdom.net/emh/articles/2005/9/13/64849.html.