Nov 13, 2005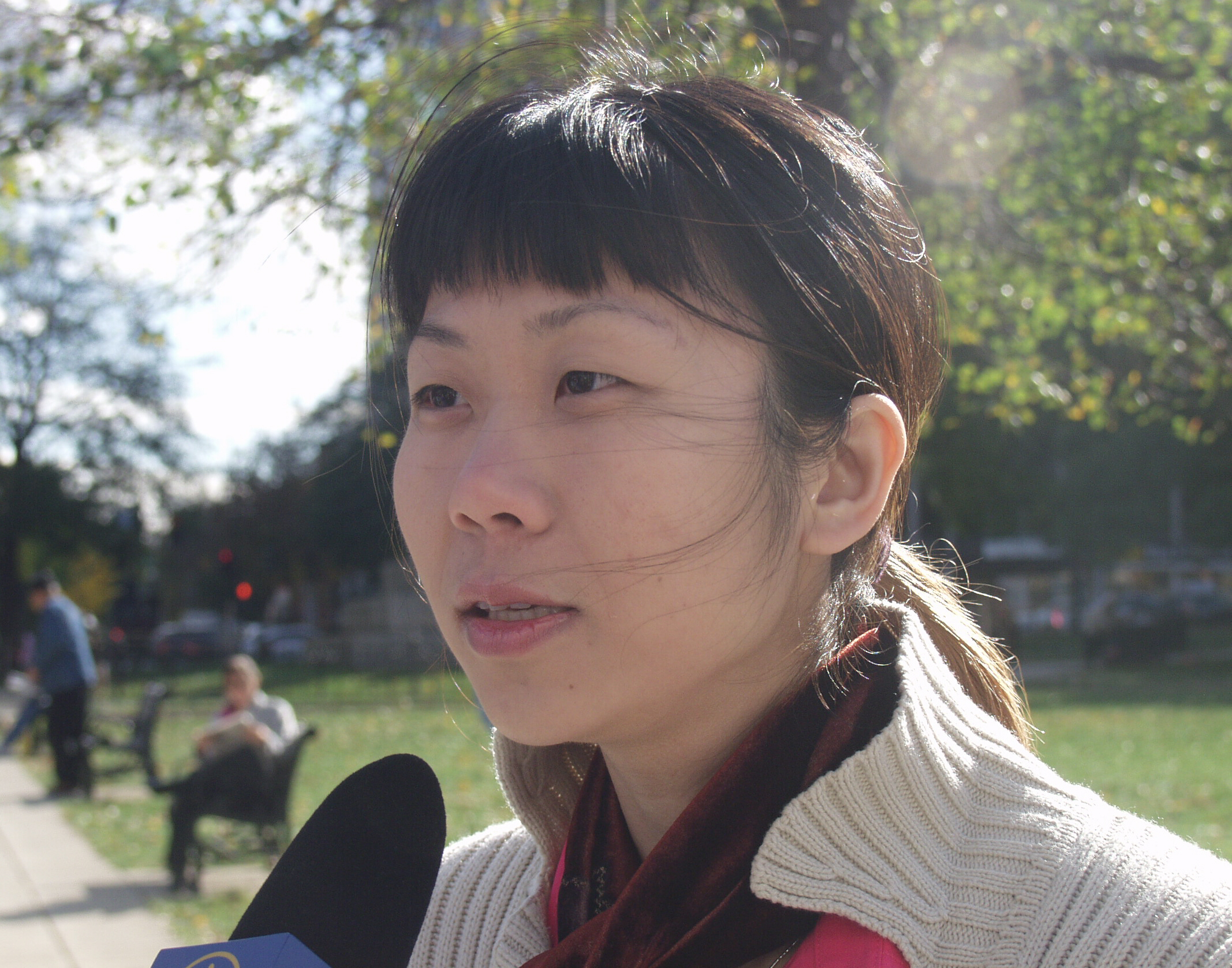 SOLEMN APPEAL: Danielle Wang calls on President Bush to obtain the release of her father Wang Zhiwen, who was sentenced to 16 years in prison for practicing Falun Gong, on his official trip to China. (Judy Chao/The Epoch Times)
On Nov 10th, a group of local Falun Gong practitioners gathered at Farragut Square in Washington, D.C. to appeal to President Bush to help obtain the release of certain groups of persecuted practitioners when he travels to China on November 19-21.
The practitioners have a list of 17 children who have had one or both of their parents tortured to death or imprisoned for long-term sentences. They hope that President Bush will ask the Chinese government to provide them unfettered access to exit visas.
Ms. Zhou Yumei, was a PhD candidate and suffered a miscarriage in 2002 due to sever persecution in China, said that she treasures her freedom in the U.S. In 2004, Zhou had a baby daughter, and later had to flee China without her daughter. Six months later, Zhou was finally reunited with her daughter in the U.S. Reflecting on her experience, Zhou said, "As a mother of a one year old girl, I know how miserable it is for both mother and daughter to leave each other."
She emphasized the importance of providing the orphans in China a free and safe environment. "They need to live in an environment free of persecution and discrimination," said Zhou.
In addition, the practitioners called on Bush to demand the release of a list of eight practitioners in China sentenced to particularly long prison terms.
Mr. Wang Zhiwen, whose daughter Danielle Wang came to attend the press conference from her home in Texas, is one of these people. Mr. Wang was arrested on July 20, 1999 (the day the persecution against Falun Gong first began) and sentenced to 16 years in prison on December 27, 1999. Danielle, who is a transportation engineer, says that she hasn't been able to see him for over six years, and that all she knows about him is that his health continues to deteriorate. She said that she heard that his teeth had all fallen out.
"I suffered, and the pain remains excruciating every day," she said. "It is my hope that never again will a child in China face the same fate as mine!"
Danielle said that in addition to appealing to Bush directly, she would also approach some of her Texas members of Congress to ask for their support in writing letters to the president.
A number of other groups have also made requests to President Bush as he heads to China. Congressman Chris Smith (R-NJ) wrote, along with 21 co-signers, a ten-point request letter to the president asking for a release of various groups of political prisoners, including human rights activists, Internet dissidents, and North Korean refugees.
[...]
The State Department recently designated China as one of eight "Countries of Particular Concern" in its annual International Religious Freedom Report, which was released on November 8.
Source http://www.theepochtimes.com/news/5-11-13/34526.html