Korea: "Truthfulness-Compassion-Tolerance" International Art Exhibition Held at Seoul (Photos)
November 01, 2005
|
By a practitioner from Korea
(Clearwisdom.net) From October 17 to 23, 2005, the fourth Seoul "Truthfulness-Compassion-Tolerance" International Art Exhibition" was held at the Mapo-gu Culture and Physical Education Center.
More than 50 art works were exhibited. The first section, "The beauty of self-cultivation", exhibits the beauty of cultivation practice.
The second section, "Uncompromising courage" exposes the Chinese Communist Party's (CCP) brutal persecution of Falun Gong and the uncompromising courage that practitioners have displayed when confronting the suppression.
The third section, "A call for justice" depicts the solemn scene of practitioners bravely clarifying the truth while under tremendous pressure from the CCP. The fourth section, "Justice prevails" shows the heaven's law of cause and effect and that justice will prevail.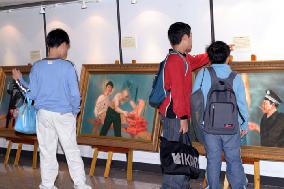 An education department director from Seoul led a group to visit the exhibition. He wrote the following comments in the guest book after viewing the paintings, "In today's society, there are still such mean and ruthless human rights violations! People really don't know that the CCP is so inhuman and merciless." He gave his encouragement to the exhibition volunteers.
Initially, some visitors could not understand the paintings. After they listened to the guides' explanations, their kind hearts were inspired and they changed their thoughts. The practitioners expressed that they wish Falun Dafa and "Truthfulness, Compassion, and Forbearance" would be deeply rooted in all visitors' hearts.