France: Raising Awareness about the Persecution of Falun Gong in Front of Parc de la Villette in Paris (Photos)
October 22, 2005
|
By a practitioner in France
(Clearwisdom.net) On October 8, 2005, Falun Gong practitioners in France held an activity to raise awareness about the persecution of Falun Gong at Parc de la Villette. The park is located in the 19th district of Paris. Because Theatre Paris-Villette, Citi De la Musique, Citi Des Sciences and the famous Jennett Music Hall are all located in this large park, a lot of people are there every day.
Practitioners explain the facts in the busy street and collect signatures to stop the persecution
Learning the facts
The activity was held across the park, where there were a lot of pedestrians. Many people came to find out more about Falun Gong and signed the petition objecting to the illegal persecution of Falun Gong practitioners by the Chinese Communist Party. Some Chinese people not only took leaflets but also signed the petition to express their support for Falun Gong. By doing so they created a bright future for themselves. In the past, many Chinese people would not have done this, because they were afraid that the Chinese Communist Party (CCP) would persecute them when they return to China.
After understanding the facts, people sign to oppose the persecution
Some French people who just came back from New York told practitioners that they had seen Falun Gong activities there, and they were very supportive towards us. Some people said angrily upon hearing about the persecution, "I object to the Chinese Communist Party and all persecution everywhere. I support you!"
Other people showed sympathy for Falun Gong practitioners and a deep concern for the CCP's human rights abuses. Among them were a couple who came to understand the truth. The husband was too touched to say a word after having seen the poster exhibition boards; he was almost in tears. His wife said, "It is mankind's brightest hope to pursue physical and mental health. This is our most basic human right." They both signed the petition.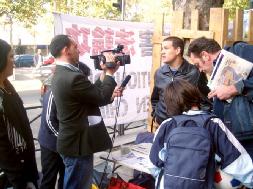 A reporter and documentary filmmaker interviews the practitioners
During the activity, a reporter and documentary filmmaker conducted an interview with the practitioners. They suggested that their interview would be part of a documentary featured in next year's Paris International Human Rights Movie & TV Festival.
http://clearharmony.net/articles/200510/29399.html