Toronto: Call for Attention to Persecuted Falun Gong Children at Benefit International Food Festival (Photos)
October 13, 2005
|
By a Falun Gong practitioner in Canada
(Clearwisdom.net) On October 8, 2005, Falun Gong practitioners in Canada held the first Benefit International Food Festival at the Distillery in downtown Toronto, calling people's attention to the persecuted Falun Gong children in China.
Audience watching dance, "Buddha's Light Illuminates Everywhere"
The food festival prepared a variety of foods from Korea, Greece, Vietnam, Italy, India, Thailand, Caribbean Sea, and China. All food was provided for free by different businesses.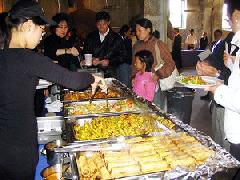 Food festival site
"The activity is great! It shows the Canada's multi-culture and multi-belief, and at the same time conveys a message to the Chinese community and Chinese government, we sympathize with these persecuted (Falun Gong) orphans, we want to rescue them to come to Canada," Director of Toronto Education Bureau Josh Matlow said, "There are so many delicious foods here today. I hope they can celebrate and share all this together with us next year."
The Chinese Communist Party began a ruthless and senseless persecution of Falun Gong in July 1999. During the past six years, more than 2,700 Falun Gong practitioners have died as a result of persecution, countless practitioners have been arrested and their current situations are unknown.
The international food festival received support from many media outlets. Two weeks before the activity began, the Canada News Agency published an article to introduce Falun Gong, and the article has been reprinted by other newspapers. At the same time, the largest Jazz Music Radio Station in Canada and two fashion magazines, Dolce and City Life, all sponsored the activity. As the activity was multi-cultural, it also attracted the main newspaper of local Indian community, Hindi Abroad, that published a report prior to and during the activity. The Toronto Star that has a largest circulation in Toronto and 680 NEWS Radio Station notified to the public about the activity. Chinese New Times TV Station and New Times Radio Station also reported the event.
The sponsor also received support from many businesses. The second day after the activity concluded, some kind-hearted people made phone calls to donate money. The activity also attracted some people in the music field to give performances. Nine-year-old singer Neil Wadhvana learned about the news a week before, and requested his mother to make a phone call to the sponsor offering to perform, so as to support the rescue effort for persecuted Falun Gong children in China. Neil is the youngest singer in Canadian history who sings the national anthem at national affairs ceremonies hosted by the Governor General and Prime Minister. He once met with the visiting Queen of the United Kingdom, and was reported on the front page of mainstream media in Canada.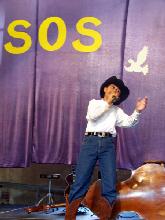 The first Toronto International Food Festival began at 11:30 a.m. and concluded at 9:00 p.m.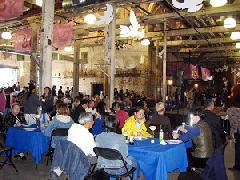 Food festival site