The Advocate (Louisiana) Reports Torture Exhibition by "The Van Tour to Support the Lawsuit against Jiang" from Texas (Photo)
June 06, 2004
|
By a Falun Dafa Practitioner in Texas
(Clearwisdom.net) On the afternoon of May 28, 2004, the Van Tour to Support the Lawsuit against Jiang arrived at Baton Rouge, Louisiana. On the sidewalk outside the Municipal Building, the practitioners placed photos showing police's torture of Falun Gong practitioners and banners worded "Urgently Appeal to End the Persecution of Falun Gong," and "Torture Is Occurring in China." Three practitioners demonstrated the torture methods that police use to torture Falun Gong practitioners in China. Another three practitioners had an exercise demo, distributed truth-clarification literature and answered questions.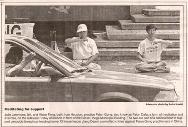 Two reporters from The Advocate, the main newspaper in the city, came to cover the event and had a photo report titled "Meditating for Support."
The photo report of The Advocate on May 30 states, "Julie Lemmons, left, and Victor Fong, both from Houston, practice Falun Gong, also known as Falun Dafa, a form of meditation and exercise, on the sidewalk Friday afternoon in front of the Baton Rouge Municipal Building. The two are part of a national tour to support genocide lawsuit contending former Chinese leader Jiang Zemin committed crimes against Falun Gong practitioners in China."