(Clearwisdom.net) On the afternoon of November 22, 2004, a ceremony celebrating "Manhattan Falun Dafa Month" was held at UN Church Center, across the street from UN headquarters. UN Under-Secretary-General Mr. Jan Egeland, offices of New York Governor and Lieutenant Governor and the South African Delegation to the UN sent congratulatory letters to practitioners to wish them great success in the event. New York State representative Adriano Espaillat and Venezuela's ambassador to the UN, Dr. Fermin Toro Jimenez, also expressed their best wishes to this gathering.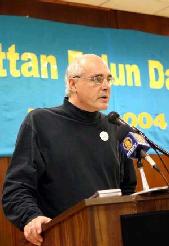 Human Rights Activist Rich Cook speaks during the celebration ceremony
The ceremony started at 2:30pm. The site was decorated with a banner reading, "2004 November 11 Manhattan Falun Month," and many truth-clarifying photos were also displayed. First, a practitioner representative presented the opening remarks, which briefly introduced the spread of Falun Dafa around the world and the contribution of practitioners to the local community. The practitioner also talked about the ongoing brutal persecution of Falun Gong in China. The introduction was followed by a Falun Gong exercise demonstration performed by 5 western and Chinese practitioners.
During the gathering, Mr. Richard Cook, a human rights activist and representative of non-governmental organizations, expounded on the illegitimacy of Jiang regime's persecution of practitioners and the urgency of ending the persecution from several aspects. Mr. Cook said that practitioners made a very good impression on him during his contacts with them and the exercise demonstration deeply impressed him. He said he wanted to become a practitioner as well. Following his speech, Theresa Chu, director of International Advocates for Justice, briefed the audience on the latest situation regarding the global joint effort to bring chief culprit Jiang Zemin to justice.
| | |
| --- | --- |
| Exercise demonstration | The celebration ceremony site |
After her speech, musician Mr. Chen Rutang and his wife, who both practice Falun Gong, performed music composed by themselves, and their son Chen Gang described how he was illegally persecuted in China for practicing Falun Gong.
In conclusion, a video program about Falun Dafa was played.
Several local media conducted interviews during the event, and five students from the New York School of Visual Arts filmed the whole ceremony and interviewed some of the guests and practitioners.