(Clearwisdom.net) Before the 2nd annual Peru Falun Dafa Experience Sharing Conference was held on November 14, 2004, several truth-clarifying activities were held in Lima. Overseas practitioners, especially Latin American practitioners, participated in these activities.
Press Conference
On November 12, 2004, Peru practitioners held a press conference at the Bypass Hotel. Dai Zhizhen narrated the tragedy of her family members who have been persecuted by the Jiang regime. Dai's husband was severely tortured and beaten to death three years ago. A practitioner in Peru shared how her passport was unlawfully cancelled by the Chinese Embassy in Peru. Two newspapers, Business Peru and La Republica, interviewed practitioners. On the following day, La Republica published an article entitled, "Persecution of A Practice of Mind and Body Continues." Illustrated with a photo of little Fadu practicing Falun Gong, the article in particular reported the story of little Fadu [Dai Zhizhen's daughter] and her family.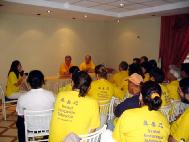 Peru practitioners and overseas practitioners share experiences
Anti-Torture Exhibition in The Park in front of the Chinese Embassy in Peru
Re-enacting Torture Methods used on practitioners in China
On November 13,in the park in front of the Chinese Embassy in Peru, practitioners staged an anti-torture exhibition and photo display to expose the brutality of the ongoing persecution in China to the public and media. Meanwhile, practitioners, wearing yellow T-shirts and white pants also demonstrated the five sets of Falun Gong exercises. The graceful movements and peaceful nature of the practice cast a dramatic contrast to the brutality of the persecution. Many passersby stopped to watch and were surprised to learn that such a brutal persecution could take place in China during this 21st century. Passing-by vehicles also slowed down or even stopped to acquire Falun Gong materials from practitioners.
| | | |
| --- | --- | --- |
| | The Anti-torture Exhibition in front of Chinese Embassy touches people's hearts | The Anti-torture Exhibition in front of Chinese Embassy touches people's hearts |
Media Reports on the Anti-Torture Exhibition
Peru TV N Station came to the exhibition site and interviewed several practitioners in depth. Through the station, practitioners told the public about the ongoing persecution in China and their personal benefits from practicing Falun Gong. The same evening, TV N broadcasted the interview and clips of the exhibition and exercise demonstration on its evening news program.
TV N Station interviews practitioners and videotapes practitioners' exercise demonstration.
The two largest Radio News Stations R.P.P and 11.60 dispatched their reporters to report the event live. Practitioners introduced Falun Gong and explained the meaning of this peaceful gathering in front of the Chinese embassy to the two stations' audience. The practitioners said that the purpose of this event was to let more of Peru's citizens know about the ongoing persecution in China so they can take action to help end this inhuman suppression.