(Clearwisdom.net July 23, 2003) On July 20, which marked the fourth anniversary of Jinag Zemin regime's persecution of Falun Gong and Falun Gong practitioners, some practitioners from Vancouver held a news conference in front of the Art Gallery in downtown, calling for justice and conscience in the world and requesting to bring Jiang Zemin to public trial and to stop the persecution against Falun Gong.


Demonstrating the Falun Gong exercises prior to the news conference.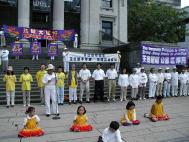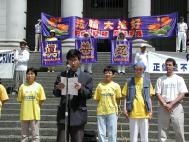 Falun Gong practitioners delivering speeches calling to bring Jiang Zemin to justice and to stop the persecution of Falun Gong.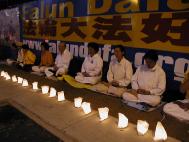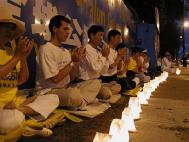 Practitioners holding candle light vigil in front of the Chinese Consulate on the evening of July 20.
On the steps in front of the Art Gallery, Falun Gong practitioners unfurled a large banner imprinted with words, "Falun Dafa is Great". Three practitioners solemnly held signs reading, "Truthfulness, Compassion, Forbearance". Practitioners also unfurled banners reading "The Heavenly Principle Is Clear: Bring Jiang Zemin to Justice", "Stop the Four Years' Persecution, Righteous Belief Is Indestructible, Calling for Justice and Conscience". These banners and signs showed to the public that after going through the four years' of brutal persecution, Falun Gong practitioners have become more and more determined, mature and rational.
Nearly ten young practitioners from the Minghui school also joined the news conference. Under the baking sun, they earnestly demonstrated the five sets of Falun Gong exercises.
At 7 pm, Falun Gong practitioners held a candlelight vigil in front of the Chinese Consulate in Vancouver to commemorate Falun Gong practitioners who have been persecuted to death in China by the Jiang regime over the past four years.