Falun Dafa Practitioners Participate in Holiday Parade in Poquoson, Virginia (Photos)
December 09, 2003
|
By Virginia Falun Gong Practitioners
(Clearwisdom.net) Poquoson is a small city of slightly more than ten thousand people, located in southern Virginia on the Atlantic coast. The annual Christmas parade, however, attracts several thousand spectators from this city and nearby towns. This year's parade was held on the Saturday after Thanksgiving, November 29, 2003 and the theme was "A Storybook Christmas." Though the weather turned cold suddenly in the morning, crowds of people still came to watch. The Poquoson City Government invited Falun Gong practitioners to participate in the parade for the first time.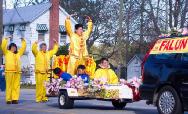 During the preparation, local practitioners were supported by practitioners from other cities. After discussion, everyone felt that displaying a float in the parade would be an effective way to demonstrate the Falun Gong exercises to the spectators. One practitioner was delighted to lend her minivan to tow a float and another two practitioners rented a trailer. A couple from DC drove over three hours to deliver materials for decorating the float. Other practitioners from nearby cities came early to help out in the cold. Though it was the first time for these practitioners to decorate a float, they cooperated well and the job was done smoothly.
After lunch, the sunshine was bright and the temperature rose. The parade started at 1:30 p.m. and several dozen groups entered into parade route. The Falun Gong procession was the only Asian group to participate in the parade and the bright yellow exercise suits attracted a lot of attention. The graceful Dafa exercise music and exercise demonstration also attracted the attention of spectators and were well received. Many people accepted flyers from Dafa practitioners. Upon learning that there would be a free Falun Gong introductory workshop in a local library, many expressed appreciation to the practitioners. The participation of Dafa practitioners in the Poquoson Parade added a new dimension to the holiday parade and helped the local residents to know Dafa better.