(Clearwisdom.net) Falun Gong practitioner Liu Chengjun from the city of Changchun is one of the practitioners responsible for tapping into the local television network to broadcast the truth of the persecution against Falun Gong on March 5th, 2002, an event that shocked the world. After enduring cruel torture in prison for one year and nine months, Liu Chengjun passed away at the Jilin University Sino-Japanese Friendship Hospital at 4 a.m. on December 26, 2003. On the same day, the Jilin Prison gathered large groups of police and forcibly cremated the body at 11 a.m. The cremation was done without an autopsy and against the family's wishes. Eyewitnesses stated that Liu Chengjun's body had bloodstains near the nostrils, ears, thighs, and other areas.
Around 8 p.m. on March 5, 2002, eight channels on the Changchun cable TV network aired "Falun Dafa Around the World," "Self-immolation or Staged Event," and other truth clarification programs. The broadcast lasted 40-50 minutes without interruption. The broadcast allowed many people to find out the truth about Falun Gong being slandered and persecuted, sending shockwaves throughout Mainland China, as well as outside China. Liu Cheng was a major part of this courageous act. Chinese dictator Jiang Zemin, who single-handedly started the bloody persecution against Falun Gong, became furious and extremely scared. He gave the order to "kill [those responsible] without pardon."
On March 24, 2002, when Liu Chengjun was arrested, the police fired two shots into Liu Chengjun's leg, even though he was already in handcuffs. On the same day, Liu Chengjun was sent to Jilin Province's Police Hospital. His hands were stretched out and cuffed to both sides of the bed. In April, the perpetrators opened Liu's handcuffs as a group of people from the state-run media tried to videotape him. A reporter wanted to get his voice on tape so that they could fabricate news about him. The reporter asked Liu Chengjun to tell her about the facts of Falun Gong. Liu Chengjun recognized their scheme and refused to cooperate. Afterwards, the head of the Prison Affairs Section at the hospital put shackles on Liu's feet.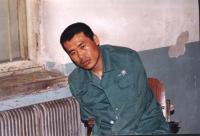 The above picture provided by China News Net on April 1, 2002 shows that Liu Chengjun didn't have enough strength to keep his natural sitting position after severe torture. This picture was published by a website that typically downplays the Jiang regime's brutality. It's not a stretch to believe that the situation of Liu Chengjun being tortured was even more severe than the picture could express.
In the beginning of May 2003, Liu Chengjun was transferred to the Tiebei Detention Center. The police there wanted to extract a confession from him, so he was tortured with the Tiger Bench for 52 days. During the illegal trial for Liu Chengjun, he had to be carried into the court. Liu Chengjun was illegally sentenced to 19 years in prison and sent to the Jilin City Prison in Jilin Province.
According to a Clearwisdom report on October 27, 2003, at the end of October 2003, more than 100 Falun Gong practitioners were being held in Jilin Prison, and most of them went on a hunger strike to protest the ongoing severe torture by prison guards towards themselves and all other Falun Dafa practitioners in China. At that time, the torture had deformed Liu Chengjun's body and he could hardly speak. His life was in imminent danger. At one point, Liu was sent to the Jilin City Central Hospital to undergo emergency rescue. The hospital declared him to be in mortal danger, but Liu Chengjun was still forcibly transferred to the Jilin Province Public Security Hospital by the 610 Office*. Later, Liu Chengjun was transferred to the Jilin Central Hospital of the Prison Management Department (also called the Jin Police Hospital, or Jilin Labor Camp Hospital).
Doctors at the Public Security Hospital diagnosed Liu Chengjun as suffering from uremia and declared him to be in mortal danger. On November 4, Jilin Prison was forced to begin paperwork for Liu Chengjun to be released for medical parole, but this process required approval from the Nongan County Debiao Police Station. The police station was afraid to shoulder responsibility, so on November 5 the case was referred to the Nongan County Public Security Office. The Nongan County 610 Office refused to give their approval, so the process to release Liu Chengjun for medical parole was aborted.
After the Clearwisdom reports were published, Falun Gong practitioners from outside China showed their support and initiated rescue activities. Overseas Falun Gong practitioners strongly condemned the persecution of Liu Chengjun by the Jiang regime. They pointed out that for the Jiang regime to persecute those who tapped into the cable TV signals is in reality criminals prosecuting those that exposed them. Human rights organizations also lent their support. Among them, the Swiss Christian Anti-Torture Organization wrote to Chinese Chairman Hu Jintao, Police Chief of Jilin Province Zhao Yongji, and the Chinese Ambassador in Berne, "...urgently calling for the Provincial Police Chief to investigate the situation in the Jilin Provincial Prison and the Police Hospital in Changchun, to implement necessary measures to protect people from being illegally tortured by prison police."
However, the persecution did not stop. The Jilin Prison and Nongan County "610 Office" worked together to carry out Jiang Zemin's policy against millions of Falun Gong practitioners: "Defame their reputations, bankrupt them financially, and destroy them physically", acting recklessly and with no restraint. We don't know what other types of torture and persecution Liu Chengjun suffered during this period of time, but no one can escape Heaven's laws. The crimes that were committed will come to light and be exposed in front of the world, and all of those responsible for the persecution of Liu Chengjun will be brought to justice.
The magnificent feat of the TV broadcast on March 5th sent shockwaves around the world and won praise from many people. In order to have more people understand the facts of the Jiang regime's slander against Falun Gong and their blood persecution, Chinese Falun Gong practitioners have again and again stepped forward to expose the persecution in spite of the danger, and in some cases, lost their lives because of the Jiang regime's brutal persecution.
In western civilized society, people's freedoms of belief and speech are respected and safeguarded, so nobody has the need or would take the route of tapping into TV signals to send their message. But in Mainland China, the Falun Gong practitioners' freedoms of speech and belief have been completely stripped away. The Falun Gong practitioners who exercise their freedoms of speech and belief have been subjected to a bloody persecution, and the Jiang regime's state-run media have done their utmost to cover up and disguise the use of violence and torture to persecute Falun Gong practitioners. Under these circumstances, Liu Chengjun and other practitioners' act of broadcasting truth-clarifying programs in Mainland China is safeguarding the citizens' Constitutionally guaranteed freedoms of speech and belief, and the people's right to know. And in spite of being subjected to the bloody persecution, Falun Gong practitioners are still living by the spirit of great Compassion and Tolerance, conducting themselves peacefully and rationally.
Liu Chengjun gave his life to broadcast the truth, to resist the persecution perpetrated by the evil forces, to defend his faith, and to call out to the public. History will bear witness to Liu Chengjun's selfless, heroic sacrifice. Liu Chengjun passed away as a result of the persecution at 4 a.m. on December 26, 2003, and police illegally and forcibly cremated his body at 11 a.m. the same day. We have no way of holding a solemn farewell ceremony for Liu Chengjun, but we hope that all the kind-hearted people of the world will give a moment of silence in their hearts, to bid Liu Chengjun farewell.
At the same time, we hope that everyone will condemn the Jiang regime's brutality and violence against innocent people, end this campaign of persecution and murder against Falun Gong practitioners that are persisting in their belief of "Truthfulness-Compassion-Tolerance," and lend their support to the Falun Gong practitioners' righteous acts of upholding the truth and exposing the Jiang regime's lies.
*The 610 Office is an agency specifically created to persecute Falun Gong, with absolute power over each level of administration in the Party and all other political or judicial systems.