(Clearwisdom.net) On September 6, 2002 (Saturday), Falun Dafa practitioners participated in the annual grand celebration and parade in Cabbagetown and used the opportunity to clarify the truth and call for public support to save the Toronto practitioners' relatives who are illegally jailed in China. The Foreign Minister of Canada also attended the celebration and talked to Falun Dafa practitioners warmly. He stated that he would raise the Falun Gong issue at APEC forum again.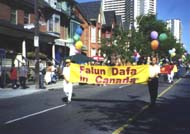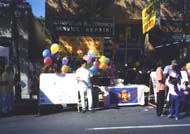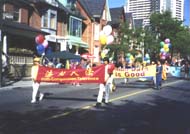 Cabbagetown is located in the heart of Toronto. It is a historical town with over 100 years of history. Walking into this small town inside Toronto, it seems you could see the image of this country. The small town is also an important part of Toronto's diversified culture. The annual celebration and parade are to promote the harmonious development of the traditional multicultural heritage. It expresses the love of freedom and peace of all nationalities. Today, people from dozens of different nationalities happily gathered in Cabbagetown singing and dancing to celebrate the festival.
The weather was exceptionally nice. This was the fourth time that Falun Gong practitioners participated in this event. They arrived early in the morning to set up the booth, display boards, and truth-clarifying materials. They waited for the parade to start and introduced Falun Dafa to visitors at all available opportunities.
At 10:30 A.M. the parade started. Falun Gong practitioners unfurled the banners in the parade procession. Accompanied by beautiful music and friendly and pleasant smiles, they brought the beauty of Falun Dafa to the residents again.
Many other practitioners walked into the watching crowds to distribute the truth-clarifying materials and collect signatures to call on saving the relatives of Toronto practitioners who are illegally detained in China. Some passersby were attracted by the beautiful Dafa music and came to them for a music CD. Some other people wanted to buy Dafa books and asked for the exercise sites.
Cabbagetown is also in the voting district of Canadian Foreign Minister Mr. William Graham. He attended the celebration too. When he walked by the Falun Dafa booth, he warmly talked to the practitioners and told a practitioner by his side, "I raised the Falun Gong issue with Chinese Foreign Minister Tang Jiaxuan directly." The practitioners thanked him and naturally continued the conversation with asking about the Asia Pacific Economic Cooperation forum of this year. He replied he would attend again. The practitioners said to him sincerely, "We appreciate very much your support and help in the past. We hope you can raise the issue of Jiang Regime's persecution of Falun Gong again at APEC this year." He confirmed instantly, "Yes, I definitely will."