(Clearwisdom.net)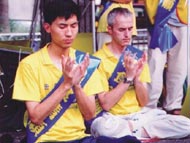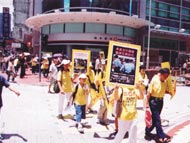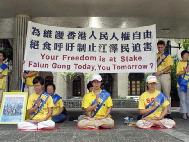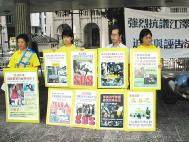 Hong Kong practitioners and some practitioners from other countries started a 54-hour hunger strike appeal at 2 P.M. August 12 2002 to protest the extension of the Jiang regime's persecution of Falun Gong practitioners into Hong Kong. The extended persecution has damaged human rights, the justice system and Hong Kong people's future under the "One Country, Two Systems" policy. They called on kind-hearted people from all walks of life in the international community to be aware of this issue. The hunger strike appeal will last until 8 P.M. Wednesday.
At the beginning of the hunger strike, practitioners sent out a press release to the media.
Other Falun Gong practitioners will participate in "SOS Urgent Rescue Walks" from Tsuen Wan Station and Chai Wan Park Entrance to Charter Garden today and tomorrow.
Under pressure from Jiang's regime, the government of Hong Kong has demonstrated a trend to suppress people's rights to free speech, assembly, and belief-- especially for Falun Gong practitioners. On March 14 2002, 4 Swiss practitioners and 12 Hong Kong practitioners peacefully appealed outside the China Liaison Office in Hong Kong in protest of the "Kill without pardon" secret order from Jiang. The police violently arrested the practitioners, detained them for 4 hours and later falsely accused them. The verdict will be announced on August 15.
"Your Freedom is at Stake. Falun Gong Today. You Tomorrow?" Falun Gong practitioners called on society to be vigilant and stop the extension of Jiang's tyranny into Hong Kong.
Some sources have stated that the Swiss and Hong Kong practitioners went on hunger strike simultaneously.