(Clearwisdom.net) On July 4, 2002, Falun Dafa practitioners from Maine, New Hampshire and Massachusetts participated in the Independence Day Parade in Winslow, Maine. This is the largest Independence Day Parade in Maine. More than 4000 people participated in the parade and tens of thousand of spectators watched.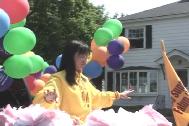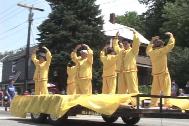 Falun Dafa practitioners decorated two cars and one colorful float to join the parade. During the parade, practitioners handed out nearly one thousand pieces of Falun Dafa introductory materials and balloons until all the prepared materials were distributed. Some practitioners demonstrated the exercises on the float. Though the weather was very hot and humid and the parade lasted two hours, practitioners were not affected at all and were always peaceful and serene. When the audience saw the elegant exercise demonstration and the banner of "Truthfulness-Compassion-Tolerance," many warmly applauded the practitioners and some expressed their support to the practitioners in China who are now suffering persecution.
We were glad to see that so many people in central Maine have already learned the truth about the evil persecution happening in China. Now they had the chance to learn about the wonderfulness of Falun Dafa and the principle of "Truthfulness, Compassion, Tolerance."