(Clearwisdom.net) With Falun Dafa's 10th anniversary coming up, Pennsylvania State Representative Roy Reinard from the 178th Legislative District issued a certificate on behalf of the House of Representatives to extend their congratulations to Falun Gong practitioners and their supporters. Reinard especially honored our fellow practitioners in China and also wished Falun Dafa many, many more anniversaries in Pennsylvania.
Below is the text:
Roy Reinard, Member
178th Legislative District
130 Buck Road, Suite 202
Holland, PA 18966
Phone: (215) 364-3414
House of Representatives
Commonwealth of Pennsylvania
Harrisburg
TO: Bucks County Falun Dafa practitioners and Supporters
On behalf of the House of Representatives, I would like to commend your organization on the practicing and support of Falun Gong in Bucks County, specifically honoring your fellow Chinese Citizens who do not have the same freedom as you do to practice Falun Dafa freely in our Commonwealth.
I would also like to congratulate you on the celebration of your 10th Anniversary on May 13, 2002, as well as celebration of May as "Falun Dafa Month" in Pennsylvania. It is my hope that other citizens of Pennsylvania will recognize the benefits of this practice, which promotes better physical, mental and spiritual happiness and well-being.
Again, on behalf of the House of Representatives, congratulations and may you enjoy many, many more anniversaries here in Pennsylvania.
Sincerely,
Signature,
Roy Reinard
State Representative
178th Legislative District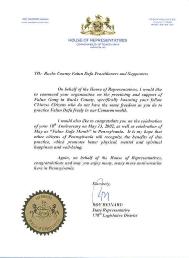 Download high resolution image