(Clearwisdom.net)
The last time Xiaodan Wang saw her red sweater, her dad was wearing it and being sentenced to 16 years in prison. As part of a mismatched outfit collected while in prison labor camp, the bright color peeked out from underneath a police jacket. Xiaodan's first glimpse of Zhiwen Wang in over six months showed a tattered man. His once-black hair was graying and matted; he looked tired and bruised; and his thin summer pants were no match for the cold December weather--but his spirit was clearly intact. The red sweater stood out like a secret message between parent and child: "Don't worry, daughter. They haven't broken me."
Xiaodan holding a picture of her and her father.
Upon first meeting Xiaodan, her quiet, gentle demeanor and soft-spoken tone stand out against the tragedy she has experienced. As a civil engineering student at the University of Texas in Austin, Xiaodan could easily pass for a typical foreign student. "Four years and four months," she answers quickly when asked how long she's been living in the US. "And you can call me Danielle."
Danielle is young to have so much history. But at only 22, she is solid and focused in telling the story she shares with her father. Their remarkable journey began during her childhood in Beijing, China. It was there that she was raised by her dad after her parents divorced and her mom moved to the US. It was there that she first learned of a meditation practice called Falun Gong in 1992 when it was introduced to the public in Mainland China.
Zhiwen, a railroad engineer, lived a quiet life and raised his young daughter with the help of relatives. His own father had been persecuted for his ideals and beliefs like so many others during the Cultural Revolution. Life after he and his daughter began to practice Falun Gong was a different story. Soon Zhiwen's father began to see the benefits and started to practice, too. The elder man's gray hair turned black again and his chronic health problems cleared up. For a long time he practiced the five gentle exercises of Falun Gong with his son and young granddaughter.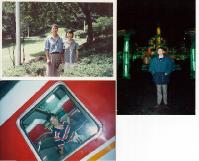 Zhiwen Wang in China before his arrest
Members of the Wang family weren't the only ones in China at that time who knew they had found something extraordinarily special. Largely spread through word of mouth, so many people were learning Falun Gong by 1995 that the environment was rapidly improving. Practitioners following Falun Gong's principles of truthfulness, compassion and tolerance were everywhere helping others. Growing ever more aware of the power of this peaceful meditation, many in Chinese society caught on. By 1997 a government survey found that there were 70-100 million people practicing--more than the membership of the Communist party.
Zhiwen became a volunteer contact person for the Falun Dafa Association in Beijing--one of four local volunteers who would later be sentenced to a long prison term. He dedicated his life to helping other Falun Gong practitioners, sometimes working 24 hours and skipping lunch and dinner. Whenever someone was having difficulty and needed a helping hand, Zhiwen was there. He lived to help others, and young Danielle grew up with her father's selflessness as the standard.
In 1998 Danielle left Beijing to live in America. It was the last time she saw her father. In the early morning hours of July 20th, 1999 Zhiwen was dragged from his bed by police and taken away. That day also marked the beginning of the government-sanctioned crackdown against Falun Gong. He was one of many active practitioners throughout the country who was targeted. And it was only the beginning of the brutal campaign of torture that is now more than three years in the making. The only accusation against any of them was practicing Falun Gong. China was thrown into a state of turmoil.
In America, Danielle says she found it impossible to imagine why her government would fear kind-hearted people simply because there were so many of them. Remembering that time, she looks sad and thoughtful. "The country I grew up in was so bright, but the government showed its dark side." She still struggles to understand why her gentle and selfless father was taken away like a criminal.
Day after day the entire family tried everything they could think of to track down Zhiwen, but to no avail. There was no word on his location or condition. Finally one day about three months after his disappearance, Danielle and her mother received a certificate of arrest from the Chinese police. At least they knew he was alive. There was more waiting and wondering during the next three months. The only comfort to Danielle's sadness was the knowledge that her father would be able to endure the situation. She knew he was being held for being a Falun Gong practitioner. But she also knew that he would never renounce his beliefs or retaliate against any police brutality.
Finally on December 27, 1999 an international CNN newscast aired the trial of the four Beijing Falun Dafa Association volunteers. The men were beaten and bruised, standing in judgment for practicing truthfulness, compassion and tolerance. One of Danielle's aunts at the trial tried to approach Zhiwen to comb his matted hair, but was pushed away by the police. The familiar red sweater that some of his family had grabbed from amongst Danielle's belongings at his house peeked out bravely.
Zhiwen was served with a sentence of 16 years and sent to a notorious camp in the Northeast of China. Later he was moved to Tianhue Camp where he remains today. The little news that filters out of China to Danielle and her family is vague and disconnected, and letters are not allowed through on either side. They hear that he has been forced to sit on a small bench for seven straight days without any rest. He has been tortured to renounce his belief in Falun Gong, but consistently refuses to succumb. One day a phone call from China reached Danielle's mother and it was Zhiwen. The entire conversation was about their daughter. That was the last word received, almost one year ago.
Since her father's sentencing in 1999, Danielle has worked tirelessly to appeal for help from the US government and kind-hearted people of the world. She has written letter after letter to the president and met with her congressional representatives. She has organized a human rights van tour from Houston to DC, holding more than ten press conferences to talk about the persecution of her father and so many other Falun Gong practitioners just like him. She has organized a Falun Gong Association at her school, offering fellow students the chance to learn about the practice and help bring an end to the persecution. She has held two hunger strikes on campus and at the Houston Chinese Consulate to bring attention to her father's case and the persecution.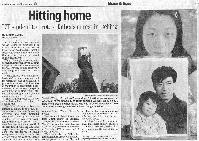 Since her father's sentencing in 1999, Danielle has worked tirelessly to appeal for help from the US government and kind-hearted people of the world
And every day she practices the exercises of Falun Gong outdoors, rain or shine, alone or with other students. The tragedies of the past never stop her from being the positive, selfless person her father raised. She cannot return to China but continues to fight for those who have no voice there. She continues to live her life as a Falun Gong practitioner, following truth, compassion and tolerance in everything. And she lives in hope that the next news of her father will be of his release.
á