(Clearwisdom.net) On the morning of October 2, 2002, at Kennedy Square in Downtown Dallas, Falun Gong practitioners from Texas, Boston, Colorado and Canada held a press conference regarding the campaign to "Rescue Our Family Members."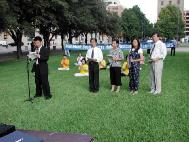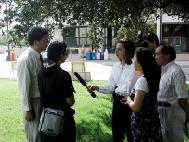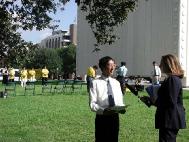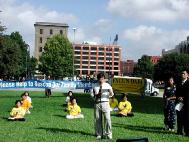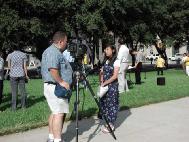 During the press conference, five Falun Gong practitioners talked about the persecution that they and/or their family members in China have been suffering. Major local media from Dallas, New Tang Dynasty TV station, and World News Daily came to conduct interviews.
The activity in Texas is part of a global campaign to "Rescue Our Family Members." Practitioners will start in Dallas and drive to other major cities in Texas to hold a series of activities calling on Texans to pay attention to the human rights violations of Falun Gong practitioners in China and appeal to President Bush to help them reunite with their family members who are currently enduring persecution.