In the beginning of October 2001, the Township Council of Parsippany in New Jersey State unanimously passed a resolution condemning the Chinese government's persecution of Falun Gong, and mailed a copy of the resolution to Zhang Hongxi, the Chinese Consul-General in New York.
…
(Clearwisdom.net)
1. Zhao Ming (Currently being illegally detained in the Beijing Tuanhe Labor Camp):
Zhao Ming was a veteran practitioner at Tsinghua University who quietly offered a great deal of help to practitioners there. He rented a room close to the outside of the North Gate of Tsinghua University. Many practitioners went to his place for group study of the Fa [the principles, the Law of the universe]. Because he was a busy man, he put the door key on a cement ledge above his door. Anyone could get the key and open the door. There were always people coming for group study in the afternoons and evenings. From the latter half of 1998 until July of 1999, there were always Nine Day Lecture Video Workshops [an introduction to the teachings of Falun Gong] in his room for the first nine days of each month. Many new practitioners obtained the Fa there without even knowing who the owner of the place was, they did not even know Zhao Ming's name.
(Clearwisdom.net)
[Liaoning Province] Police Kidnap a New Practitioner and Beat up Her Husband
[Liaoning Province] A Police Officer Shoots a Practitioner after Beating Him
[Changchun City, Jilin Province] To Practitioners in Northeast China: Please be Alert
As practitioners in China face tremendous pressure to give up their beliefs under the Chinese regime's brutal persecution, there are those who have given in and signed documents renouncing Falun Dafa. However, many of these people deeply regret doing so after they are released from detention and labor camps. "Solemn declarations" are the public statements made by such practitioners, often at great risk to their personal safety, to declare to the world that the documents they signed under duress are null and void and that they will continue to practice Falun Dafa.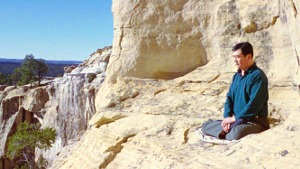 Master Li quietly watching the world from amidst the mountains after leaving New York following July 20th, 1999. (Published January 19, 2000)