Practitioners Participate in Houston's Thanksgiving Holiday Parade
November 25, 2001
|
Houston Dafa Practitioners
Today (November 22, 2001) is Thanksgiving Day. This morning Houston's Thanksgiving Day Parade was held downtown. It is a large-scale, yearly celebration activity for the whole city. The residents drove by with their families and some families waited beside the parade route even before dawn. Some people slept in sleeping bags in their cars to not miss the big parade. Before the parade started, there were crowds along both sides of the parade route in the downtown area. Houston practitioners thought it was a good chance to spread Dafa to Houston residents. We prepared lots of Dafa literature and went to the downtown area in advance.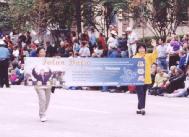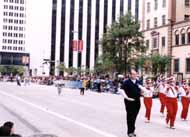 The parade started at 9:00 a.m. About 61 groups participated and most of them were from large companies. The beginning of the parade had mounted police on horseback. The mayoral candidate Sanchez sat in a fire truck. Next was a band. Then the host of the parade, the Washington United Foundation, was followed by a big band. No other groups showed up after the band. Suddenly, a surprisingly pleasant and dramatic scene appeared: two Dafa practitioners wearing yellow suits walked along holding a big banner with the words, "Truthfulness, Compassion, Forbearance". On their sweaters the words of "Truthfulness, Compassion, Forbearance" were printed. They followed the band and strode ahead proudly along with the music. The audience applauded and greeted them along the route. Some residents cheered the practitioners in Chinese, saying, "Hello!"
The colorful floats and other groups appeared in the distance. After the parade, the practitioners distributed truth-clarifying materials to the residents.