Thirty two year old Dafa practitioner Su Qionghua, from Suining Sichuan Province, died at 6:30 pm, Dec. 20th, 2000, after being kicked out of a window by policemen from the City's National Security Squad and Chuanshan Police Sub-Station.
…
We hereby appeal to all kind-hearted people to show your concern for Wang Hongbin. Mr. Wang works in Hebei Province Telephone Equipment Factory as a senior engineer. He is a kind , honest, upright, and responsible person.
[Clear Wisdom Report] Dafa practitioner Yi Yongjiang, 37, male, from Lanzhou City in Gansu province is also known as Yang Shan (meaning promoting benevolence to others). Since July 1999, wicked people have slandered Teacher, attacked Dafa, and persecuted Dafa practitioners. Yang Shan has been detained illegally many times. He was wanted and pursued by police for a long time. He once protected Dafa books with his life and shocked the policemen into giving up their attempt to take them. In order to clarify the truth to the masses, he traveled everywhere and worked diligently. Sometimes he went to another county alone and distributed leaflets, covering the whole town in one day. Later on, he worked on printing. The number of leaflets produced by him was enough for every resident in Lanzhou City, Gansu province.
Greetings, Respectable Teacher! Greetings, everyone!
Now we will briefly report on Thailand practitioners' cultivation experience and their further promotion of Dafa during the past year.
After April 25, 1999, because of the harsh environment, the number of practitioners in Thailand drastically decreased, and the number of people coming to group practice has decreased as well. In this situation, how to have a clear mind, be calm, and stick to cultivation became a very pressing topic for each one of us. Through strengthening Fa-study and especially studying Teacher' new articles, many practitioners came out of the confusion, and realized that, in addition to overcoming these obstacles and continuing group practice and group reading, we should also strengthen our promotion of Dafa, and open up new practice sites, to plant seeds for the future spreading of Dafa in Thailand. Therefore some practitioners started new practice site in Banjasiri Park, Chatuchak Park, and in Klong Toey.
~ Falun Dafa in the Media ~
~ Other Community Events ~
~ Persecution Outside China ~
~ Accounts of Persecution ~
~ Standing Up for Falun Dafa ~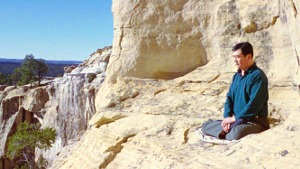 Master Li quietly watching the world from amidst the mountains after leaving New York following July 20th, 1999. (Published January 19, 2000)