Saturday 20 January 2001
The Gazette
JOHN KENNEY, GAZETTE / Liberal MP and human-rights lawyer Irwin Cotler holds up a 10,000-signature petition yesterday that helped put pressure on China for the release of KunLun Zhang.
BEIJING, Jan 21, 2001 -- (Agence France Presse) China' communist authorities announced Sunday an increased crackdown on the Falun Gong [group] in an attempt to avoid further demonstrations by the banned group in Beijing' Tiananmen Square during the Chinese New Year period. Luo Gan, the Chinese Communist Party' main official in charge of the maintenance of law and order, ordered police nationwide "to intensify their struggle against the Falun Gong [group] by keeping a close watch on their movement," the official Xinhua news agency reported. The warning came three days before the Chinese New Year, during which the authorities fear Falun Gong followers will again protest at the movement' prohibition. Such demonstrations on major dates in the Chinese calendar have brought unwelcome world attention to Tiananmen Square for more than a year. On last year' October 1 national holiday, and also on this year' January 1, around a thousand disciples of exiled [founder] Li Hongzhi were brutally removed while trying to peacefully protest at the ban on the Buddhist-inspired movement. The Chinese regime wants local regions to stop [group members] before they even leave for Beijing, Luo said. Luo "required that the localities detect and foil the [group's] activities at the earliest possible stage," Xinhua said. He told a "central committee for the comprehensive management of public security" that local authorities should "relentlessly block the attempts that major and diehard [group] members make to disrupt public order." According to a local newspaper seen Sunday in Beijing, a communist cadre was expelled from the party "recently" because of his adherence to the [group]. Luo Jianzhong, formerly president of the People' Congress in the town of Shiyan, in the central province of Hubei, "had even gone to Tiananmen Square to support Falun Gong," the Jianghuai Morning Post reported. The [group], which claims 70 millions members, was outlawed in July 1999, three months after it held a silent protest in Beijing, the largest demonstration there since the 1989 pro-democracy movement was crushed. ((c) 2001 Agence France Presse) http://www.insidechina.com/news.php3?id=262420&section=default
China' Xinhua News Agency recently published another article condemning
Falun Gong founder Li Hongzhi for allegedly inciting Falun Gong practitioners to cause trouble. If we compare Xinhua' reports with those of foreign agencies, we can see that the former typically makes deliberate misinterpretations of Falun Gong doctrines, or even fabricates stories to slander the [group]. Consequently, when Taiwan reporters cite passages from Xin-hua reports, they should double check the stories and try to write balanced reports, so as to avoid becoming mouthpieces for the Chinese authorities' in their suppression of human rights.
~ Falun Dafa in the Media ~
~ Accounts of Persecution ~
~ Falun Dafa's Divine Power ~
~ Voices of Support Worldwide ~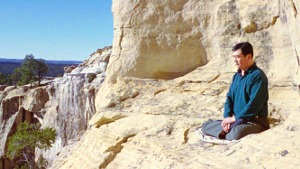 Master Li quietly watching the world from amidst the mountains after leaving New York following July 20th, 1999. (Published January 19, 2000)