Asking for Help to Release My Younger Brother Xie Yunhuan Who Is Sentenced to 10 Years in Prison
A Falun Gong practitioner now living in Japan describes the ordeals that his brother and other family members suffer in Communist China.
---
Asking for Help to Release My Younger Brother Xie Yunhuan Who Is Sentenced to 10 Years in Prison

By Xie Yunhua
My name is Xie Yunhua. I currently live in Fujieda City, Shizuoka County, Japan. Six members in my family have practiced Falun Gong since 1996. Five of them in China, however, have experienced persecution at different levels since the onset of the CCP's Falun Gong ban in China in 1999.
My fourth younger brother Xie Yunhuan, 34, who used to be a student in a Japanese language center, went back to China in February 2000 to appeal for Falun Gong. He was sentenced 10 years in prison and has suffered long- term abuse and mistreatment under the persecution.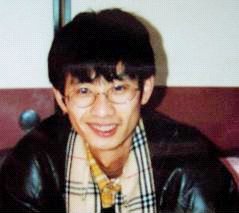 Xie Yunhuan on Feb 1, 2000, the day he returned to China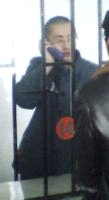 Xie Yunhuan in Prison
1. My brother Xie Yunhuan's persecution experiences
Xie Yunhuan came to Japan in April 1999 to study. In February 2000 he determinedly gave up study and returned to China to appeal for Falun Gong. As soon as he arrived there he was on the wanted list of the Jidong County Police Department in Heilongjiang Province. He decided to leave home and go into exile. We lost contact with him in March 2001. At the end of May, he managed to send a short letter to the family. We finally knew he was arrested on March 12, 2001 in Beijing. Since the persecutors found on him the phone numbers of Falun Gong practitioners in Japan, he was regarded as a spy and was specifically investigated. The investigation proved he was simply an ordinary practitioner.
My brother was eventually sent to the Beijing Tuanhe Forced Labor Camp for brainwashing. He was subjected to ruthless physical tortures and mental torment, such as long-term sleep deprivation, beatings and other abuses. He developed a severe case of scabies. Officials sent him back to the 1st Detention Center in Jixi City, Heilongjiang Province the end of July. The family was not informed of his whereabouts.
Soon after he was back at the 1st Detention Center, he was regarded as a common criminal and detained with all kinds of criminal offenders. More than 40 detainees were held at its peak in a cell measuring with 20 square meters [about 215 sq ft]. Since he was badly treated in detention, our family was forbidden to visit him. We could only know his circumstances from a few words he managed to ask someone to pass to us. Every month we went to the detention center to deposit 200 Yuan for his basic living costs. He would only get a small portion of it after it went through the hands of guards and the cell head.
He was detained there more than a year, which is over the detention limit. During that period, agents from the Public Security organs tried to blackmail my family. They said if we could pay enough money they could reduce the detention term, or even release him. Once I asked one of my overseas relatives who visited China to see my brother in jail. An official from Jixi City National Security Bureau claimed he could bring my brother out, and we could hold a meeting in a public entertainment center. My relative felt deeply suspicious and refused the offer. The officials just wanted to blackmail us.
Because we didn't cooperate with police and refused to be blackmailed, they vented their anger at my brother and tortured him more cruelly, depriving him of sleep for more than 10 days. They faked evidence and witnesses for a court hearing. They sentenced my brother to 10 years in prison on August 15, 2002. It happened in the Jixi City Court, in the absence of family members or a defense lawyer, and without right to further appeal. The so-called criminal evidence the persecutors presented was absurd - making 1,400 copies of Falun Gong truth-clarifying fliers and 90 copies of a newspaper, and participating in several Fa experience-sharing meetings.
In October 2002 my brother was sent to the Hedaling Prison in Jidong County where the detainees were forced to work in an underground coal mine. Although a prison regulation is on the book that clearly states near-sighted detainees were not permitted to work under ground, my near-sighted brother was still forced to work underground. When it comes to Falun Gong practitioners all regulations would be void, except one: "No measures too excessive when dealing with Falun Gong practitioners." My brother was compelled to load and transport coal underground, like a slave, and could be subjected to scolding, lashing or beating with wooden rods at any time.
In May 2003, to centralize the control of imprisoned practitioners, more than 10 local practitioners including my brother were transferred to the Mudanjiang City Prison, where they are made to do manual labor 16 hours a day. Communist regime officials boasted that Falun Gong practitioners were offered help in these places, that they are like a "life-giving spring breeze and rain" when actually making them work intensely, to have no time or energy to think, thus making one's brain numb and becoming an obedient tool.
Visits from practitioners' family are strictly controlled. There is only one supervised, 30-minute visit per month. If the conversation included "sensitive" topics, the visit would be immediately interrupted and further visits could be suspended for a few months, as long as six months. Last time when my family visited my brother, the conversation involved a few words about Falun Gong. Several months passed, and no visits were allowed.
My brother Xie Yunhuan has endured countless physical tortures and mental torment since 2001. My family told me he has become very skinny.
Xie Yunhuan is currently detained in the No.10 Ward in the Mudanjiang Prison, incarcerated for eight years already. My family has tried hard over and over, to see him. The visits are always supervised. Not long ago, I read information about him on the Internet that he was again tortured for his refusal to do slave labor.
2. Persecution of other family members
My mother Zhan Qingmin, 67, has been detained six times since January 2001, amounting to approximately six months altogether. Each time she was able to get out of detention through a hunger strike. Her place of employment, Hongshaonian Elementary School, has not paid her any retirement benefits for three years. She had been in exile for nearly seven years and returned home just recently. However, on December 1, 2008, under the pretext of dealing with old cases, Jidong County Domestic Security Division officials extorted 2,000 Yuan from her without presenting her with a receipt. Jidong County Police Department officials subjected her to two years of forced labor in her absence. Any cost police incurred in searching for her would be deducted from her retirement pay, which has since accumulated to about 16,000 Yuan. In 2001, Song Zhenen from the Domestic Security Team and Zai Liming from No.1 Police Station went to Qingdao City, Shandong Province to search for my mother. They spent 5,000 Yuan in three days, which all came out of my mother's retirement.
My sister-in-law Zhao Yumei, 45, is a housewife. At the end of 2000 she companied my mother to Beijing to appeal for Falun Gong and had been held at the Jidong County Detention Center for more than four months. She spent the Chinese New Year at the detention center. Since that year, our family has never had a traditional Chinese New Year's celebration when family members gather together. She was released later after being blackmailed 6,000 Yuan. In August 2002, police searched her home, searching for my mother, and found a few Falun Gong books. She was arrested and held at No.1 Detention Center in Jixi City and witnessed how guards in Jixi City insult female practitioners. They would shock the female practitioner's body with electric batons on specific spots such as the breasts and vagina. She was also the victim of such torture. Mother was released one week later due to my family's efforts and payment of blackmail of 1,700 Yuan. In July or August 2003, police who often came to her home to harass her, found a sheet of truth-clarifying material and arrested her again. She was released one week later once my family paid the extortion.
My sister Xie Mingjuan is 42 years old. Jidong County Police Department officials have detained her four times. Three times she got out of detention through hunger strikes. She had been extorted a total of about 6,000 Yuan. At the end of 2001, while on the train to Beijing, she was arrested and detained. Her salary was suspended for one year. She was under house arrest for several months before being subjected to two years of forced labor. With the assurance of her work unit - Jidong County Power Supply Bureau, she was allowed to serve her term outside. She only had a 210 Yuan basic living fee [per month] during the year.
My third younger brother Xie Yunjie is 38 years old. He was arrested in January 2000 because he held a banner at Tiananmen Square in Beijing to appeal for Falun Gong. He was detained for 39 days in the Bin County Police Department, Heilongjiang Province. Since he was the key technician at his work place, he was released under the assurance of his employers, but people always accompanied him wherever he went.
Five out of the six practitioners in my family were subjected to persecution in China. I'm the only exception, because I'm in Japan, not in China.
I appeal to good people with a sense of righteousness and conscience around the world: please, pay close attention to the human rights issues in China and call for releasing all incarcerated Falun Gong practitioners.
List of organizations and offices involved in the persecution:
Beijing Tuanhe Forced Labor Camp; the 1st Detention Center of Jixi City; Jixi City Domestic Security Team; Jixi City District Court
Related personnel:
Yang Daren, Jixi City 610 Office
Sun Huaping, head of the Jixi Politics and Law Committee
Song XX, police officer, Jixi National Security Division
Li Qinghua, Sun Zuoen, agents from Political Security Section of Jixi Police Department