A Call to Help Rescue My Wife, Zhu Luoxin
A Falun Gong practitioner, who has escaped from China, briefly describes the persecution of his family and calls for an investigation of the condition of his wife who has been imprisoned for eight years.
Jinzhou Prison Authorities Plan to Cremate the Remains of Mr. Zhang Litian to Avoid Being Held Responsible for His Death
After questions about the death of Mr. Zhang Litian, Jinzhou prison authorities finally conduct an autopsy and cremation, even though legally any autopsy is to be performed by an independent agency.
---
A Call to Help Rescue My Wife, Zhu Luoxin
By Wu Zhiping
I started practicing Falun Gong in January 1996 in Guangzhou City. In July 1999, the Chinese Communist Party (CCP) started the persecution of Falun Gong. On October 10, 2001, I was arrested and sent to Guangzhou No. 1 Labor Camp for two years of forced labor because I would not give up my belief. In the labor camp, from January 25 to June 8, 2002, I was hung up outside under the sun on the exercise grounds of the No. 5 Team. Every day, I was hung up for 17 hours and was only allowed to use the bathroom three times. The time allowed for eating meals and going to the bathroom was 10 minutes. In 2003, I was released from the labor camp. I escaped to Thailand after five years of hardship, and was rescued to Finland by the International Refugee Association.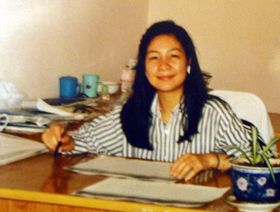 Falun Gong practitioner Zhu Luoxin
My wife, Zhu Luoxin, is 43 years old. She had a skin disease before practicing Falun Gong, but after she started the practice, her health soon recovered. It validated the miracle of Falun Gong. Zhu Luoxin used to work for foreign investment companies like Nintendo and Guangzhou Sohu Company as an assistant manager. On December 13, 2001, the police from the Baiyun District of Guangzhou City arrested her when she was transporting Falun Gong materials in Guangzhou City. She was sentenced to 10 years in prison. She has been detained at Guangzhou Women's Prison for 8 years now. When she was first admitted to the prison, she was kept locked in a small cell for two years and ten months. Her hair turned gray. She was also tortured by other prisoners at the guards' instigation. She was forced to work intensively every day without pay to make cheap products for export.
My other family members were also persecuted for practicing Falun Gong. My brother, Wu Zhijun, used to work at the Microbiology Research Center of Zhongshan University Hospital in Guangzhou. Because he did not give up the practice, he was sentenced to 8 years in prison by the Wanxiu District Court in Wuzhou City, Guangxi. He used to be jailed at Guilin Prison in Guangxi. My mother, Wu Yuxian, 70 years old, used to be a vice president of Yuexiu District Chinese Traditional Medicine Hospital in Guangzhou City. She was sentenced to 7 years in prison because she did not give up her practice. During three years in prison, she was in critical condition as a result of torture and was bailed out for hospital treatment. But because of the brutal treatment she had suffered, she soon passed away. My aunt, Wu Yuwen, was a retired teacher from Jiangmen City No. 1 Middle School in Guangdong Province. She was sent to the brainwashing center three times. She was tortured for more than a year the third time and passed away.
I have not seen my wife for 8 years. I have not received any information about her for a long time, and I really worry about her health. The prison does not allow me to write to her--it has kept from her all the letters I have written to her.
I call on the international community, international human rights groups, and all kindhearted people and governments to support me and help rescue my wife, who is illegally detained in a CCP prison, and help end the persecution.
Guangdong Women's Prison
Prison Head Chen Yusheng, Operation Office Deputy Head Zhang Renping
Phone: 86-20-87413120, 86-20-87413069, 86-20-87413186, 86-20-87413113

---
Jinzhou Prison Authorities Plan to Cremate the Remains of Mr. Zhang Litian to Avoid Being Held Responsible for His Death
In November 2008, Mr. Zhang Litian was beaten to death by guards Cheng Jun and Zhang Baozhi and two prisoners in Jinzhou Prison, Liaoning Province. This is the third death of a Falun Gong practitioner at the same prison since Xin Tingquan was appointed prison chief. After the death of Mr. Zhang, Xin ordered the prison to fabricate a public statement that Mr. Zhang had died of a heart attack. The family of the victim asked to have legal medical experts in another city conduct an autopsy, but the prison secretly moved the victim's body to an unknown place from the crematory. They collaborated with higher legal authorities to turn down the family's request and transferred prisoners Li Yong and Liu Peiyan, who had assisted in the fatal beating, to another location. After the case was revealed to the international media, the two prisoners were transferred back to Jinzhou. Prison officials refused to issue a death certificate to the victim's family.
Mr. Zhang Litian was a resident of Laizhou City, Shandong Province. He had worked in the Precision Band Steel Factory of Chaoyang City, Liaoning Province. As a Falun Gong practitioner, he followed the principles of Truthfulness-Compassion-Forbearance and was recognized as a good person. After the CCP started to persecute Falun Gong, he was harassed and mistreated by local police on several occasions. In April 2008 when he was in Shandong Province, he was abducted by the police from Jinzhou City and Dahe District. He was detained in the first detention center and sentenced to five years of imprisonment in August 2008. In October he was sent to the 12th Ward of Jinzhou Prison. On November 17 he was cruelly beaten to death by Cheng Jun, the chief of the 20th Ward, Zhao Baozhi, the deputy chief, and two inmates.
On February 5, 2009, prison officials informed the family that autopsy on the victim had been done and the finding was that Mr. Zhang had died of a heart attack. They urged the family to go to Jinzhou City to sign for the document and have the victim's remains cremated, but they refused. The prison officials stated that, even if the family didn't come for the body, it would still be cremated. The autopsy is supposed to be carried out by higher legal authorities and the results should be issued to the family. This is not a function a prison is authorized to perform, but in the communist system, such illegal goings-on take place frequently. Because those responsible for Mr. Zhang's death carried out the autopsy, they were in a position to fabricate any excuse to account for his death.