Issued by Clearwisdom Net
Mr. Du Ting Tortured at Tilanqiao Prison in Shanghai for Seven Years
Mr. Du Ting once held a hunger strike for more than 400 days to protest the persecution. He has suffered a mental collapse due to the abuse by guards and inmates around the clock.
The police in Dalian City abducted three Falun Gong practitioners for no valid reason. Without notification to their families, the police sentenced them to one year of forced labor.
---
Mr. Du Ting Tortured at Tilanqiao Prison in Shanghai for Seven Years
Mr. Du Ting, 43, has been held at Tilanqiao Prison in Shanghai for more than seven years. He once held a hunger strike for more than 400 days to protest the persecution. Recently the guards stripped him naked and tied him on a death bed, and several inmates have verbally and physically abused him around the clock. The abuse has lasted for a long time. Du Ting's family has requested medical parole, but the request was denied. Du Ting has suffered a mental collapse and is extremely weak.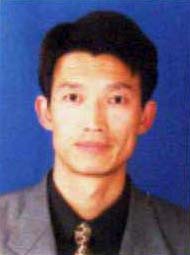 Falun Gong practitioner Mr. Du Ting
Mr. Du was born in Zhenyuan County, Gansu Province. He moved to Shanghai to work around 1993 and began practicing Falun Gong in November 1998. He conducted himself according to the principles of Truthfulness-Compassion-Forbearance and quit smoking and drinking. His temperament also changed from being impulsive, to considerate and magnanimous. Falun Gong gave him perfect health.
After Jiang Zemin and the Chinese Communist Party (CCP) began persecuting Falun Gong in July 1999, Du Ting went to Beijing to appeal for Falun Gong. He was illegally arrested and taken to a police department in Beijing. His captors eventually sent him to the Gansu Province Liaison Office in Beijing where he was handcuffed and tortured for one night before he broke free and returned to Shanghai. CCP officials in Qingpu District, Shanghai pressured his superiors at work in July 2000, and Du Ting was forced to resign.
Minhang District Police and Haikou City Police arrested him on May 4, 2001, and held him at Haikou City Detention Center where they deprived him of sleep and brutally tortured him. After some time they took him to Minhang District Police Branch. The persecutors continued using sleep deprivation in attempts to make him reveal information about other Falun Gong practitioners. They also tortured his practitioner wife Fu Xiaohong by compelling her to stay awake for 12 days and nights, and later sentenced her to 18 months of forced labor.
Yan Weichun, a political security police officer and others from Minhang District took 3,000 yuan from Du Ting, saying the money would be used pay for Du Ting and his wife's plane tickets from Haikou to Shanghai, but the officials kept the money for themselves.
Du Ting held a hunger strike after being transferred to Minhang District Detention Center. Minhang District Procuratorate issued an arrest warrant for Du Ting on August 17, 2001. A trial for which Du Ting was not allowed to hire a lawyer and was not allowed to defend himself, was held at Minhang District Court on March 18, 2002. Du Ting was sentenced to eight years in prison. He was then held at Tilanqiao Prison in Shanghai, where he has been held for seven years and eight months.

When Mr. Du was first taken to the prison he was held in Ward 2, which is for death row prisoners. He was treated worse than death row inmates. He held the hunger strike lasting more than 400 days, and the guards locked him in solitary confinement and handcuffed him. They forced him to sit on a small wooden stool for days on end. During the early stages of Du Ting's hunger strike, the guards ordered inmates to cook a little porridge and tried to force-feed him. They pinned him to the floor, a couple of people stepped on him, while others held his head down and tried to pry his mouth open, and yet others beat him in such a way it would cause internal injury but leave no visible wounds.
When Du Ting was dragged to another room or when he walked to the bathroom he shouted, "Falun Dafa is good! Restore Falun Dafa's reputation! Restore Master Li's reputation!" He firmly resisted insults from the guards and inmates and refused to wear the prison uniform. The guards ordered inmates to do many illegal things they wanted done but would not do themselves. Once during the process of Du Ting being dragged to the clinic, the inmates pinched, hit and kicked him. One inmate whacked his thighs, which caused pain in that area for several months.
When the guards force-fed Mr. Du they used a thick tube, which caused abrasions and severe pain in his nose. Du Ting said to people who visited him that his life was in danger during every minute of those force-feeding sessions. The guards cuffed, beat and kicked him because he resisted the force-feedings. They dragged him to the feeding room on the cold concrete floor and they throttled his neck when he shouted, "Falun Dafa is good!" Sometimes they caused him to lose consciousness.
The guards forced Falun Gong practitioners to watch CCP-made slanderous propaganda films for 12-14 hours each day, sometimes for more than twenty consecutive days. They even put earpieces in some practitioners' ears to force them to listen to audiotapes that slandered Falun Gong. They broadcast the same tapes from powerful loudspeakers placed in front of Du Ting's solitary confinement cell in order to torment him.
China's prison laws state, "The highest administrative penalty is solitary confinement ...for up to 15 days, during which time the detainee shall not be subject to beating, corporal punishment or abuse." However, the so-called "strictly controlled" punishment at Tilanqiao Prison means arbitrary beatings and torture. Du Ting was held at the Strictly Controlled Team for as long as 18 months during the period between March 2005 and December 2006, and the prison forbade his wife from seeing him for six months.
The officials suddenly transferred Du Ting to Section 4 in Ward 1 in late 2006. This is where felons, mostly criminals with life sentences or death row inmates with a few years of reprieve are held. It is a place known for violent, hardcore criminals. Many of them tried their best to please the guards in efforts to have their sentences commuted. When the guards ordered them to torture Falun Gong practitioners, they were vicious.
Du Ting is very weak from long-term torture. Even the guards said his organs weren't functioning properly. In early 2007 the guards and inmates tortured Du Ting. He developed fluid accumulation in his pleural cavities, which nearly killed him, and he eventually contracted tuberculosis and pneumonia. The authorities refused to let his wife see him. They told her she could not meet with him because he was sick. Guard Zhang Yi ordered inmates to keep torturing Du Ting. For a while Du Ting resumed eating and drinking fluids but again went on a hunger strike to protest the terrible abuse.
Mr. Du again lapsed into critical condition in early 2008 and was taken to Shanghai Prison General Hospital. When his family went to visit him he was in a wheelchair and could not walk.
The authorities at Tilanqiao Prison have developed their own way of "handling" hunger-strikers with methods such as tying with ropes. After Du Ting returned to the prison from the hospital, the guards stripped him naked and tied him to the "death bed" so he could not move at all. Inmates watched him around the clock and never stopped attacking and insulting him. The abuse has lasted to this day.

---
Three Falun Gong Practitioners Brutally Arrested in Dalian City and Sent to Forced Labor
On December 2, 2008, officers from Dalian City Domestic Security Team, Jinzhou District Domestic Security Team, and a group of eight plainclothes policemen (one of them is Lu Zhiqiang) from Liangjiadian Police Station barged into Yilin Photo Studio in Dengshahe Town. They forcibly took away married couple Mr. Yan Shoulin and Ms. Yang Chunmei, who were working there. Several eyewitnesses said, "We saw a few plainclothes policemen surround and brutally beat Yan Shoulin. The first one stepped on Yan's head while another one stepped on his legs. The third one kicked Yan's body brutally." Yan's ribs were broken. A couple of them carried Yan Shoulin to the car. Yang Chunmei was dragged into the car, and her clothes were torn in the struggle.
Yilin Photo Studio is located on a busy street in Dengshahe Town. When the police were abducting Yan Shoulin and Yang Chunmei, many people witnessed the ruffian methods the police used to forcibly take away Falun Gong practitioners. Some citizens were outraged and said, "Go and sue them. The policemen behaved no different from criminal gangsters."
Two days later on December 4, 2008, this same group of policemen came to Middle School 123 in Dengshahe Town. They had the intention of arresting practitioner Mr. Zhang Hui. However, Zhang Hui was not present, so they forcibly took away Zhang Hui's wife Ms. Miao Yuhuan (also a Falun Gong practitioner) for no valid reason.
Later Mr. Yan Shoulin was incarcerated at Jinzhou Detention Center while Ms. Yang Chunmei was incarcerated at Dalian City Drug Reformatory. She was later transferred to Dalian City Yaojia Detention Center. Miao Yuhuan was incarcerated at Dalian City Yaojia Detention Center. Zhang Hui was forced to leave his home to avoid further persecution.
The family members of the three practitioners were made to go through unnecessary pain and suffering. Yan Shoulin's father was outraged and worried. He felt so helpless in trying to rescue his son and under these conditions he fell ill and had to be put on an IV to sustain his life. Yan's mother worried about the safety of her son and daughter-in-law while taking care of her husband and her grandchild (Yan Shoulin and Yang Chunmei's 11-year-old son). The young child had to withstand the pain of being separated from his parents at such a young age. He has also fallen ill as a result.
Zhang Hui's father is very old and is paralyzed on one side of his body. He requires constant care and supervision. His mother has severe heart disease which requires her to have medication at all times. She went to the Liangjiadian Police Station to ask for the release of her daughter-in-law Miao Yuhuan, but she was unreasonably chased out and reprimanded by policeman Lu Zhiqiang.
Miao Yuhuan's daughter Jinglian is only three years old. As her mother was arrested and her father was forced to leave home to avoid the persecution, the little girl is now homeless. Her aged grandmother and grandfather carried the child and traveled hundreds of miles to come to Liangjiadian Police Station, Jinzhou Domestic Security Team and Dalian Domestic Security Team to ask for the release of the child's mother.
On January 6, 2009, Jinglian, her grandmother and aunt went to Jinzhou Domestic Security Team to look for the team leader Zhou Jun and the case officer Lu Zhiqiang to ask for the release of the child's mother. However, the authorities claimed that they had already sentenced Miao Yuhuan, Yang Chunmei and Yan Shoulin to one year of forced labor. Miao Yuhuan and Yang Chunmei was sent to Masanjia Reformatory in Shenyang City while Yan Shoulin is incarcerated at Dalian Reformatory.
Three practitioners were sentenced to forced labor and their family members were not informed, nor was there any official paperwork received as notification. When the family members asked Zhou Jun, "On what legal basis are you incarcerating Miao Yuhuan? What is the legal case and proof of any wrongdoing?" Zhou Jun immediately hung up the phone.