News and Events from around the World --
April 28
, 2007

Issued by Clearwisdom Net
Rally Arouses Concern over Persecution of Falun Gong as Canadian Foreign Minister Prepares for China Visit

---
This week, as Canadian Foreign Minister Mr. Peter Mackay prepares for a visit to China, the Sino-Canada relationship and China's human rights issues became a focal topic. On April 23 and 24, over one hundred Falun Gong practitioners organized an anti-torture exhibition on Parliament Hill in Ottawa, urging Foreign Minister Mackay to be aware of the persecution of Falun Gong and requesting Chinese Communist Party to release 15 illegally jailed Falun Gong practitioners who are the relatives of Canadian citizens and residents.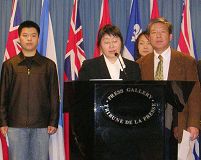 Four representatives from 15 victim families speak at the rally about the persecution they experienced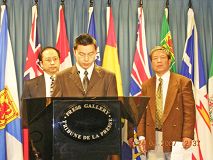 Toronto Falun Gong practitioner Mr. Zeng Xiaonan talks about his mother's experience under Chinese Communist Party's persecution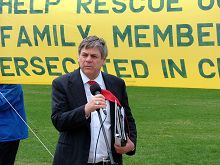 Member of Parliament Larry Bagnell speaks at the rally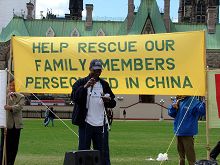 Executive Chairman of Sudan League of Canada Mr. Justin Laku supports Falun Gong's peaceful protest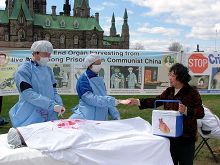 A re-enactment of organ harvesting from live Falun Gong practitioners
Canadian Foreign Minister: Persist With Canadian Values, Develop China - Canada Relationship
In an interview on April 22, 2007, Foreign Minister Peter Mackay said that the Conservative Party is using a different approach with China issues, expressing his belief that they now use an appropriate and active method to deal with China in a direction conforming to Canadian values, including democracy and human rights.
Mackay believed this aim will not worsen the economic relationship between two countries. The coming trip is the first visit to China by a Foreign Minister since the Conservative Party won the election over one year ago. Last autumn before the Asia Pacific Summit, Prime Minister of Canada Stephen Harper stated that Canada will not trade Canadian values for economic interest.
In the interview on April 23, Human Rights Critic of New Democratic Party Mr. Wayne Marston said that Foreign Minister ought to raise the human rights violations related to Canadian citizens and said it was his duty to do so. Marston said the New Democratic Party wrote a letter to Foreign Minister requesting him to raise these questions about the persecution of Falun Gong and organ harvesting crimes early this year.
Member of Parliament Larry Bagnell spoke at the rally on April 24, calling the Foreign Minister to raise questions about Falun Gong and other human rights violations with the Chinese Communist Party government.
Executive Chairman of Sudan League of Canada expressed support for Falun Gong's peaceful protest at the rally and said China government's genocide crime is the same as Sudan government's genocide.
He said, "To keep the peace in the world, we must be hand in hand and support each other. Falun Gong and Tibetans are persecuted in China the same as the genocide in Sudan. We also need the support from Falun Gong. We support the human rights for everyone in the world."
Human Rights Dialog will Improve
Since October 31, 2006, the Human Rights Committee of the Canadian Parliament has hosted 11 sessions of hearings to evaluate the effect of human rights talks with China. The committee, headed up by MP Jason Kenney, will publish a report evaluating the efficiency of past human rights talks with China. Foreign Minister Mackay said that human rights talks should be held at right time with the right person.
Marston said, "We have proposed many meaningful reforms. You will see them in the report."
Practitioners Tell of the Persecution their Family Experienced
Four representatives from fifteen victim's families attended the rally on April 24 to support the statement from Falun Dafa Association of Canada. Mrs. Yao Lian from Montreal said her husband Ma Jian was beaten up and abducted by over ten policemen at his Beijing office. Ma Jian is the general manager of China and Northern Asian Region for PCM Pumps of France. Yao said Beijing police told her family that Ma was arrested for having contact with Falun Gong practitioners.
Yao expressed concerns about her husband's health and safety. "On the day he was abducted, his colleagues saw him being beaten up. You can imagine, his belt was broken, what would he look like? When I asked police about my husband, they said, "We have doctors here." From this answer, I knew he must have some medical condition. It is very urgent. I wish the Minister of Foreign Affairs raises this question during his visit."
Mr. Lin Shenli from Toronto talked about his younger brother Lin Mingli. "Without any physical evidence, based on one confession (having a CD of Nine Commentaries on Communist Party)," Lin Mingli was sentenced to six-year jail term in November 2006. Lin Shenli himself was also jailed for two and a half years for persisting his belief. Later he was rescued and returned to Canada. His brother Lin Mingli was sentenced for two years in labor camp in 2001. The Parliament of Canada passed a resolution #236, requesting the release of 13 Falun Gong practitioners and family members of Canadian Citizens including Mingli. In 2003, Lin Mingli was released one month short of the two-year-term.
Student Shen Yue talked about her mother and three aunts who were arrested and tortured during illegal detention, including electric shock torture and force-feeding.
Falun Gong practitioner Zeng Xiaonan from Toronto said his mother was illegally jailed for eight years for speaking out against the persecution of Falun Gong. In jail, she was physically punished and was injected with unknown substances to destroy central nerve system.
China's Biggest Human Rights Problem is the Persecution of Falun Gong
At the press conference, representing the Falun Dafa Association of Canada, Mr. Li Xun read a statement, requesting Minister of Foreign Affairs Mackay to ask China's government to stop the massacre of Falun Gong immediately, stop organ harvesting from live Falun Gong practitioners immediately, stop the persecution of Falun Gong immediately; release all illegally jailed Falun Gong practitioners including 15 Canadian citizen's family members; allow investigators from the International Investigation Coalition (CIPFG) to visit forced labor camps and all other facilities used to jail Falun Gong practitioners.
The statement cited from Mr. Nowak, an official from the United Nations, that the tortures used on Falun Gong practitioners include 66 % of all known types of torture. The torture of Falun Gong practitioners is "systematic and widespread". Citing from a report from Government of United States, "Among 250,000 jailed people in forced labor camps in China, at least half of them are Falun Gong practitioners, and the actual number can be higher." The statement also pointed out that over 3,000 Falun Gong practitioners have been confirmed dead as a result of the persecution.
Falun Gong practitioner Jerry Smith of Ottawa said in an interview that the Chinese Communist Party's persecution of Falun Gong is a crime of genocide. The CCP's organ harvesting atrocities are the first of their kind in human history." Smith recently received a letter from MP Mr. Pierre Poilievre. In the letter, Hon. Poilievre urges the Minister of Foreign Affairs to raise the question of the persecution of Falun Gong during his visit and discuss with his colleagues in the Cabinet.