News and Events from around the World --
April 23
, 2007
Issued by Clearwisdom Net
---
On the morning of April 17, 2007, Wu Guanzheng, member of Standing Committee of the Political Bureau of the CCP and Secretary of Central Commission for Discipline Inspection of the CCP was charged by Falun Gong practitioners for his crimes of torture and genocide, while he was visiting Spain.
Since 1997 to November 2002, Wu Guanzheng was Secretary of Shandong Provincial Committee of the CCP. During that time, he participated in and executed Jiang Zemin's order of persecution of Falun Gong. At least one hundred Falun Gong practitioners were tortured to death in Shandong Province, the worst area in the persecution in China.
Currently, Spain judicial department is investigating the CCP's genocide of Falun Gong practitioners. In June 2006, Spain national court accepted the lawsuit against Jia Qinglin, member of the Standing Committee of the Political Bureau of the CCP and Chairman of the Chinese People's Political Consultative Conference. The judicial department started formal investigation procedures on his criminal acts in the persecution of Falun Gong.
The judge asked for related literature from the United Nations Commission on Human Rights and Amnesty International. In addition, the judge asked for related information about the CCP's persecution of Falun Gong through the Spain Foreign Ministry and applied for an international arrest warrant to arrest Jia Qinglin when he visits European countries and extradite him to Spain for trial.
In addition, the main culprits of the inhumane persecution, former CCP head Jiang Zemin and current member of Standing Committee of the Political Bureau of the CCP Luo Gan, are under special attention of the Spain judicial system. Recently Spain Supreme Court and Constitution Court collected evidence from the lawyers on the persecution of Falun Gong.

Chinese version available at http://minghui.ca/mh/articles/2007/4/22/153234.html
---
At the noon on April 13, 2007, Falun Gong practitioners protested outside the Russian Embassy to Belgium for the Russian government's illegal deportation of Falun Gong practitioner Ma Hui and her daughter. A representative of the practitioners handed over a letter of protest with supporting documents, which the Embassy staff promised to pass on to the Ambassador.
According to practitioner Ms. Pan, on March 28, under close cooperation of Chinese and Russian secret agents, Ma Hui and her daughter, who are in United Nations Refugee status, were kidnapped and deported. The mastermind behind this incident was the CCP. Motivated by economic interests, the Russian government yielded under the pressure from the CCP. Such despicable acts not only greatly damaged Russia's international image but also put Russia's own future in danger.
Banners displayed during the protest read "Protest against Russia being a CCP Accomplice in Persecuting Falun Gong" and "Russia: Stop Following Chinese Communist Regime to Persecute Falun Practitioners." The banners attracted the attention of many passersby. Practitioners distributed leaflets exposing the CCP regime's eight-year brutal persecution of Falun Gong practitioners in China and the illegal deportation of Ms. Ma and her daughter.
Practitioner Mr. Yang said that Falun Gong is a practice following the principles of "Truthfulness, Compassion and Forbearance" and the CCP regime has been brutally persecuting the practice since July 1999. Among other documented atrocities, the CCP regime has been harvesting organs from living Falun Gong practitioners for profit. The evil nature of the CCP has been widely recognized. While the demand to end the persecution is mounting; twenty million Chinese people have bravely quit the CCP. It is now clear that the CCP regime will soon fall. Falun Gong practitioners called the Russian government to help them clearly see the evil nature and doomed fate of the CCP and correct its wrongdoing.
---
Italian Falun Gong practitioners held a protest at the Russian Embassy in Rome and at the Russian Consulate in Milan on April 3rd and 5th. They were protesting the Russian authorities' deportation of Falun Gong practitioner Ms. Ma Hui and her daughter. The practitioners urged the Russian authorities to take action to correct their mistake.
The Italian Falun Gong Association submitted a letter of protest and related materials to the Russian Embassy. The guard on duty outside the embassy expressed great sympathy and support. Some embassy staff members came out of the building and asked for leaflets to read. One embassy official saw the posters written in Russian on his way to work and came up for more information. Practitioners gave him a copy of the Russian version of the Nine Commentaries on the Communist Party and the Canadian investigation report about the practice of organ harvesting from living Falun Gong practitioners in China. He also took some leaflets and a copy of the protest letter.
The next day, the Margherita Party of Italy published on its website a report about this event and the ruthless persecution of Falun Gong practitioner in China, and it re-emphasized that it was even more important to stand fast for and respect human rights under the background of economic development and business interests. The report stated that this issue deserved recognition from Europe and the world.
There are many Italian government buildings around the Russian Embassy. A number of government staff and other people took leaflets and information about the movement of Chinese people withdrawing from the Communist Party. Many asked to how they could provide more help.
On April 5, practitioners held a protest at the Russian Consulate. One Consul came to the protest site and talked with the president of the Italian Falun Gong Association, Mr. Fawa, and he said that their Embassy in Rome had received the protest letter and they would report to their government.
A Radical Party member from Lecce, Mr. Maria, came to take part in the protest in Milan. He brought a home-made poster with him and hung it in front of his chest. On this orange poster was a Falun symbol, some lotus flowers and the words, "Return freedom to Ma Hui."
The posters prepared by Italian Falun Gong practitioners said in both Russian and Italian, "Wake up Russia, or You Will Not be Forgiven by History," "It was Illegal to Deport Ma Hui and Her Daughter," "Is There Any Law Remaining in Russia, or Only Business Interests?" and, "Russians, Do Not Sell your Conscience to the Evil Chinese Communist Party."
---
On March 15, 2007, a seminar entitled "Freedom of Speech in China" was arranged by Amnesty in Stavanger, Norway. Those who attended the seminar could listen to Mr. Gerald Folkvord, leader of the China group in Amnesty Norway, talk about censorship and freedom of speech in China, as well as the many difficulties human rights activists and defendants of beliefs are facing in China. Falun Gong practitioner Ms. Kari Veseth presented a short speech about Falun Gong being persecuted and that practitioner's organs are harvested while they are still alive. Personal experiences of tortures were exposed by the two Falun Gong refugees Mr. Li and Ms. Dai.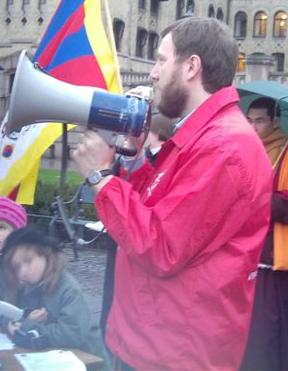 Mr. Gerald Folkvord (picture taken in Oslo, Norway, at another activity)
According to Mr. Gerald Folkvord, China is probably the country with the most surveillance and censuring of media and internet, and the authorities use all possible methods to control information and opinions. The Chinese government has a monopoly of defining what is seen as a "threat" to society, and any critics directed toward the government may be seen as an attack on state security. A large number of people are sentenced to several years in prison or even death for "disturbing public order," "undermining the state" and "destroying the reputation of the party," which in essence may include almost anything.
To illustrate this Mr. Folkvord used the case of Mr. Bu Dongwei. Mr. Bu is a Falun Gong practitioner who spent 10 months in forced labor camp in August 2000 for sending a petition to the government to reconsider the ban on Falun Gong. In May 2006, he was again arrested for "disturbing public order" because he possessed Falun Gong books and because he worked in the international organization Asia Foundation. Amnesty regards him as a prisoner of conscience and in great danger of being tortured (1).
Mr. Folkvord believes that China is using media as propaganda to defame critical voices before they are imprisoned. This was illustrated by Ms. Veseth which explained how the Chinese regime staged the so called Tiananmen Square Self-Immolation, where the regime claimed that five Falun Gong practitioner set themselves on fire. The goal was to create hatred and justify the use of brutal torture, humiliation, rape and so on against Falun Gong practitioners. Over 3,000 detailed cases have been documented where practitioners have died as a consequence of torture. However, the real number is unknown.
Exposing organ harvesting is also regarded as a "threat" to the society according to Ms. Veseth. Mr. Cao Dong, a Falun Gong practitioner, was sentenced to 5 years in prison for "illegally having contact with anti-China forces in and outside China" and for "illegally allowing interviews." He met and told Edward McMillan-Scott, the vice president of the European Parliament, that he had seen Falun Gong practitioners who later had their organs removed without consent in a detention center in China.
The accusations of the Chinese regime's harvesting of organs from living Falun Gong practitioners, who are later cremated to remove evidence, has been confirmed in the publication of the "Bloody Harvesting" report (2). It is written by the Canadian David Matas, human rights lawyer, and David Kilgour, former member of the Canadian parliament and secretary of state. Their conclusion is clear: "When all information is placed together it shows a horrific picture." Between 2000 and 2005 there were 41,500 organ transplantations with no other possible donors than Falun Gong practitioners. Matas and Kilgour believe that the organ harvesting is still happening and they regard this as a crime against humanity.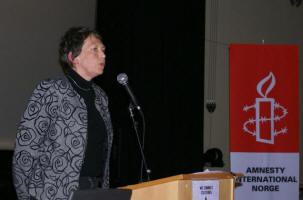 Falun Gong practitioner Ms. Kari Veseth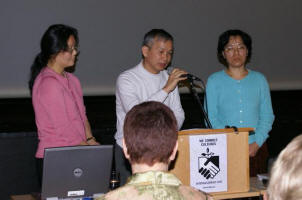 From left: Translator Ms. Hong, and Falun Gong practitioner Mr. Li and Ms. Dai
At the end of the seminar, Mr. Li and his wife Ms. Dai shared their experiences from Chinese forced labor camps. Mr. Li was denied legal representation and was sentenced to 4 years in labor camp, while Mrs. Dai has been in labor camps for 5 years without legal proceedings. Both suffered numerous torture methods. Mr. Li was forced to stand strait several days in a row within a little circle on the ground and was deprived of sleep for several days in a row. Ms. Dai suffered shock with electric batons and became blind in one eye and partially blind in the other. Furthermore, she spoke about strict health checks only for Falun Gong practitioners, where they were asked about earlier sicknesses in their kidneys, liver and the heart. Later, she did not see several of the fellow practitioners again. When she escaped China and heard about the organ harvesting, she understood the connection and was greatly shocked.
The Chinese regime has officially denied the disclosure about the organ harvesting, and says that "nobody will believe this absurd lies." The Nazis also claimed the same about their camps. In 1943 a Chief Justice of the Supreme Court in the US refused to believe information from a polish diplomat about the Holocaust, saying: "I did not say that the young man lies. I said I was unable to believe what he told. There is a difference."
Footnotes:
1. Amnesty International's article about Bu Dongwei is available on: http://www.amnesty.no/web.nsf/pages/CD0F6E35821C749FC12571DA00411B86
2. Kilgour and Matas report "Bloody Harvesting" about the organ harvesting is available in different languages on: http://organharvestinvestigation.net/