Content


---
Falun Gong practitioner Xin Minduo was illegally sentenced to a 13-year prison term. He was imprisoned in Nanshan Prison, Jinzhou City, Liaoning Province on February 21, 2006. Because he knows he is innocent, he refused to follow any prison rules. He refused to wear the prison uniform, refused to do forced labor, and demanded to be released as he was not guilty of any crime. For these actions, he was put into a small cell by the police, force-fed, and subjected to many other inhumane tortures. On September 1, 2006, Xin Minduo was persecuted to death in Nanshan Prison.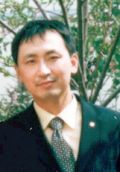 Mr. Xin Minduo
Mr. Xin Minduo, born on May 27, 1973, 33 years old, was a technician with a college degree. He was an employee of the Exploration Company of Liaohe Oil Field and the technical expert of the company. In 2001, he was sentenced to three years forced labor and was held in Panjin Forced Labor Camp. Xin Minduo and his wife Bao Juncen were arrested by police officers Xu Hao, Huang Haiou and others from the Panjin Police Department on August 3, 2005. The Chinese Communist Party (CCP) Xinglongtai District Court, Panjin City sentenced Mr. Xin Minduo to a 13-year prison term, and imprisoned him in Nanshan Prison.
Panjin Municipal Court gave no rational motive as to Ms. Bao Juncen's case. Her family was given an answer of "not judged at this time" when they went to the court for a judgment. Finally, his case was returned to the area where the case was initially filed ¡V the National Protection Team of Panjin City Police Department. Xuhao, Huang Haiou and other police officers from the National Protection Team sentenced Ms. Bao Juncen to one year of forced labor without any legal reason. They extorted 8,000 yuan from her family before they released Ms. Bao Juncen, who had been tortured in the Panjin Detention Center for almost eight months. They continued monitoring her even after she was released from the detention center. The police in Nanshan Prison, Jinzhou City didn't allow Mr. Xin Minduo's wife to see him because she also was a Falun Gong practitioner. The couple met only once after they were arrested.
In mid-June, 2006, four people from Jinzhou Nanshan Prison suddenly came to the home of Mr. Xin Minduo's father's and told his family, "Mr. Xin Minduo is on a hunger strike. His term will be extended or he will be transferred to Shenyang if he continues with the hunger strike..."
Between July and August, 2006, Mr. Xin's families contacted Jinzhou Nanshan Prison many times, and many times they were given permission for a family visit. However, each time they arrived at Nanshan Prison, they were told that they could not visit him after all.
Mr. Xin Minduo's elderly father didn't know anyone that could help him, so he stood outside the prison in the scorching sun. He could only look at the gate of the prison. He couldn't see his son. He got the cold shoulder from everyone he talked to. The eyes of the old man became blurry from all the anxiety, and half of his teeth fell out. He not only couldn't see his son, but was also threatened and insulted by the prison guards. One prison guard yelled at him rudely, "Your family wrote threatening letters and exposed us to the world. You offended our leader. It seems that you are somebody. Keep this up and we will not release him even he dies. It's no use no matter whom you talk to, even if you talk to the State Department." They left as soon as they finished yelling at the family.
On September 1, 2006, Mr. Xin's family waited outside of Nanshan Prison until 4:30 p.m. just to see him, but they weren't given permission to meet with him. So they went back home. That night, Mr. Xin's father received a call from the prison guard. He was asked to come to the prison, but was told not to inform Mr. Xin's mother and sister.
Later it became known that Mr. Xin Minduo died on the night of September 1, 2006. At 6:00 a.m. on September 3, Mr. Xin Minduo was cremated by police guards of Jinzhou Nanshan Prison.
---
Ms. Zhang Lianying's husband, along with Falun Gong practitioner Cao Dong met with Mr. Edward McMillan-Scott, vice-president of the European Parliament, during his visit to China. The picture shows the infant daughter held against her mother's chest, surrounded with motherly love.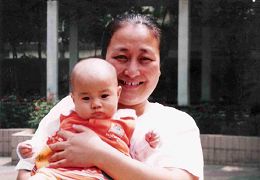 Picture of Zhang Lianying and her infant daughter
Ms. Zhang Lianying has lived by the principles Truthfulness, Compassion, Forbearance during the seven years of ruthless persecution of Falun Gong practitioners by the Chinese Communist Party (CCP). She has suffered arrest, detainment, and severe persecution during that time. Since 1999, when the persecution began, she has been arrested seven or eight times and narrowly escaped death. She thus learned to appreciate life's preciousness and the kindness of human nature. Not only did she shower her little daughter with love, but also gave the same care to all people. As a Falun Gong practitioner, she practices benevolence, unselfishness, and the steadfastness of love. Because she exposes the CCP's lies and wants to help Chinese people who are being deceived by the CCP, she has endured many tribulations.
While imprisoned at the Jiamusi Women's Forced Labor Camp in Heilongjiang Province, Zhang Lianying suffered physical and mental persecution. Attempting to force her to give up her belief, police tortured and tormented her inhumanely. They tied her on a bench for a long time, and then to a death bed for more than forty days. They shocked her with electric batons, beat her cruelly, force-fed her savagely, and locked her in a damp moldy room. She suffered many more types of torture as well. Guo Zhenshan, head of political affairs at the Jiamusi Labor Camp, once grabbed her hair and threw her head violently against the bed board. He also pressed his hands on her mouth and nose to prevent her from breathing. Ms. Zhang went on a hunger strike for more than eighty days to protest the persecution. When she was on the verge of death, police took her back to a local police station in Beijing.
In 2002, National Security once again arrested her and took her to the Tongzhou Brainwashing Center, the Daxing Legality Training Center and the Police Hospital in Beijing. Again she was inhumanely persecuted. After being released, the 610 Office, police and neighborhood watch continued to keep her under surveillance and harassed her family constantly.
Regardless of her perilous situation, Zhang Lianying exposed the truth about the persecution and told the truth about the goodness of Falun Gong. She used the facts to expose the lies fabricated by the CCP. With a kind and tolerant mind, she tried to keep Chinese people from being deceived.
Ms. Zhang Lianying's husband, Mr. Niu Jinping, has also been persecuted by the CCP. He was sent to a mental hospital and was injected with potent drugs. Like his wife, he firmly believes in Falun Gong and believes that Falun Gong gives people hope.
After suffering so much, this couple later had a lovely daughter. The beautiful child was not aware of the violence in the outside world.
At 8:30 a.m. on June 14, 2005, while Ms. Zhang Lianying was feeding her daughter, Wang Jing, head of the Xiangheryuan Police Station, and a dozen policemen broke into her home. After ransacking her home and without finding any of the evidence they were looking for, they dragged her into a police vehicle, disregarding the crying unweaned baby, and detained her at the Zhaoyang Region Detention Center. On June 30, 2005, she was sentenced to two years and six months of forced labor and taken to the Beijing Reeducation Bureau's Tuanhe Dispatch Center. Ms. Zhang went on a hunger strike to protest the persecution.
At the dispatch center, policewoman Zhang Dongmei ordered criminal prisoners to persecute her. They used flyswatters to whip her for more than ten hours daily. She was forbidden to wash or use the toilet. Thus, she soiled her underpants. She was not even allowed to use the restroom during her period. Besides these inhumane tortures, she was also deprived of sleep. The prisoners hung her from a rope attached to the ceiling for a long time, with the tip of her toes barely touching the ground. She was also tied to a bench in a twisted position for a long time. They savagely beat her for twenty-four hours without stopping, resulting in wounds covering her body. Her head and face sustained several cuts three centimeters deep. Her eyes were bleeding and she had become deaf, and her face was distorted beyond recognition. She now has difficulty walking and becomes absent-minded. Her life is in grave danger.
It has been more than a year since Ms. Zhang Lianying was arrested and her baby has been deprived of her motherly love. Her husband tried to seek redress of this injustice, but was threatened by the CCP's National Security agents, police, 610 Office and community office. Ms. Zhang suffered inhumane and cruel persecution every minute of these four hundred days and nights. Her daughter is without the motherly care so important for an infant. Her husband worries about his wife and bears the heavy burden of raising their daughter.
During the seven years of persecution, besides infants being deprived of motherly love and care, many Falun Gong practitioners, who believe in Truthfulness, Compassion, Forbearance, have been arrested and imprisoned, or even tortured to death. Many innocent children are deprived of the love of their parents. Those whose parents have died because the CCP harvested their organs for profit are suffering deep distress. These children no longer know their parents. The end of the wicked CCP is near and karmic retribution for their wicked acts is in the making.
---
I am a Falun Gong practitioner living in Fushun City, China. In July 1999, all the newspapers started defaming Falun Gong and Master Li. In October when I went to Beijing to appeal and to clarify the truth about Falun Dafa, I was illegally arrested and sent to the Dashagou Detention Center in Qingyuan. In the evening, the warden instructed two inmates to tie the cords of a power generator around my wrists, and then started the machine to torture me with high-voltage electricity. Next they tied the cords around my ankles and shocked me. My whole body became contorted and I fell onto the floor, but the inmates pulled me up and continued the torture.
Seventeen days later, Lin Kejun, the head of Ying'emen Township, Qingyuan, took me back to my hometown. On the way back, I replied in the affirmative to his query on whether I wanted to go appeal again. Forcing me to pose as if riding a motorcycle, he beat my head with a thick plastic hose until my face was swollen and I was sweating profusely. Then he handcuffed me onto the radiator and told me that according to directions from his superiors, it was alright to use torture methods on Falun Gong practitioners, and any deaths caused by the torture could be reported as suicide cases.
I was arrested at a materials production site in February 2001 and was sentenced to eight years of imprisonment at the Shenyang No. 2 Prison. I went on a hunger strike for five days and was force-fed twice. I was later transferred to the Lingyuan No. 1 Prison. When I was seen making a Falun Gong banner, the head warden, Guo, ordered several wardens to handcuff me and forced me to kneel down by shocking me with electronic batons. My refusal to curse Master Li provoked the wardens to beat me and shock me with the batons. Later, I was detained in a small isolated cell, handcuffed behind the back for ten days, and then handcuffed in front for another ten days. I developed pulmonary edema (fluid accumulation in the lungs)in the right side of my chest because of the torture and was sent to the hospital.
In the fall of 2003 I went on a hunger strike for 15 days, during which time I was locked in a dark, damp isolated cell and handcuffed to the bed to be force-fed. One day, the inmate who was in charge of supervising the cell, Wu Jianning, hit me on the neck and bound my limbs tightly to the bed. I shouted "Falun Dafa is good!" and several inmates jumped on me and stuffed my mouth. I passed out a couple of times. The perpetrators watched me in turns, did not allow me to sleep and kept beating me at regular intervals to keep me awake. One of the inmates hit my legs with a rubber hose and struck my ribs with his fists. The pain from this beating lasted for several months. The other torture methods included burning my palms with a stainless steel mug full of boiling water, stinging my middle fingers with needles, pulling my beard, and preventing me from using the toilet.
One night, my dry lips started peeling and I could not breathe. After experiencing severe twitching, I felt that my breathing and heartbeat had both stopped. A few prison doctors came to measure my blood pressure and punched my soles to revive me. Afterwards, they handcuffed me even tighter, which caused me to faint several times.
In January 2005, I was transferred to the Fushun 2nd Prison. Not wanting to cooperate with the guards, I refused to put on the prison uniform, did not answer during roll call and refused to carry out the forced labor work. This resulted in several beatings and no family visits allowed for over half a year. I was informed that this had been done with instructions from "above."
Individuals Involved in the Persecution:
Qingtai Prison, Fushun City
Prison director, Wang Xingjie: 86-413-6610670
Vice director of the prison hospital, Wang Limin
Head of Education Section, Yan Huojun: 86-413-6610123
---
Ms. He Lingling is from Nanning City, Guangxi Province. She lived near the Guangxi Film Studio on Youai Road of Nanning City. She was arrested in 2005 and is now detained at the Nanning Second Detention Center. Since Jiang Zemin's regime started persecuting Falun Gong, He Lingling has been repeatedly detained and has been sentenced to a forced labor camp three times. She was released for medical treatment for health reasons.
He Lingling has a child who is in college. Her husband works at the Guangxi Film Studio as a guard. Because he needs to support their child and family, he can only give He Lingling 100 yuan per month. This is barely enough for the most basic necessities in the detention center.
In the Nanning Second Detention Center, the living conditions for practitioners are poor. For example, they are given breakfast only three days a week. Due to the long-term detention, she has had health problems such as high blood pressure and thyroid problems. Ms. He and her family repeatedly requested bail for medical treatment but were rejected because she refused to be brainwashed. Because they intentionally starve practitioners, compounded by her original health problems, He Lingling was constantly hungry. Sometimes she had to spend 10 yuan to buy some biscuits (they only cost one yuan outside of the detention center) and soak them in water to eat them. Other times she had to wash clothes for inmates so that they would give her their leftovers.
The warden used various means to force He Lingling to give up her belief in Falun Gong. However, she is very determined and refuses to give in. During more than one year of torture in the Nanning Second Detention Center, she has been doing the three things that a practitioner should do. Because of her efforts, many inmates have come to know the truth about Falun Gong. Sometimes many inmates join her to sing Falun Gong songs.
He Lingling's long-term detention and torture by the CCP caused her husband and daughter tremendous mental trauma. Her husband cannot help but shed tears when she is mentioned.
At present, there are still many practitioners detained in Guangxi Province. For example, police have
been torturing Ms. Liang Biyan from Nanning City to try to force her to report on other practitioners. However, she refuses to cooperate with them. Currently she is on a hunger strike to protest the torture and consequently she is being subjected to brutal force-feeding. Her life is in great danger. We hope that all practitioners in Guangxi Province could rescue her so she can get out soon.
Ms. Lin Tiemei from Bobai county, Guangxi Province refused to be brainwashed or follow the orders and incitement from police in Guangxi Women's Labor Camp. The guards ordered inmates to beat her, fill her mouth with a mop and dirty socks, tape her mouth shut and force feed her every day. In February 2006, she was again sent to a mental hospital to be tortured. Her current whereabouts are unknown. Practitioners in Bobei County who know about her condition are encouraged to help expose the persecution she has been subjected to and help secure her release.
Falun Gong practitioners are a whole body, and one practitioner's plight affects all of us. No matter what has happened, we need to think about others. Meanwhile, we should actively get involved in rescuing detained fellow practitioners through other channels.
8/19/2006
---
Ms. Liu Xiaolian is the older Falun Gong practitioner reported about in the following articles on Clearwisdom.net:
Surviving Extreme Torture - A Lotus Flower that Never Withers
/emh/articles/2003/12/29/43582.html
Surviving Extreme Torture - A Lotus Flower that Never Withers (II)
/emh/articles/2004/3/22/46289.html
The police from Chibi Town, Chibi City, Hubei Province arrested Ms. Liu Xiaolian on April 26, 2006, and detained her in the Pufang Psychiatric Hospital in Chibi City, where she suffered from the doctors' medical abuse and became mute. The following facts were transcribed from her handwritten note:
My name is Liu Xiaolian. I am 67 years old [in 2006.] On April 26, 2006, I was abducted and thrown into the evil's den. For over three months, depraved men tried to kill me to force me to cooperate with them. I refused to give in to the terror and told them, "The righteous shall never compromise or give in to the wicked." A physician known as Director Zhang made a pact with the Chibi Town government and the police, agreeing to subject me to medical abuse for the price of 6,000 yuan.
Zhang and his accomplices subjected me to high-voltage electric shocks and shocked me with electric needles for four hours. He also ordered young male psychiatric patients to insult, curse, beat and sexually harass me. He force-fed me with drugs harmful to my body. He also put me under an intravenous infusion of 11 lbs. of poisonous fluid for one day and one night. Afterwards, the skin all over my body turned dark, and I passed out for two days and two nights. When I came to, I had lost the ability to speak. The doctor only stopped the medical abuse when he saw that I had become mute.
Pufang Psychiatric Hospital in Chibi City, Hubei Province: 86-715-5517545