The Facts of the Persecution of Falun Gong --
July 19,
2006


Issued by Clearwisdom Net
---
Five years ago, Falun Gong practitioner Zuo Zhigang from Shijiazhuang City was taken away by police the day before his wedding and tortured to death overnight. His body was covered in wounds. His parents strongly demanded that his body be stored so they could seek justice. Recently, the Funeral Administration Division of Shijiazhuang City issued a public announcement urging the family to cremate the body within sixty days. The reporter not too long ago interviewed Zuo Zhigang's parents on an international phone call. The couple said that since the person who killed Zuo Zhigang is still at large, Zuo Zhigang's body serves as evidence for the murder. Therefore they absolutely will not permit the body to be cremated.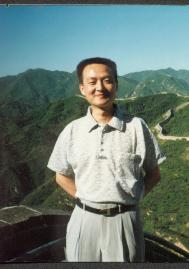 On May 30, 2001, Falun Gong practitioner Zuo Zhigang from Shijiazhuang City was tortured to death one day before his wedding
The public announcement was published on page six of the June 26, 2006 issue of Yanzhao Metropolitan News. The announcement stated, "According to Shijiazhuang City Funeral Management Policy, the following bodies have exceeded their storage term at the morgue. We hope the decedent's families and related government departments will come to the Shijiazhuang City Morgue within sixty days of the issue date of this notice and proceed with cremation affairs. The Morgue will cremate the body after sixty days, and the ashes will be kept for six months." Zuo Zhigang's name is No. 18 on the list. The footnote states that the Xinghua Street Police Station delivered Zuo Zhigang's body on May 31, 2001.
When recalling the condition of his son's body five years ago, Zuo Zhigang's father said that he saw numerous wounds and especially two obvious wounds on each side of the neck with blood surrounding them. On his lower back around the waistline along the spine were two deep holes about 0.25 inches wide and about 1.3 inches apart. His back was black and blue, and there were bumps on the face and chin from being hit by a blunt object. Both ears were black and blue. When he asked the police about the cause of his son's death the police answered, "Zuo Zhigang committed suicide by hanging himself."
Zuo Zhogang's parents say that it's absolutely impossible for their son to have committed suicide because he was going to get married the following day. He also had to take care of his grandmother, who is in her 90s, his aging parents, and an older sister who has a mental disorder.
When Zuo Zhigang's father confronted the police and asked how his son had committed suicide, an officer at Qiaoxi District Police Department said Zuo Zhigang tore his shirt into shreds and hung himself with it on a metal gate. Zuo Zhigang's father said, "We saw that his shirt was intact and was not torn at all." He asked the officer, "Was my son being watched after he was arrested?" The officer answered, "Of course he was watched."
Zuo Zhigang's father pointed out that according to the police, Zuo Zhigang hung from the metal gate, which is 1.6 m high, while Zuo Zhigang is 1.72 m tall. He was also being watched, so how did he get a chance to kill himself? "They are obviously lying."
During the past five years, Zuo Zhigang's parents visited all levels of government including the political and judicial branches within Hebei Province and Shijiazhuang City. They requested an investigation into the cause of Zuo Zhigang's death and to bring the perpetrator to justice. The answer they received was, "We don't get involved with Falun Gong affairs." They also said, "We'd be out of our minds if we meddled with the police department's affairs."
Zuo Zhigang's father said, "We visited many journalists and lawyers. All of them said they cannot do anything because they received orders from their superiors. We appealed at the city police department and the Procuratorate at the provincial and city level, as well as the provincial police department and disciplinary inspection bureaus. Some of them expressed sympathy but said they couldn't do anything. They said that because this is a big case, it cannot be resolved within a short time. Some officials simply said, 'We don't get involved in anything that has to do with Falun Gong.' Some bureaus refused to even meet with us. All in all, they don't care."
Although Zuo Zhigang's parents have not found justice after five years of continuous appeal, the police constantly harass them. Their home phone is tapped around the clock and they are followed whenever they leave home. At around 5:00 a.m. on May 21, 2006, Zuo Zhigang's mother went out for a morning walk. Police intercepted her, waiting in a stairwell. Several brawny men forced her to go back home. They also tried to barge inside her home, but she firmly refused to admit them. Li Jun, deputy head of the Yuhua District Police Department in Shijiazhuang City directed the persecution on-site, and they falsely insisted that Zuo Zhigang's mother was going far from home. Li Jun brought about six police cars and a large group of police officers as if they were facing a great enemy. A police car still remained until May 23, and the police watched Zuo Zhigang's parents from right in front of the building. They openly followed the older couple whenever they left home.
"The people in power can arrest and hurt people at any time, anywhere. They are always monitoring our phone. I'm not afraid. Our son is dead, and we are old. If they want to kill us also, so be it. Our life is already extremely difficult," Zuo Zhigang's father said angrily.
Zuo Zhigang's father Zuo Yaoxin is 72 years old, and his mother Zhang Zhuting is 68 years old. After Zuo Zhigang died, his parents had to take care of themselves and their mother as well as a daughter with a mental disorder. The parents only have a small pension. Zuo Zhigang's father has to do temporary jobs to make ends meet.
Zuo Zhigang worked as an engineer at the Shijiazhuang Television Factory. After he was laid off, he repaired computer monitors at the Phillips Corporation at the Ruiguang Computer Company. He got along very well with his colleagues and was very considerate of others. He often fixed electronics for others free of charge. He was very popular and well liked.
The reporter attempted to phone the places of employment responsible for the persecution of deceased Zuo Zhigang on the morning of July 14, 2006, Beijing time. These people included the head of the National Security Group of Qiaoxi District Police Department in Shijiazhuang City; Zhao Xinjian, deputy chief of Qiaoxi District Police Department; Yi, political instructor of Qiaoxi District Police Department; the Shijiazhuang City Funeral Administration Division, Shijiazhuang City People's Procuratorate; and Xinghua Street Police Station in Shijiazhuang City (name later changed to Weiming Street Police Station for fear of punishment). All of the phone numbers were either disconnected or not answered.
Zuo Zhigang's parents emphasized that if those responsible for their son's death are not prosecuted and brought to justice, they absolutely will not allow the body to be cremated, because it is evidence for the murder.
---
Mr. Wang Shaoqiu, a teacher from the Langfang Department of Hebei Industrial University, was illegally detained many times by the university. He was forced to write the so-called "guarantee statement" and was sent to a forced labor camp for two years. After he was released, he visited university president Duan Yuluan to ask for his job back. President Duan Yuluan asked him ruthlessly, "Is your mind reformed?"
Wang Shaoqiu said, "No. I am the same as before." Duan Yuluan said without looking at him, "Then come back again when your mind is reformed."
The university also tried many times to trick Wang Shaoqiu into attending a brainwashing class. Wang Shaoqiu had to become homeless to avoid being persecuted at his home. In late 2005, he was arrested outside the town and was sentenced for four years. His wife was fired by her workplace because she practices Falun Gong. She currently does not have any work and she needs to take care of her teenage child, her mother and an elder sister who is mentally ill. Her life is in a very difficult situation.
Mr. Wang Bingzeng taught at Hebei Industrial University, and he previously had a reputation for fighting with others. His leg had severe osteomyelitis. Each year he spent 10,000 yuan to treat this condition and remained in bed for two months. He felt extreme pain. After he started practicing Falun Gong, his illness magically disappeared. The school doctor thought it was miraculous. Wang Bingzeng was like a completely new person after practicing Falun Gong, and he was very kind to others. He always worked hard and never complained. He came to work early and left work late every day. Whatever tasks the leader assigned to him, he never complained and always finished the jobs perfectly. After the persecution of Falun Gong started, Wang Bingzeng did not give up practicing Falun Gong, so that the university stopped paying his salary and only gave him 200 yuan each month for living expenses. His wife was laid off. His children needed to go to school and his parents needed to be taken care of. Since this 200 yuan was not enough to maintain a living, he had to find temporary work outside the university. Even so, the university did not let him off. They went to his home many times to harass him and tried to deceive him into attending the brainwashing class. Wang Bingzeng had to leave his home and become homeless. To the present day, he has not seen his family. His wife has the sole burden of caring for their children.
Mr. Wang Xinying also taught in the Langfang Department of Hebei Industrial University. He worked very diligently and his work was outstanding. His supervisors and colleagues all praised him. In 2000, Wang Xinying was detained in the university because he went to Beijing's Tiananmen Square to appeal. He left the university but was found later and sent to a detention center for nine months. Later he was sent to the Bazhou Brainwashing Class to be persecuted. In May 2006, without legal documentation, Feng Guoji and others from the National Security Team illegally arrested Wang Xinying and sent him for detention. Mr. Wang has now been detained for two months. His wife stays at home alone to care for their children.
Ms. Zhang Cairong taught in the Langfang Department of the Hebei Industrial University. Because she did not give up her belief, the Langfang Institute Armed Police forced her husband to divorce her. She had to support herself and her child, who is under ten years old. Recently the 610 Office arrested her at her workplace and took her to a brainwashing class.
Ms. Liu Hehua was a temporary worker at the Langfang Department of Hebei Industrial University. Since she worked very well, everyone acknowledged her work. But she was fired because she practices Falun Gong. Recently she brought some clothes to her husband's younger brother Wang Xin. A policeman named Li recognized that she practiced Falun Gong in 2000, so she was interrogated and sent to the brainwashing class. Liu Hehua used a hunger strike to protest her treatment. She was then shocked and fainted a few times, and her blood pressure was very high. Her life is in great danger. Her husband, who does not practice Falun Gong, was very desperate. He drank all day at home under the pain and pressure that his wife and brother were both detained. The 610 Office also asked him to go to the brainwashing class to take care of Liu Hehua. He refused.
---
In 2002, Mr. Liang Zhenxing was illegally sentenced to 19 years for tapping into cable television on March 5 in Changchun City. He has been imprisoned for four years. Mr. Liang is currently on a hunger strike in Siping Jail to protest the persecution, and his life is in jeopardy.
Mr. Liang has been transferred to several different jails and was persecuted in each. He was transferred from Jilin Jail to Changchun City's Tiebei Jail, then to the Siping Shiling Jail. The message was always passed on to cruelly persecute Mr. Liang. Since his transfer to Siping Jail, the guards have denied Mr. Liang any outside contact. It has gone so far that if anyone even looks at Mr. Liang, let alone speaks a single word to him, that person is badly beaten. This has been done to cause Mr. Liang even deeper mental anguish.
Under the constantly changing persecution, Mr. Liang was determined to go on a hunger strike in protest. He has now been on that hunger strike for five days and his life is in danger.
Liang Zhenxing's family was summoned to the jail and told that he would be force-fed. The guards demanded that the family watch, because if Mr. Liang's life was endangered, the jail would not take any responsibility.
After being force-fed, Mr. Liang was transferred and imprisoned at the Siping City Central Hospital and he is on the verge of death.
---
Ever since the cruel persecution of Falun Gong and Falun Gong practitioners began on July 20, 1999, just as with most practitioners in China, I have repeatedly been illegally detained, deceived, and fined by local agents. My house was searched and property was confiscated. I was often deceived into going to the town government office, and each time I was detained for ten, fifteen, or even twenty days. My family had to provide my food, and I was even watched when I was sleeping or using the bathroom.
During the People's Congress in March 2000, my spouse and I went to Beijing to appeal and clarify the truth of Falun Gong. In Beijing we saw a lot of plainclothes agents from the police department. They were there especially to arrest the protesting Falun Gong practitioners. A group of plainclothes agents came over to us and asked whether we practiced Falun Gong. When we said that we did, they immediately pulled us over to a car and pushed us in. We were caught and sent to a hotel, and our identification cards and over 400 yuan in cash were confiscated. Afterwards we were brought back home by officials from the Town Government of Laishui County and our village. Agents at the town government beat us and "illegally detained" us for fifteen days before releasing us.
Facing unreasonable persecution, in April 2000 I once again went to Beijing to appeal. I was arrested by police in Beijing and sent to the Tiananmen Police Substation. My hands were cuffed behind my back. It was so painful that drops of sweat fell to the ground. The police continued to tighten the handcuffs until I finally passed out. Then they removed the handcuffs, and my hands were black and blue. I couldn't move them they were so numb.
Later I was escorted from Beijing to the Chinese Communist Party (CCP) School of Laishui County where I was brainwashed. There were already more than seventy Falun Gong practitioners being persecuted there, and the sounds of beatings and screams incessantly filled the air. Some practitioners were tortured until they became crippled, and some were so severely tortured that their eyes became black and their faces became swollen. Some were disheveled, and there were many blisters on their mouths from cigarette burns. One time, to achieve their goal of "transformation," the evil people bought 1000 ropes. The ropes were used up in just a few days. Later they twisted electrical wires to scourge us. Some Falun Gong practitioners were beaten so severely that their lower thighs were all black and they felt like stone when touched. Someone pushed me down on the concrete floor and made me kneel with both my head and knees on the floor. Those in charge used stool legs to beat my thighs and buttocks. Even several months later the muscles of my thigh and buttocks were still stiff. They removed my belt and clothes and whipped my back with my belt. Even after two weeks, I still could not lie down.
In July 2000, after I was "illegally detained" by the town government for several days, I was transferred to the detention center in Laishui County. I was detained there for over forty days. As soon as I was out the door of the detention center I was again illegally arrested and sent to the CCP Brainwashing Center in Laishui County. During the more than forty days in the brainwashing center, I was severely tormented, cruelly beaten, and abused. My personal freedom was restricted, and I lived in terror.
In August 2000, I was transferred to Laishui County Detention Center, where I was detained for over twenty days. I was again detained in the notorious Gaoyang Forced Labor Camp until April 2001, when I was released to go home. When I returned home people could not recognize me. My skin had become very dark due to the lengthy labor, and I was so thin--the result of starvation over a long period of time--that my face looked longer.
Forty days after I had returned home, I was again arrested for no reason by the police department of Laishui County and sent to the detention center in Laishui County. Four months later I was again detained in Baoding Forced Labor Camp without reason. In the Baoding Labor Camp, if one refused to be "transformed" his/her arms and legs would be cuffed to a bed for a long time. This torture was very vicious. One's sweat kept dripping, and every second seemed longer than a year. This kind of torture was used on Falun Gong practitioners for twenty eight days and nights. After being removed from the bed, both hands were cuffed to a metal door for about two weeks. The wardens laughed and said, "This is for your own good."
---
Mr. Meng Lingshun lived in the Fifth Group of Gaotaizi Village, Falun Gongngshen Town, Dehui City, Jilin Province. He started practicing Falun Gong in 1996. After the persecution began, Mr. Meng was persecuted to the point of mental collapse. He disappeared two years ago, and his whereabouts are unknown.
After the persecution began on July 20, 1999, people from the government often harassed him at home. On January 29, 2002, police officers from the local police station colluded with officers from the Dehui City Police Station to arrested Meng Lingshun. He was taken to a detention center. His wife was also detained. They did not release his wife until the second day, when his family signed a guarantee statement for him and paid a fine of 1500 yuan. After Mr. Meng was sentenced, his family went to the detention center to visit him, but they were told that he had suffered a mental collapse.
Mr. Meng's family asked the authorities to release him, but the detention center chief said they could not release him until the local police station agreed. The local police station told his family to pay 1000 yuan for a checkup fee to make sure that he was mentally disordered, before they released him. Thus, in a mere two weeks, a normal person was persecuted until he became mentally disordered.
After he returned home, police officers from the local police station often came to harass him, so he could not recover. Once, in the middle of the night, the police officers broke into his home and arrested him again. He was so frightened that he shouted out for help over and over, which woke up the neighbors. People argued with the police and tried to prevent Meng Lingshun from being persecuted. The police said, "If anyone tries to stop us, we will use the electric batons." Mr. Meng was taken to the police station again, and the police said they would send him to a forced labor camp. His family asked for his release, but the authorities said that Meng Lingshun was pretending to be insane. They released him only after it was confirmed by the detention center that he was indeed suffering from a mental collapse.
Early on the morning on September 14, 2003, Meng Lingshun disappeared, and his family has not heard from him since.