---
Mr. Cheng Xueshan was a 64-year-old Falun Gong practitioner from Tongjiang City, Heilongjiang Province. On April 9, 2005, while distributing truth-clarifying materials in Nongqiao Town, Fuyuan County, he was arrested by Zhang Sidong and other policemen from the Political Security Division of the Fuyuan Police Department. Three days later, Mr. Cheng died due to the brutal torture he experienced at their hands. The police tightly guarded the hospital mortuary, and did not allow Cheng Xueshan's family members to see or pick up his body.
According to one doctor who works in the hospital, Cheng Xueshan was already dead when carried into the hospital.
Cheng Xueshan was once illegally detained for more than 6 months in Jiamusi Labor Camp. In winter 2002, because of the lengthy torture he endured, he could not eat and he would vomit whenever he ate anything. The police claimed that Mr. Cheng was on a hunger strike, so they deprived him of sleep and put him in a reinforced room. Both his hands were handcuffed and attached to the ground. He was then forced to sit for a whole week on the cold concrete ground. As a result, both his hands became numb. He could not take care of himself and his entire body was swollen. According to witnesses, the Jiamusi Labor Camp almost tortured Cheng Xueshan to death.
Since the persecution of Falun Dafa began on July 20, 1999, the Fuyuan County Police Department Political Security Division Director, Zhang Sidong, and other policemen have persecuted Falun Gong practitioners in many ways. Their brutal and illegal methods have included forcing practitioners' workplaces to guarantee they will not practice, implicating family members, charging illegal fines or ransoms, enticing and threatening, and luring with financial interest. In addition, they have tapped practitioners' telephones, subjected them to video-surveillance (according to the police, there were 16 bugged phone lines and 5 monitors for video-recording), monitoring traffic, putting practitioners' photos on the internet, confiscating family members' property, illegal detention and torture, and illegal sentencing to labor camps.
Zhang Sidong has illegally arrested about 100 practitioners both in the local area and other regions. He has also sent nearly 30 practitioners to labor camps, and forced many practitioners to become homeless as they try to avoid arrest and harassment. Since October 2004, Zhang has illegally ransacked more than 10 practitioners' home and has abducted 5 practitioners.
Contact information of personnel who hold responsibility for the persecution:
Zhang Sidong, Director of Political Security Division of the Police Department, 86-454-2135110 x5972 (Office), 86-454-2131008 (Home)
Zhang Shuyi, of Political Security Division, 86-454-2135110 x5972 (Office), 86-454-2133089 (Home), 86-13945494193 (Cell phone)
Chai Jinlin, Political Security Division, 86-454-2132432 (Home)
Guo Jishan, Political Security Division, 86-454-2133402 (Home)
Bu Yanqing, Secretary of Political and Judicial Committee (610 Office), 86-454-2132859 (Office), 86-454-2131861 (Home), 86-13349545333 (Cell)
Cao Yinlong, Deputy Secretary of Political and Judicial Committee, 86-454-2132850 (Office), 86-454-2134960 (Home), 86-13836670963 (Cell)
Liu Junli, Deputy Secretary of Political and Judicial Committee, 86-454-2132850 (Office), 86-454-2134277 (Home), 86-13039619188 (Cell)
Guo Zifeng, Director of General Management, 86-454-2132689 (Office), 86-454-2133909 (Home), 86-13091643909 (Cell)
Wang Guanghua, Director, Police Department, 86-454-2132538 (Office), 86-454-2131109 (Home), 86-13945400687 (Cell)
Li Guangchun, Deputy Director, Police Department, 86-454-2131029 (Office), 86-454-2133481 (Home), 86-13945430728 (Cell)
Xu Ruixin, Deputy Director, Police Department, 86-454-2134439 (Office), 86-454-2131948 (Home), 86-13845488777 (Cell)
Wang Shaobo, Deputy Director, Police Department, 86-454-2132465 (Office), 86-454-2131290 (Home), 86-13845485432 (Cell)
Jiang Hongtai, Deputy Director, Police Department, 86-454-2132464 (Office), 86-454-2133695 (Home), 86-13845488555 (Cell)
Detention Center, 86-454-2132428
The Criminal Police Division, 86-454-2135110 x5928, 86-454-2131710; Detention Center, 86-454-2132428; 110 Center (police), 86-454-2131030; Political Division, 86-454-2132454; Discipline Division, 86-454-2135395; Office on Duty, 86-454-2132570, 86-454-2132657; Division Head, 86-454-2131324, Political Head, 86-454-2132381, general office, 86-454-2138625
Li Wenzhong, Director of Security Bureau, 86-454-2137876 (Office), 86-454-2132707 (Home), 86-13904540707 (Cell)
Wang Likun, Deputy Director of Security Bureau, 86-454-2132876 (Office), 86-454-2138333 (Home), 86-13845485719 (Cell)
Yang Xueli, Deputy Director of Security Bureau, 86-454-2132876 (Office), 86-454-2121666 (Home), 86-1309619333 (Cell)
Jiang Xide, Political Head of Zhengyang Police Station, 86-454-2131535 (Office), 86-454-2133612 (Home)
Li Tie, Political Head of Yanjiang Police Station, 86-454-2136546 (Office), 86-454-2133774 (Home)
Jing Yuanjie, Head of Fuyuan County, 86-454-2133116 (Office), 86-13512655666 (Cell)
Zhang Qingyan, Deputy Head of Fuyuan County, 86-454-2138669 (Office), 86-454-2136383 (Home), 86-13604698567 (Cell)
Wang Juzheng, Assistant Head of Fuyuan County, 86-454-2132786 (Office), 86-454-2136991 (Home), 86-13836671111 (Home)
---
Falun Gong practitioner Mr. Chen Naifa from Xiapu County, Fujian Province was tortured to death by force-feeding through an opening cut into his throat while he was in prison.
Mr. Chen Naifa, in his 40's, was formerly a traffic policeman. Because he practiced Falun Dafa, he was sentenced to 18 months of forced labor in May 2001, and then his sentence was extended three months for his refusal to accept brainwashing. He was not allowed to go back to work and had to live under close surveillance.
Mr. Chen escaped from the monitoring system later, but was forced to become homeless in order to avoid being arrested at his home. He did not have any money for living expenses and consequently lived a very hard life. Mr. Chen was arrested again when he was in Hangzhou City, Zhejiang Province, and this time he was sentenced to two years in prison. When he had been in the prison for 16 months, his wife accepted brainwashing in Fuzhou City Prison of Fujian Province. She wrote to him to try to get him to accept the brainwashing too. Mr. Chen did not waiver in his belief. In order to protest the persecution, he went on a hunger strike without water, facing torturous force-feedings.
To force-feed him, the police brutally cut a hole in his throat. Mr. Chen's physical condition was already not good because of the tortures he had endured over a long period of time, and he died under such inhuman mistreatment around April or May of 2004.
In order to conceal their crime, the policemen fabricated a suicide scene. They tied a rope around Mr. Chen's neck and then told his younger siblings that he committed suicide. When his younger brother tried to take a photo of the body, the police would not allow him to do it. They paid the family forty thousand yuan and would not allow them to tell anyone about their brother's death.
Mr. Chen's wife has since been released and sent home. She has returned to work. Their daughter is a student in Xiapu County First Middle School. Under continuing pressure and threats from the police, nobody in the family dared to talk of Chen Naifa's tragic death. We only learned the truth of it in March 2005.
---
On June 4, 2003, my son Yao Yaoyuan sadly left this world. I felt great sorrow upon his death. Only because of his saying one sentence, "I want to go out to find a job," he suffered brainwashing for 10 months, was sentenced to one year in a forced labor camp and was finally persecuted to death.
In July 1989, my son entered the University of National Defense Science and Technology with high honors. He thus joined the army. He was assigned to study in the Department of System Engineering and Applied Mathematics. He graduated in July 1993 with a B.S degree. He was assigned to teach in the military academy of Wuhan. He won first place in the teaching contest. He published eight papers in the military forces publications. He took up the task of a research project, "The bank of the simulation mathematics questions." My son completed the assignment successfully and received the third class awards. His military rank was Captain. Yao Yaoyuan was a talented person with a very bright future ahead of him.
In 1998, Yaoyuan started practicing Falun Gong because of his poor health. After the persecution of Falun Gong started in 1999, he was on his way to Beijing to appeal for justice for Falun Gong. However, he was intercepted and put in a forced brainwashing facility for more than two months. His work unit terminated his party membership, dismissed him from the military roll, and dismissed him from his job. They sent him back to his hometown, but nobody in our family got any processing documents.
After he came back home on September 25, 2000, Yaoyuan stayed at home all the time, never leaving the gate of Huxing Village. The officers from the Niumasi Government and the local police station visited my home several times. He was always at home. On February 21, 2001, the police officers asked him on purpose, "What is your plan for the future?" He said, "I want to go out to find a job." Because of these words, the leaders of the town and the police officers from the local station thought he would leave to go appeal in Beijing again. The next day, about 5 or 6 people came to our house. They forced Yaoyuan to go with them. I argued with them. I asked, "He was dismissed and sent back to his hometown three times. Wasn't that punishment enough? Because he is a Falun Gong practitioner, you insist on putting him in jail?
One of the policemen, in his 50's or 60's, shouted loudly, "He is a Falun Gong practitioner, so the government wants to arrest him and punish him!"
Another policeman said, "Whoever practices Falun Gong needs to 'study.'"
Yao Yaoyuan was sent to the forced brainwashing facility in Shaoyang City that very day. First he was in the Party School with another thirteen or fourteen practitioners. Then he was transferred to the Shaoyang City Forced Labor Camp.
After two or three months, my son started coughing continuously, had a lot of phlegm, and lost a lot of weight. We asked the authorities to check his health, but they refused.
I thought of paying money to get Yao Yaoyuan released on bail for medical treatment. I first talked to Ye Xiangming, the head of the local police station. I asked him to agree to sign the release for medical treatment. He said, "I am only in charge of making an arrest. I will not sign this agreement."
After that, I applied to the town government. Zhou Ping, the Party committee secretary of the town at that time, did not agree to sign either. I tried many avenues, but I got nowhere.
After 5 or 6 months, except for one or two practitioners who were released because they were "transformed", the other practitioners in Shaoyang City were returned by their work units. There were only four practitioners from Shaodong and one from Xinshao left in the labor camp.
On November 13, 2001, officials from the town asked me to bring 20,000 yuan as a deposit to get my son back. I immediately went to the Shaoyang City Forced Labor Camp. The practitioners had all undergone a hunger strike for six consecutive days to protest the persecution. They had all become very skinny and were coughing continuously. They were short of breath and on the verge of death.
On the second day, I put the money together and went to the town government. They said that Xiao, Director of Shuangqing District Police Department in Shaoyang City, would not agree to release my son. When I arrived at the City Forced Labor Camp, my son had already been sent to the detention center. They said he was detained because of practicing Falun Gong in public and "disturbing the social order." I handed a written request to the Shuangqing District Police Department asking for his release on bail for medical treatment. But I did not get any response.
I spent 50 yuan to visit Yaoyuan once. After 15 days, I got a phone call from Zhu Xueming the director of the 610 Office in Shaodong County, asking me to bring 325 yuan for my son's living expenses in jail.
I saw that Yaoyuan's health was getting worse and worse, and he was coughing and spitting continuously. I sent another request to ask for his release on bail for medical treatment. At that time, Li Qiling, the officer of the 610 Office said, "Even with your town and the county's agreement, we will release him."
After the governor of the town received my request, he said he would contact the 610 Office.
I went directly to Zhu Xueming at the 610 Office in Shaodong County. He said, "Your son is too stubborn. We arranged for him to be released last."
After that, Mr. Wang, the Mayor of the town, and Shen Desheng talked to Zhu Xueming. From their meeting, I learned that, "Comrade Zhu did not have any opinion against it. Only Liu Sheqing, the Secretary of the County Discipline Inspection Commission did not agree." I therefore intended to talk to Liu Sheqing, but I heard that Shen Xiongwei, the deputy secretary of the County Discipline Inspection Commission, was the one in charge of the 610 Office in the county. After several tries, I found him. I sent him an application for my son's release on medical bail and he looked at it. He felt sympathy and told me that he would give me an answer in a week. After a week, he gave me his answer saying, "There is a disagreement from the upper level." I said, "There doesn't have to be any disagreement from the upper level. The 610 Office in Shaoyang City should release my son with the agreement of the county and the town."
Later, I found out it was Wang Ruobo, the Party Secretary of the county, who did not agree to my son's release. There was no way to get my son released on bail for medical treatment. Because of this, again and again my son lost precious time that he needed for treatment.
What was heartbreaking was the fact that without any trial, without giving his family any written judgment, while he was seriously ill, my son was wrongfully charged with "disturbing the social order," and was sentenced to one year of forced labor.
At the beginning of February 2002, Yaoyuan was transferred to the Xinkaipu Forced Labor Camp in Changsha City, Hunan Province. With such a sick and disabled body, I did not know how he managed to live through a whole year of prison life.
In June, my entire family went to the labor camp to visit Yaoyuan. His complexion was as yellow as wax and he was skinny like a piece of firewood. His white clothes had turned yellow. He was weary from illness. We could only cry with dry eyes. Later, we heard that in October he began coughing up blood in his prison cell, but he was not given any medical treatment. They just let him be sick.
After enduring a year of labor camp with great difficulty, Yao Yaoyuan was released on January 30, 2003 when his term finally ended. He coughed and spat in the car several times and it was clear that his health was in very poor condition. On the eighth day back home, Yaoyuan coughed up a large amount of blood. We hurriedly sent him to the People's Hospital in Shaodong County for emergency rescue with infusions and oxygen therapy. The CT scan and X-rays showed that his lung had several big holes in it and he had an infection in his trachea. The doctor's diagnosis was Secondary Pulmonary Tuberculosis. Six days later, he coughed out a huge amount of blood again. That left his body severely lacking blood. He was given a transfusion of 400 cc of blood immediately. He was also injected with several bottles of protein. Yaoyuan was hospitalized for a month, which cost 10,000 yuan. When his condition was getting slightly better, with the permission of the doctor, he went home and took the medicine we bought for treatment.
During the time he was treated at home, a person was sent from the town to monitor him [to make sure he did not practice Falun Gong]. They paid Muo Zhihua from our village 100 yuan per month and asked her to come to my home once every three days.
On the night of May 20, 2003, Yaoyuan spit up a huge amount of blood again. The blood was all over the quilt, pillow, blanket and the mosquito net. He lost consciousness. He was sent to the Central Hospital of Shaoyang City for emergency rescue. The medical expense was 500 yuan each day, but his condition did not get any better. He spit up a lot of blood again at 9 o'clock on June 4, 2003. Although he was helped immediately, Yaoyuan passed away because he had lost too much blood. This time the medical expense was over 5,000 yuan.
Who on earth has given me such a big tribulation? My family has been torn to pieces. My family is broken and my son is dead. The happy life I dreamed of having in my old age has been destroyed.
I thought, "If the officers from the local police station and the town government had not so foolishly assumed, based on their mere guesses, that "going out to find a job" was "appealing" and "establishing contacts," then the result would not have been that my son was subjected to brainwashing for 10 months and sentenced to one year in a forced labor camp. Then his illness would not have led to his death.
If it were not for Wang Ruobo, the Party Secretary of Shaodong County, depriving my son of his right to be released on medical bail, then the precious time he needed for treatment would not have been delayed and it would not have caused this unrecoverable tragedy.
My wife and I are nearing our seventies. I have a serious coronary disease. Losing my son in my old age leaves me in deep sorrow. How can we suffer this in our old age!
---
On December 27, 2000, I unfurled a banner with the words, "Falun Dafa is Good" at the gate in Tiananmen Square and called out, "Falun Dafa is good" and "Restore Master Li Hongzhi's reputation!" Immediately, the police charged towards me, grabbed me by my neck, and put me in a place full of detained Falun Gong practitioners.
The police slapped, beat, and kicked us. Soon, we were divided up and sent to detention centers in different areas. I was sent to the detention center at the Haidian District Sub-station. Because I refused to tell them my name, the prison guard directed the cell leader to drag me outside, and force me to take off all of my clothes. Two thugs then pushed me against the wall while the cell leader used me as a punching bag to unleash his fury. They then forced me to hold my head with my hands and squat down. Two prisoners took turns pouring water on me from head to toe. They poured over a dozen basins of water on me. It was colder than ten degrees below zero at the time. The chill penetrated to the bones and made me shiver uncontrollably. From time to time, they pushed my head into a basin of water to suffocate me. They tortured me until I told them my name. Icicles formed in my hair, and the ground around my feet froze. It took me a long time to put my clothes back on.
Later, they put me in another cell where Mr. Wen Weilong, a Falun Gong practitioner from Shaanxi Province, was detained. Because Mr. Wen was on hunger strike to protest the lies and slander on TV, the police beat him until his buttocks were covered with blood and stuck to his pants. The police then tortured him with the "sitting board" (1) torture. The agony of this is unimaginable. The cell leader verbally abused him constantly and kept slapping his face and stepping on his bare toes with his hard-soled shoes. At night, two people were ordered to watch over Mr. Wen, and deprive him of sleep. In the severe winter, Mr. Wen had 30 basins of cold water poured on him.

The guards didn't allow us to talk. One month later, I was illegally sentenced to forced labor.
For the Falun Gong practitioners who just arrived at the dispatching place, dozens of guards would, with electric batons in hand, force practitioners to write a guarantee statement, promising not to practice Falun Gong. Two prisoners would also be assigned to monitor and shadow one Falun Gong practitioner. Practitioners were often forced to write their "understandings" about Falun Gong, to write statements denouncing Falun Gong, and watch fabricated news reports and videos that slandered Falun Gong. Besides the meaningless persecution through forced "military drills," the police also forced us to work at wrapping chopsticks in the morning and evening, work from which they profited.
After over 20 days, I was dispatched to the notorious Tuanhe Forced Labor Camp. Tuanhe Forced Labor Camp's facade was quite deceiving. It was roomy, bright, clean, decorated with TVs and fish bowls, and the quilts were folded neatly. Laughter could be heard inside and out, and when asked, all the detainees said that they had practiced Falun Gong. The prison guards often asked if I was comfortable, and there was always someone who helped bring me food, and tidied up my clothing, bedding, and other belongings. But they often came to "chitchat" with me. Actually, they intended to "transform" me. They tried to find out what my omissions were. Every day they surrounded and isolated me. As time went on, they became less and less caring, I was allowed less and less sleep, and the torment increased.
No matter how the outside people investigated, they could not see the true situation of the persecution.
The collaborators on the one hand tricked me into believing that they were still practitioners, and on the other hand they spread their evil understandings and deviated notions while carrying on as thugs. During the day, they took turns "chatting" with me, accompanied by beating and kicking, and tortures in the form of forcing me to drink cold water, standing against the wall in the "riding an airplane" (2) posture, deprivation of toilet privileges, etc. In the evening, they pushed practitioners who refused to give up the practice under the bed for a whole night. If practitioners still refused to write pledges denouncing Falun Gong, cold water would poured over them. The means used became increasingly brutal. I was even pushed onto the ground and had the "ribs rolled" (a brutal torture method).
Under the intense mental and physical pressure, I wrote, against my will, words that were disrespectful to Master Li and Falun Dafa. Later, under the influence of drugs (both stimulant and depressants, and possibly something else), due to my own attachments, and the traitors' brainwashing, I broke down and became confused. During the ensuing days, I was sometimes lucid and sometimes muddle-headed, but most of the time I was muddle-headed. In my foggy state, they often slapped me, poured cold water on me, forced me to do the military squat, and did not allow me to use the toilet, among other tortures and humiliation. In the end I suffered mental trauma.
I was then transferred to the No. 6 Team, where I lost my memory for five days (this was what I read in their notebook). When I became a bit clearheaded, they forced me to take drugs again. The more drugs I was given, the more headaches and discomfort I experienced. My head felt like it had a ton of bricks on it. I could not raise my head, my nose ran, my mouth watered profusely, and my speech was slurred. I could not fold my quilt, put on my clothes, brush my teeth, wash my face, or even hold a spoon. In short, I could not take care of myself. I could not concentrate, and I had no memory to speak of. I was frustrated and agitated, and so uncomfortable all over that I yelled constantly. They said I was too noisy and interfered with their rest, so during the day, they tied me to the headboard and stuffed a pair of dirty socks in my mouth. They didn't allow me to use the toilet so I was forced to soil my pants. In the evening, they made a lot of noise, tied my hands and feet together, and put me in an empty room on the ceramic tile floor for an entire evening, not caring if I lived or died. On one occasion I drank some hot water and was burned internally. I broke out in a sweat. Even so, they still forced me to watch the slanderous videos, continued undergoing brainwashing, and forced me to write statements giving up and defaming Falun Dafa.
Later, I vaguely realized that my mental state was not normal, so I asked to go to hospital for treatment. I went to Anding Hospital in Beijing, and the hospital's finding was that I suffered from psychosis. Before the assessment, the hospital needed to stop my medications for a few days. After the drugs were stopped, my symptoms all disappeared except for slight residual thought disorder. After the assessment, the guards forced me to take the drugs again, and the symptoms reappeared. This showed that my abnormal mental state was drug induced.
The guards then put me in the No. 7 Team's guarded chamber. At that time, I was like a corpse ¡V my mind didn't work at all. But the guards still ordered the prisoners to make me recite the prison regulations, and often administered corporal punishment. One night prisoners pushed a handful of drugs into my mouth. Not long after, I seemed to be levitating, and "bang," my head bumped against a sitting board and bounced off just like a rubber ball. I didn't feel any pain at all. The prisoners were so afraid that they opened the door of the guarded chamber in a hurry, and pushed me into the bed. On the second day, two prisoners carried me to the toilet. My urine was very dark and I almost died at the time (this was what a prisoner told me when I was released). After that, they didn't force me to take any more drugs. Gradually I got better, but in the evening, I often cried, laughed, and didn't want to go to sleep, but I have no recollection of this. After the hospital's assessment of psychosis was issued, the forced labor camp asked my family to come and take me home. In order to cover up the evil deeds of the labor camp, they let me out for recreation and to recuperate near the end of my imprisonment. Once when I cursed Zhou Yongkang, the prisoners used a boiling water bottle container to burn me as punishment. When I cursed Jiang Zemin, team leader Liu locked me up in the guarded chamber again.
During my detention in the guarded chamber, they often tied me onto the iron gate or a bed with a belt, and used a bunch of steel needles to pierce my body. They also used electric batons to shock me. Over one month after I was released, numerous puncture wound scars could still be seen on my body.
During my entire period in the forced labor camp, the most pronounced memory I have was the physical torture. In addition to the lies and deceit, and the forcible brainwashing that practitioners endured, the food we were provided consisted of spoiled turnips, spoiled vegetable soup and buns. When my senses were clouded, they induced me to drink dirty water from the spittoon, to drink urine and eat feces, and they deceived me and forced me to write materials defaming Falun Dafa, and to write a statement giving up the practice. Four days after I was taken out of the forced labor camp for treatment, my symptoms all disappeared without treatment. I resolutely do not acknowledge what I have done in the detention center, and solemnly declare any statements made are null and void.
The above is what I can remember and what other people have told me about the torture I have been put through. Because of my cloudy mental state at the time, I cannot remember many things, not even the name of the team captain. Under such a state, I was also being used as a tool to transform other practitioners. I hereby sincerely apologize to those Falun Gong practitioners who were harmed by my actions.
I am only one of the millions of Falun Gong practitioners that have been persecuted. I am fortunate in that I am still alive. All over China, there are still many who are being secretly persecuted even more severely that I was, and even tortured to death. The torture and deaths are frequently covered up by the authorities. I believe that in the not-too-distant future all of these injustices will be redressed.
Notes:
(1) Sitting board torture - Every day, practitioners are forced to put their hands on top of their laps, with backs straight and sit on benches 18 hours per day. This sometimes continues for over fifty days. The authorities even limit practitioners' restroom use time. Because of the long time spent sitting on hard benches, practitioners' buttocks develop big sores that hurt badly. Practitioners cannot even urinate normally because of the pain. Because some labor camp conditions are very damp, and guards do not allow practitioners to have ventilation or the chance to get some sunlight, and since practitioners are locked up for so long, countless red scabies sometimes grow on the entire body of the practitioner. They are incomparably itchy and painful.
(2) Riding an airplane torture ¡V The practitioner is forced to bend down until he cannot go down any further, while the hands are pulled up and held up to the highest point, perpendicular with the floor.
Written on April 21, 2005
---
The Masanjia Forced Labor Camp in Liaoning Province has persecuted thousands of practitioners, closely following Jiang Zemin's evil criminal group since the persecution against Falun Gong began on July 20, 1999.
The following are accounts of the persecution of several Falun Gong practitioners. Although these represent just a small amount of the countless persecution cases, they bear witness to the Masanjia Forced Labor Camp's monstrous crimes.
Ms. Li Hongshu, a practitioner from Panjin City, Liaoning Province, was illegally sentenced to 10 years in prison in 2002. She remains in the Liaoning Women's Prison. At the end of 1999, Ms. Li, about 30 years old, was detained in the First Group of the Second Women's Detention Center of the Masanjia Forced Labor Camp. During that time, to protest the persecution, she refused to go out for calisthenics and insisted on practicing the Falun Gong exercise. She was therefore taken away, and the police guards stripped off her warm cotton-padded jacket and trousers. It was deep into winter and Ms. Li only had on one set of underclothes, but the guards bound her legs with rope, forced her to sit on the cold cement, and shocked the soles of her feet with electric batons. [See reenactment photographs, below.]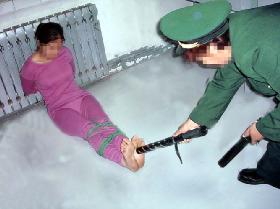 Ms. Zou Guirong, a practitioner from Xinbin County, Fushun City, Liaoning Province, was persecuted to death. The following is an account given in her own words before her death: "In August 2000, at age 34, I was detained in the second group of the Second Women's Detention Center, where, incited by the director of the detention center, six or seven criminal inmates physically punished me with brutal beatings behind closed doors. The people involved included Su Jing, the leader of the group, Wang Naimin, Zhang Xiurong, and the leader of the subdivision of that group, Qiu Ping. In the detention center dormitory, the criminals hung me upside down from the upper bunks for a long time. When I couldn't endure the pain any more, I fell down and was promptly beaten with broom handles by inmates or guards. [In the following photo, the person re-enacting Ms. Zhou is wearing the red sportswear assigned to practitioners in the forced labor camp.] This type of torture forced the victim to prop both legs firmly against the upper deck of a bunk bed and to straighten the waist, abdomen and chest with great effort, with her head facing downwards. The victim had to endure excruciating pain, so much so that she was often covered in sweat. Besides this torture, inmates and guards also forced me to half-squat for extended periods of time. If I couldn't remain absolutely still, I would be beaten." [See picture below.]
Ms. Jiang Jie, over 30 years old, a practitioner from Fushun City, Liaoning Province, was detained in the second group of the Second Women's Detention Center during the summer of 2001. She was often beaten black and blue by criminal inmates, who were urged on by Shao Li, the vice-director, Lu, the director, and Dai Yuhong, the leader of a subdivision of that group. Even under these conditions, during the day Ms. Jiang was still forced to do heavy physical labor. At night, she was deprived of sleep and taken to the bathrooms to be beaten by the people listed above. Once in the bathroom, the criminal inmates joined in the beatings. They also straightened out her body and then stood on her shoulders, crushing her body below them. This brutal torture resulted in Ms. Jiang being so badly injured that she couldn't walk by herself. [Even the reenactment below cannot fully show the cruelty of this abuse.]
Ms. Zhao Shuhuan, 46 years old and a practitioner from the Shenhe District of Shenyang City, Liaoning Province, was detained in the first group of the Second Women's Detention Center in May 2001. Wang Xiaofeng, the leader of the first group, and others ordered criminal inmates to severely pinch the inside of her thighs with their fingernails. The abuse turned her legs black and blue, and the bruises can be clearly seen even today. One day in the bathroom, four or five inmates seized her by her hair and bashed her head against a white ceramic tiled wall with such force that the ceramic tiles split. [See photo below.] Afterwards, she said that her head was buzzing, and she didn't know where she was. Ms. Zhao now lives in Taiwan.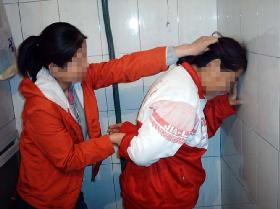 Practitioner Ms. Cao from the Huanggu District of Shenyang City, is now dead. When she was 65 years old, the police guards handcuffed her to the radiator in the hallway. She was handcuffed at a level where she could neither stand nor squat. After being forced to stay there for long periods of time, the guards still shocked her with electric batons. When they tired of shocking her, they ordered inmates to continue the torture. [See photo below.] At the end of 2002 and 2003, several practitioners who firmly believed in Falun Dafa were handcuffed by the guards this way to radiators in the hallways or confined in "small cells" (1), enduring extreme pain.
(1) "Small Cells" ¡V The detainee is locked up in a very small cell individually. The guards handcuff practitioners in a fixed position, in which the practitioners can neither move nor lie down. The small cell is very damp and no sunshine comes in. Detainees have to urinate and defecate in the cell. Only half of a regular meal is served to detainees locked up in a small cell. During the night, rats are running around. The stench in the small cell is so bad that it is difficult to breathe.
March 26, 2005
---
1. [Liaoning Province] Mr. Zhang Hongguang's Condition is Serious as a Result of Persecution at the Xinsheng Farm
Mr. Zhang Guanghong has been sentenced to four years of forced labor at the Xinsheng Farm in Yingkou City, Liaoning Province. Nine inmates have been assigned to "transform" him. In order to force him to give up his belief in Falun Dafa, they have used torture methods such as the Tiger Bench (1), electric shocks applied by multiple electric batons, sleep deprivation, and other brutal tortures. After 96 hours of continuous abuse, Mr. Zhang's diabetes, which had been cured when he started practicing Falun Dafa, resurfaced. He has since been diagnosed with complications of diabetes. He has numbness in all four limbs, has not been able to walk steadily, and has had infections in his fingertips. Mr. Zhang has also become mentally confused and his life is in immediate danger.
Relevant telephone numbers:
Country code: 86, area code: 417
5106075, 5106074, 5106006, 5106023, 5106026, 5106073
2. [Daqing City, Heilongjiang Province] Mr. An Biaosen Remains on a Hunger Strike
Mr. An Biaosen has been on a hunger strike since his arrest on January 24, 2005. Mr. An is being held at the Longfeng Detention Center in Daqing City, Heilongjiang Province. It has been reported that he was handcuffed and shackled, even during the Spring Festival season. He is extremely weak as a result of ongoing abuse.
3. [Yichun City, Heilongjiang Province] Ms. Li Guizhi and Seven Other Practitioners Arrested
Since January 2, 2005, the Nancha police in Yichun City, Heilongjiang Province have arrested Ms. Li Guizhi of the Fertilizer Factory, and seven other practitioners.
4. [Yanbian City, Jilin Province] Ms. Zhang Shuhua from Shixian Arrested
At 11:00 a.m. on February 4, 2005, officers from the local police station arrested Ms. Zhang Shuhua of Shixian at her home at Zhangxian. They confiscated two Falun Dafa books, a DVD player and some DVDs. On February 5, Ms. Zhang was transferred to Tumen City. When her husband Mr. Zhang Qingjun went to Tumen City to demand her release, he was also arrested.
5. [Yongjia City, Zhejiang Province] The 610 Office Arrests Mr. Chen Hu
Mr. Chen Hu, 35, was working in Oushui Town in Yongjia County, Zhejiang Province. On the afternoon of January 7, 2005, members of the 610 Office arrested him at work.
Telephone numbers of the responsible organizations in Yongjia County, Zhejiang Province:
Country code: 86, area code: 577
The 610 Office: 67233273
The section head's office: 671223634
The Chief of the county police department: 67227111
The County Detention Center: 67252128
The Oushui Town Police Station: 67328015
6. [Tangshan City, Hebei Province] Police in the Fengnan Area Break into Residents' Homes
At 8:00 a.m. on December 29, 2004, Wang Yuquan, an officer from the Xugezhuang Police Station led three other officers to break into Li Shengyun's home in Dongtai in the Fengnan area. The officers ransacked the place but did not find anything. They then broke into Mr. Dong Qiang's home and did not find anything there either. On December 30, Wang led other officers to Ms. Wang Junfeng's home at Manzituo. They broke in but did not find anything to confiscate. At 2:00 p.m. on January 6, 2005, three or four officers again made their way into Ms. Wang's home and forcibly took her to the Fengnan Detention Center.
7. [Tianjin] Several Falun Gong Practitioners Arrested
Recently, Ms. Zhang Xiujuan, Ms. Zhang Zhihong, Ms. Yang Yuting and other practitioners went to the Caozhuangzi Brainwashing Center to send forth righteous thoughts. They were followed on their way there by police and subsequently arrested. These practitioners are being held at the Dongli Detention Center in the Hedong District of Tianjin. Ms. Zhang Xiujuan has been on a hunger strike for several days to protest the unlawful arrest and persecution. In addition, Mr. Li Yuanyong is being held at a facility in a northern suburb of Beichen District, where he is being tortured by force-feeding.
(1) For a picture of this torture see: /emh/articles/2001/11/24/16156.html.