Washington DC: Falun Gong Practitioners Spread the Fa and Clarify the Truth (Photos)
July 20, 2009
|
By Minghui/Clearwisdom reporter Huang Yusheng
(Clearwisdom.net) On July 17, 2009, more than 2,500 Falun Gong practitioners from all over the world held a parade in Washington DC, calling for an end to the persecution of Falun Gong.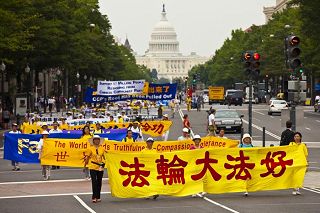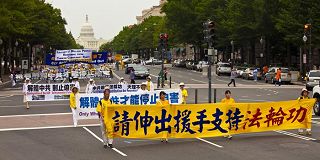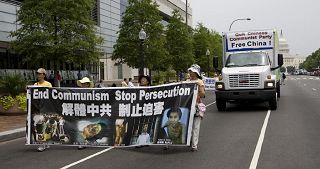 Falun Gong practitioners peacefully call for an end to the persecution in China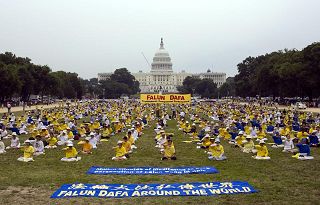 Group exercise practice in front of Capitol Hill
Seventy-five year-old Mr. Sun and sixty-six year-old Mr. Li are both from Chicago. Mr. Sun said that practicing Falun Gong brought the sight back to his blind left eye. "Falun Dafa is good," he said, "so I often attend activities protesting the persecution, telling people the facts about Falun Dafa."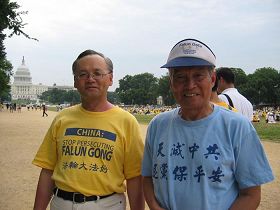 Mr. Sun (right) and Mr. Li (left)
Mr. Li said that many people have learned the truth of Falun Gong and have changed their attitudes toward the practice. In Chicago's Chinatown, many people read the newspaper The Epoch Times, and have learned the truth from practitioners. As a result, many of them have quit the Chinese Communist Party (CCP).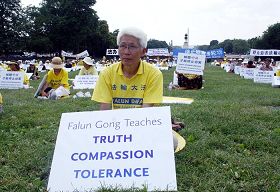 Mr. Wang, from Taiwan
Sixty year-old Mr. Wang, a banker, is from Chiayi, Taiwan. He said that practicing Falun Gong changed his personality. He became positive and full of energy. He quit smoking and drinking. When his wife saw the changes in him, she also started practicing.
Mr. Wang often attends local Falun Gong activities to clarify the truth. He goes to Ali Mountain to pass out truth-clarification materials to tourists from China. In 2006, he traveled to New York to attend the large-scale parade and exhibition exposing the persecution and torture of Falun Gong practitioners. Today, he flew twenty hours to Washington DC, to attend this parade. He expressed his wish to end the persecution as soon as possible.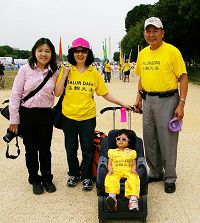 Mr. Chen and his family from Texas
Mr. Chen from Texas came with his children and grandchild. He started practicing Falun Gong five years ago. He and his family were amazed that Falun Gong has spread all over the world despite the CCP suppression. They wanted to know why, so they learned the truth of Falun Gong and started practicing themselves. They now join in many activities exposing the persecution. Mr. Chen puts truth-clarifying materials in the restaurant he owns, to help more people understand Falun Gong and learn about what is happening in China.
Mr. Li from Singapore said that more and more Chinese people in Singapore now know the truth of the persecution and support Falun Gong. He said that many people learned about the evil nature of the CCP from the book Nine Commentaries on the Communist Party. He said that Falun Gong practitioners' Sound of Hope radio station was suppressed by the CCP in Indonesia. Human rights lawyers, who learned the truth of Falun Gong, are willing to help practitioners and are asking the Indonesian Government to resume the station's broadcasts.
Many people watched the parade. A Westerner was surprised to learn that Falun Gong is always taught free of charge. He had spent a lot of money on learning Taichi. He expressed an interest in learning Falun Gong.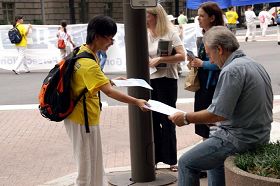 Passing out truth-clarifying materials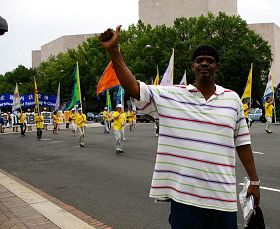 Antonio shows his support for Falun Gong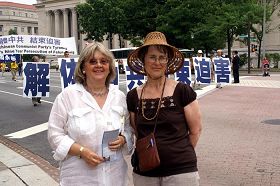 A visitor from Germany expressed her support for Falun Gong
Many people indicated that they have heard about the persecution. They support Falun Gong and hope that the persecution will end as soon as possible.