Malaysia: Such a Great Practice Should Be Widely Spread! (Photos)
June 20, 2009
|
By a Falun Dafa Practitioner in Malaysia
(Clearwisdom.net) Falun Gong practitioners held activities to introduce Falun Gong on a large shopping square in Johor Bahru, Malaysia on the weekend of June 13 and 14, 2009.
The management of the square invited the Divine Land Marching Band to play and appreciated the performance very much. Falun Gong practitioners introduced Falun Gong to them. When practitioners expressed their intention to rent the space to demonstrate Falun Gong, they happily allowed Falun Gong practitioners to use the stage on the square for free.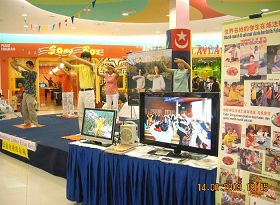 Exercise demonstration on shopping square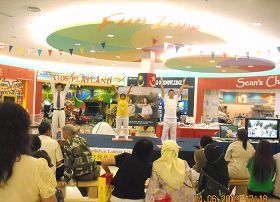 People are fascinated by Falun Gong exercises.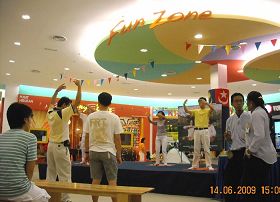 Some people learn Falun Gong on the spot.
Two TVs were set up next to the stage. One played Master Li's exercise teaching video. The other played a photo collection of Falun Dafa's wide spread around the world. Many people were attracted to the demonstration of the exercises. They learned the benefit of Falun Dafa. Some asked where to learn the exercises. Some learned on the spot. The Falun Gong banners and photo display also attracted many people.
After hearing practitioners relate some of their personal experiences, a middle-aged man understood why Falun Gong could help people improve themselves. He encouraged his friend to join to learn the practice with him.
An elderly gentleman sit on a bench with his back to the stage. A practitioner gave him some introductory materials and explained to him about Falun Gong, its wide-spread and the persecution in China. He gained more understand and kept nodding. He left unwillingly when his family went to pick him up.
Another man watched the exercise demo for more than an hour. He said, "Such a great practice should be widely spread! More people should know about it!" He took a lot of introductory materials with him to share with others.
The two-day-long activity was a great success!