Malaysia Joyously Celebrates World Falun Dafa Day (Photos)
May 13, 2009
|
By a Falun Dafa practitioner in Malaysia
(Clearwisdom.net) In order to celebrate May 13, World Falun Dafa Day, practitioners in Malaysia held a series of activities in Ipoh City, the capital of Perak, on May 10, 2009.
Practitioners in Malaysia gathered in front of Ipoh City Hall to celebrate World Falun Dafa Day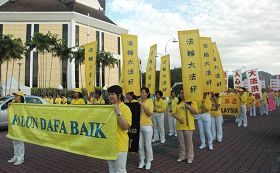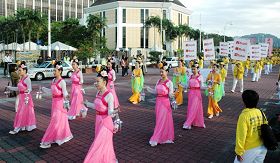 The Falun Dafa contingent moved to the square from Ipoh City Hall in good order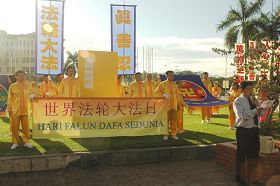 Practitioners held a press conference at the venue of the activity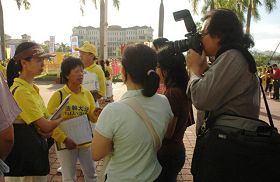 The media interviewed practitioners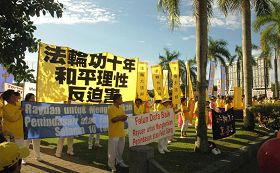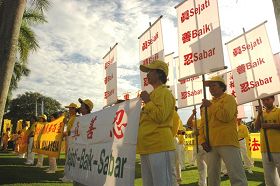 Practitioners celebrate World Falun Dafa Day in front of Ipoh City Hall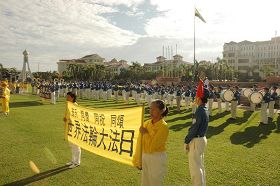 The Divine Land Marching Band performance opened the celebration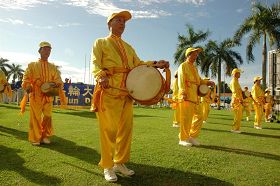 Practitioners' traditional waist drum performance in celebration of Falun Dafa Day
At 8:00 a.m., practitioners holding banners, the Divine Land Marching Band, the waist drum team and the celestial maiden team lined up in good order in front of Ipoh City Hall to celebrate the festive occasion. A number of media outlets came to cover the event. Practitioners held a press conference on the spot. One of the spokespersons, Mr. Zheng, read, "May 13 has become a holiday around the world. On May 13 each year, people of different nationalities, different regions and different languages hold a variety of celebrations. Falun Dafa, which was introduced overseas from China, has brought wellbeing to hundreds of thousands of people around the world."
The celebration began with the performance of the Divine Land Marching Band. The band performed "Falun Dafa Is Good," "Fa Drums and Fa Trumpets Shake the World of Ten Directions," "Fa Rectifies the Universe" and "Ode to Joy." After that, the waist drum team performed. Their traditional waist drum performance won the audience's appreciation.
Mr. Liao, the Ipoh District security officer who came to maintain order for the event, saw the joyous celebration, and found it beautiful, orderly and magnificent.
Falun Gong enables one to become a good person
Practitioner Ms. Wang's whole family is practicing Falun Gong. She came to know Falun Gong six years ago from her parents-in-law, who were practitioners. She was pregnant at the time. By reading the Falun Gong books, she gradually understood what Falun Gong is about. She recalled that she was physically weak then, but unexpectedly, she was strong enough to give birth to her child. Hence, it built up her confidence in practicing Falun Gong and she has been practicing it ever since.
What makes her pleased the most is that her husband, who used to be hot-tempered, has changed to having an even temper after practicing Falun Gong. She said that she hopes everybody comes to learn such a good practice, because it is hard to have the opportunity back once we miss it.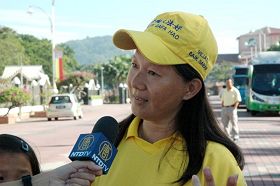 Ms. Wang is pleased that her hot-tempered husband improved a lot after practicing Falun Gong
It is the 10th annual World Falun Dafa Day this year. Local practitioners have celebrated the day in different places each year, hoping to bring the beauty of Falun Dafa to every corner of the country. This year, practitioners chose to come to Ipoh, the capital of Perak. Several police officers came to learn about Falun Dafa through the event.
Ms. Yang, one of the coordinators of the event, said, "I think that the police will gain a deeper understanding of Falun Gong. Dafa has been practiced until today, and people will become clearer about the magnificence of Dafa."